The vast majority, 78%, of the Jewish Israeli public support permitting Tel Aviv convenience stores to remain open on Shabbat, according to a report released Thursday by the NGO Hiddush: For Religious Freedom and Equality.According to a Smith Polling Institute survey, 98% of secular Jewish respondents and 86% of 'traditional' Jews were in favor of such allowances, either in line with the current Tel Aviv municipality bylaw of allowing 160 businesses to remain open, or on "a more limited basis." Only 22% of the overall Jewish public responded that "accepting the ultra-Orthodox political parties' demand not to approve the municipal bylaw to allow businesses to open on Shabbat," was the right course.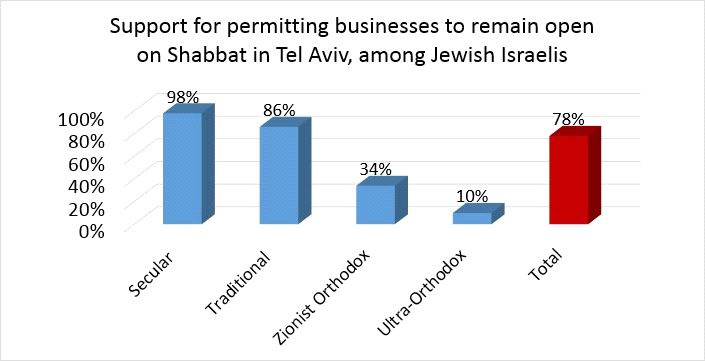 The report also broke down responses by political party, which showed voters for opposition parties Zionist Union, Yesh Atid, and Meretz were overwhelmingly in favor of businesses being allowed to remain open, and the majority of coalition party voters in Likud (74%), Kulanu (92%), Yisrael Beiteinu (100%) and Jewish Home (67%) also showed support. Only ultra-Orthodox parties Shas and United Torah Judaism were against the allowances, at 31% and 11% of party respondents respectively expressing approval.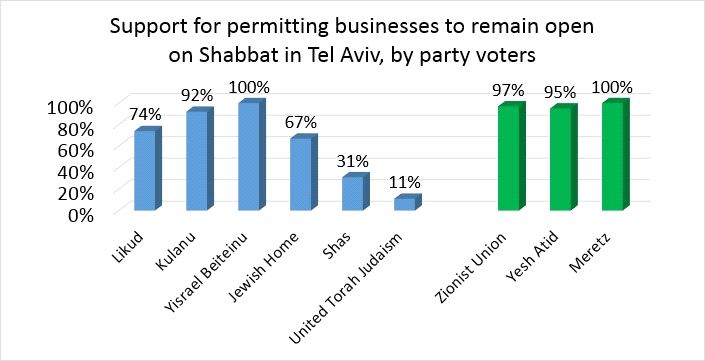 In response to these results, Rabbi Uri Regev, CEO of Hiddush, said the survey "clearly shows that the Jewish public supports changing the existing restrictions and prohibitions on Shabbat, and prefers that this issue be left to the discretion of local authorities, rather than the national government." "In this matter," he continued, "as in many other matters of religion and state, the Government and the Coalition claim to represent the people's preferences, but are actually acting directly against the public will. They are only concerned with one thing: Gaining the ultra-Orthodox political parties' votes, thereby giving in to their extortion."The survey had a representative sample of 500 adult Jewish Israelis. Hiddush plans to submit a response to this matter to the Supreme Court on January 23.