Uzi Kirma knew immediately that his oldest son was dead; he just didn't want to believe it."My flower was plucked. My crown has fallen," Kirma said in a tear-filled voice Monday as he sat on a mourner's cushion set up in the large stone patio of his home in Mevaseret Zion.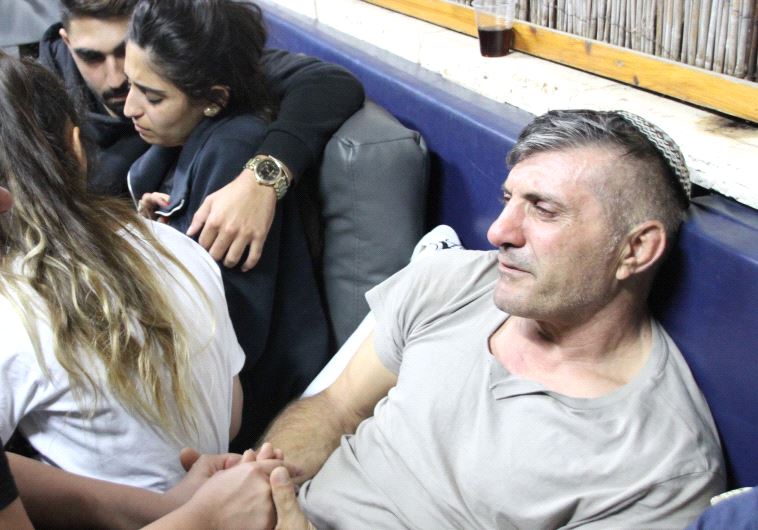 Visitors walked up to him, kneeled by his cushioned seat, hugged him and held his hand. They uttered phrases like "be strong" and "may God watch over you."Some were close friends and others had heard the story of how his son, Adv.-St.-Sgt.-Maj. Yosef Kirma, 29, was shot to death while stopping a terrorist from fleeing after killing one person and wounding five others.At times, Kirma was joined by his wife Etti, his two younger sons, Yitzhak and Tal, and Yosef's widow Noy. At other moments, Noy sat in their living room, too overcome with tears to talk.Three nights earlier, the same patio had been filled with laughter as Uzi and the whole family sat together and were joined by many of his son's friends, including other officers from his motorcycle unit."We laughed, we drank, we danced," he recalled. It was their standard Friday-night ritual. Often they would stay up until the early hours of Saturday morning.The bond with his sons was so tight, Kirma said, it was as if they were all the same age. They were a family that did everything together."I didn't have a better friend," he said of Yosef, saying he couldn't even count the number of times they spoke daily on the phone or sent text and WhatsApp messages to each other.Hardly a day or two passed without the two of them getting together, he said. Yosef, he noted, had lived in their home until close to the time of his wedding to Noy five months ago.On Sunday morning, at the time of the terrorist attack, Kirma said he had been in a meeting at Jerusalem's Cinema City, and his wife was at work at the municipality in Mevaseret Zion.He knew Yosef was on patrol in the city and had become used to the fact that he could be in the thick of danger because his motorcycle unit was often the first responder to a scene.He recalled how last January his son had disarmed a terrorist with a knife outside a nursery school in Jerusalem.Typically, after an attack, Yosef, known to the family as Yossi, would call or send a message that he was fine. On Sunday, however, it was Etti who called to say Yosef had been wounded and that she was heading to the hospital in a taxi."I called his commander. We are very good friends. When his commander did not answer, I knew my world had been destroyed," Uzi said.He left his meeting immediately to join Etti at the hospital – a journey that "seemed like an eternity.""When we got the hospital, the doctors took us aside into a room to speak to us about Yossi," he said. "You know what is happening, but you do not believe it."During Rivlin's visit to the family earlier in the day, Kirma told the president how difficult it had been to bury his son in the Mount Herzl cemetery the previous evening."There is no bottom to my grief," he said."I never thought I would have to bury my own child. I feel like I left half my body in the cemetery."
Still crying, he added: "My friend was killed. My son was killed."As night set in, scores of friends and relatives sat in front of him on white plastic chairs under a black cloth canopy with strings of white light bulbs. Dozens more stood in line outside the two entrances to the patio, waiting to enter.Uzi estimated that some 5,000 people, from President Reuven Rivlin to the chief rabbis, had come to see the family since the morning.