Maze cartoon of Middle East peace talks flat tire.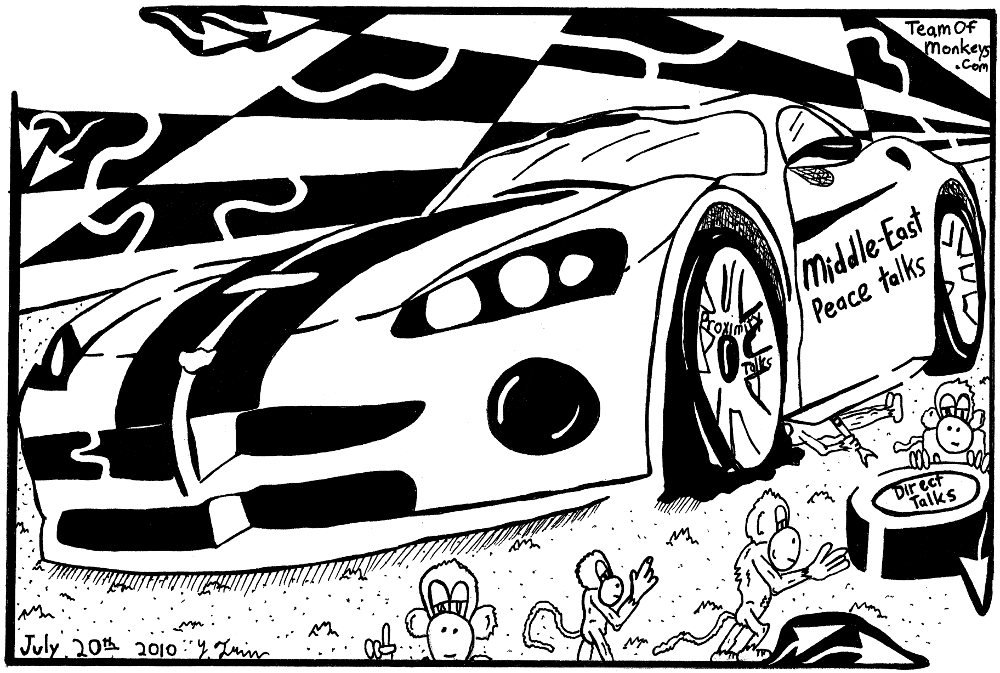 Maze cartoon of sports car to represent Middle East peace talks with a flat tire to represent the proximity talks being replaced by a spare "Direct talks"
Click here for a printable, hi-res version of this maze
Click here for the maze solution of Middle East Flat Tire
Comment from the Artist:
I drew this maze a few months ago when there was some form of "Proximity Talks" but which led to negotiations which were then put off for a variety of reasons and the international community was vying for "Direct Talks" - Not sure where things stand now with that a whopping 8 months later. Enjoy the maze, this is a good one!
More about the maze cartoon''s topic:
Fatah leader says no progress in proximity talks
A senior Fatah leader said here on Thursday that the Israeli-Palestinians proximity talks did not yield any progress that meets previously set conditions.
The meeting between US President Barack Obama and Israeli Prime Minister Benjamin Netanyahu in Washington on Tuesday did not provide any good signs, Nabil Shaath, a Fatah Central Committee member, told reporters in Cairo after meeting with Arab League Secretary-General Amr Moussa.
Shaath and Moussa discussed the Middle East peace process and ways to achieve the Palestinian reconciliation and end the Israeli embargo imposed on the Gaza Strip since 2007.
"There has not been any progress through the indirect talks, and thus, a meeting (of the Arab Peace Initiative Follow-up Committee) requested by the Palestinian National Authority and was agreed to by Secretary-General of the Arab League, will take place soon," Shaath said, adding "that meeting will assess the whole situation and will make an Arab decision on the issue."
According to the Fatah leader, the Palestinian decision will be submitted to the Arab Peace Initiative Follow-up Committee''s meeting scheduled for July 29, to coordinate a concerted Arab action.
Click here to read the full article on Global Times