Maze cartoon of Israel on the 4th of July.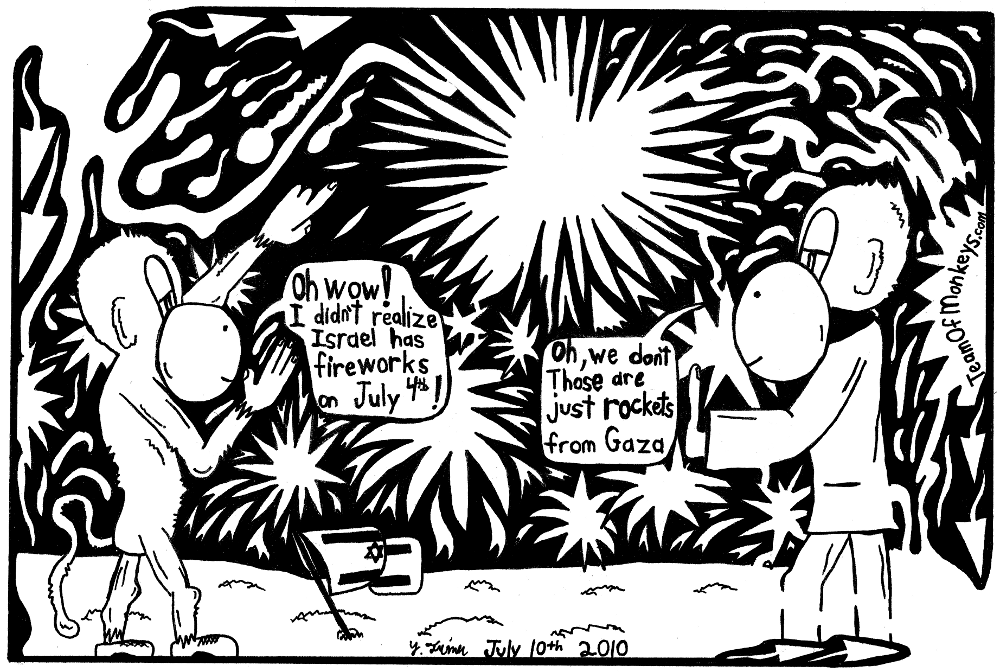 Maze cartoon of Israel on 4th of July. As fireworks appear in the sky, one monkey says to the other, "Oh Wow! I didn''t realize Israel has fireworks on July 4th!" The other responds, "Oh we don''t, those are just rockets from Gaza."
Yonatan Frimer Mazes
Click here for a printable, hi-res version of this maze
Click here for the maze solution Gaza on July 4th
IAF strikes Gaza after Kassam attack
Excerpt from the article
:
The strike came in response to the Kassam rocket launched earlier Wednesday which hit and damaged a factory in the Sdot Negev

Regional

Council area. Nobody was injured in the attack.The rocket fell on a packaging plant at approximately four in the morning on Wednesday morning and the nearby Kerem Shalom crossing was closed shortly afterward due to terror warnings.
MK Otniel Schneller (Kadima) said that the event illustrated the need for active defense systems on Israel''s border with Gaza to prevent rocket attacks.Over 90 rockets and mortar shells have been fired at Israeli territory since the beginning of 2010, and over 330 rockets were fired from the Gaza Strip into Israel since the end of operation Cast Lead, according to the IDF.
Read the full article in The Jerusalem Post HERE