Maze cartoon of Skateboarder for Politics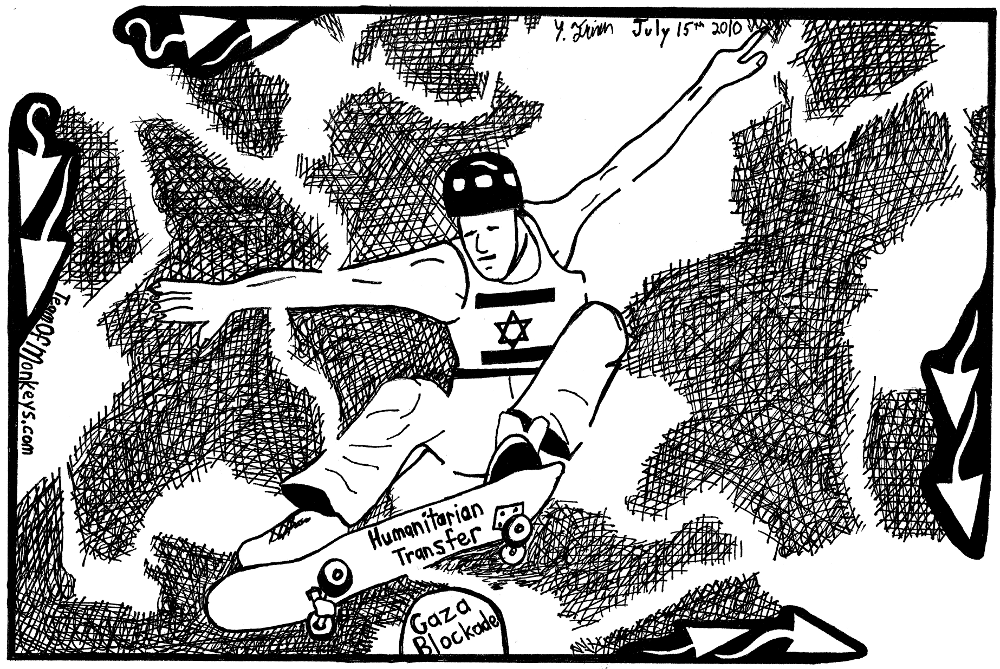 Maze cartoon of skateboarder as Israel riding "humanitarian transfer" to get over the Gaza blockade obstacle.
Yonatan Frimer Mazes
Click here for a printable, hi-res version of this maze
Click here for the maze solution of skate boarder politics
Israel Continues to Transfer Humanitarian Aid to Gaza
:Statistics on Humanitarian Aid Transferred from Israel to Gaza Israel continues to transfer basic food supplies and humanitarian goods into the Gaza Strip. Items such as medical supplies, meat, chicken, fish, grains, legumes, oil, flour, salt, sugar, fresh vegetables and dairy products as well as animal feed, hygiene products and clothes are all transferred through the Israel-Gaza goods crossings, Kerem Shalom and Karni.The total amount of aid transferred from Israel to Gaza in 2009 increased by 180 percent, compared to the amount transferred 2008.
A flotilla of nine vessels organized by pro-Palestinian activists is currently en route to Gaza carrying various goods. However, the total amount of supplies transported by the flotilla, 10,000 tons, is less than the weekly average amount of goods transferred by Israel into Gaza.
Private Israeli citizens organized a flotilla of their own to draw attention to the fact that Hamas continues to illegally hold abducted Israeli soldier Gilad Shalit. The Israeli flotilla is also calling attention to what they say is the poor treatment of minorities in Turkey, since some of the pro-Palestinian activists'' vessels sailing to Gaza embarked from Turkey.
Read the rest of the article here