According to Ahava Zarembski, the first Jewish fashion designers were the biblical kohanim, the priests. They came to correct the sin of Adam and Eve, who were punished with the burden of having to shamefully cover up their bodies. The priests of the Temple learned to use fabrics, gems and accessories to make a powerful statement: through clothing, individuals could channel their divine power."It's the next time in the Bible clothing is spoken about in detail, and it's a glorification of who they are," Zarembski said from her apartment-cum-studio located in the Wolfson Towers, the floor littered with stencils she had used for street art in Tel Aviv, spelling out words like edgy, passion, sexy, love, funk, smart."It's a uniform of glory."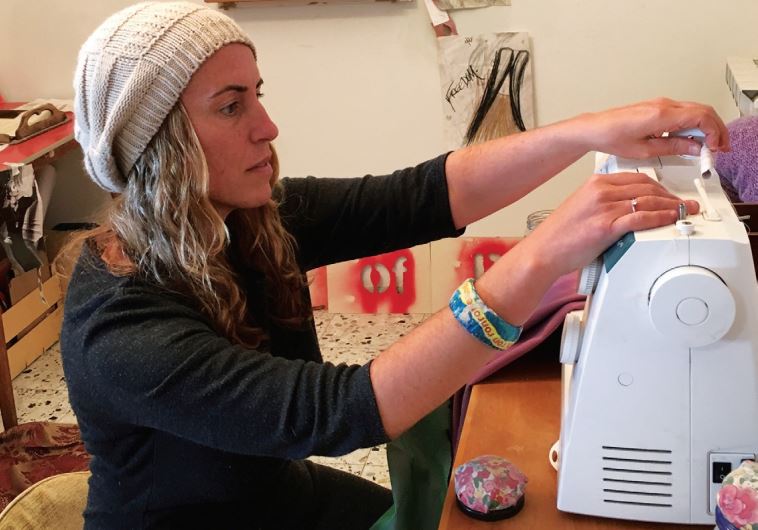 When she was working in diplomacy in Jerusalem and attending the Nishmat seminary for women after making aliya in 2001, she felt she wasn't living an authentic life, and it was reflected in her clothing."What was happening is that because there's so much of an emphasis on covering up, I was playing a part, and that brought on depression. I finally sought help for it and I realized it was about being honest, and the first thing it impacted was my clothing."Since her wardrobe didn't express what she felt inside, she was expressing it in poetry that she hid under her bed. Soon enough, as she began to honor those feelings, she bought some textiles and experimented with making her own clothing."I started taking [my poems] and putting them inside the garments to say that the beauty really comes from the inside out." (For example, on a tight black shirt with sheer sleeves, it says: "Under it all/Under all the layers/Of hate, anger, and fear/There is love/And the capacity to change.") Not long after discovering her new passion, she went back to Philadelphia to delve more professionally into the practice of fashion. Her designs – which often combine fabrics that clash to reflect the many facets of a woman – were noticed by Saks Fifth Avenue, which identified her as an "emerging designer," and the Joan Shepp clothing boutique. But by then Zion – Israel – beckoned her back.At the interview with In Jerusalem, her outfit didn't exactly reflect the adjectives she used to describe her line: funky, edgy, mindful. She wore a long, tight gray dress made of faded cotton, brown boots, and a knitted cap over her dirty-blonde hair that one could only guess is part of the religious head covering for married women.Her designs however, aren't exclusively tzanua (adhering to Jewish laws on modesty). Last May, she experienced another life-changing event that made her play with her personal wardrobe, and that has driven her new focus on bridal gowns."It's interesting because as [my husband and I] develop our 'we' as a unit, I definitely am not changing it for him, but as a result of our interactions together, I'm seeing my dress change again – and that's the power of dress. It's constantly shifting."She had debated whether or not to cover her hair according to Jewish tradition; eventually, she embraced the ritual as an extension of the theme she conjured up for the wedding: kingship."That's part of me feeling like it's my crown. It's very much as a wife that I'm wearing my crown. With the amount of lifting up of my family that I do, it's very regal to me."Her wedding gown featured a crown-like tiara and a 120-cm. long train that followed her up steps leading up to remnants of the Holy Temple.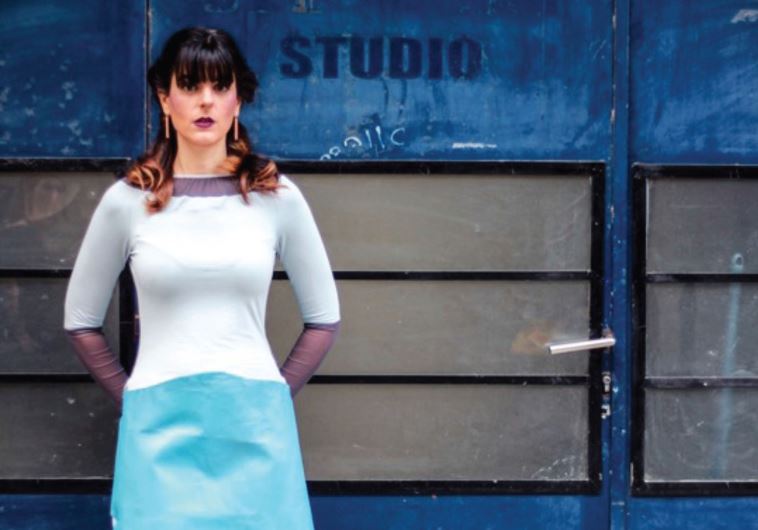 "As a bride myself, for me it was all about royalty in the wedding, and envisioning our future together as king and queen and really being able to step into that role and feel our future together. Of course, you take off the dress and start life and the work begins, but you're still left with a glimpse of: oh, I know what I want to embody."All too often she has found that women around her – religious and secular alike – view clothing as a chore or necessity, rather than a possibility to discover and reveal the fullness of their identity, although dressing up "religiously" like this is a luxury for some. Her couture bridal gowns start at NIS 8,500, and for now her clothing is available privately. But she doesn't believe one must go into debt to dress authentically.For everyday life, she recommends that women curate their wardrobe – choosing several pricier pieces they love as opposed to packing one's closet with discount-store shirts, blouses and dresses that end up being given away a year or two later."Invest wisely," she said. "Be wise in what you want to say and be and express. Don't just consume. Don't just buy."On the business end, Zarembski is finally seeing years of creation paying off. Last January, she secured her first investor, who has given her free creative rein. She's in talks with Saks Fifth Avenue and Anthropologie, which have expressed interest in her work. With her bubbly, outspoken personality, a clear passion for design, and a voice that's her own, Zarembski has been told many times that she should try out for the Bravo television fashion competition, "Project Runway." That might just be her next step."I've been blessed with people who believe in me."
And this is exactly what Zarembski wants her Ahava Z Designs to be: an expression of the unique personality of the wearer – a woman's ambitions and highest ideals.And this is also why this American-born, former Tel Avivian is planning to open a "maker space" for bridal gowns in the Mahaneh Yehuda market. For her, fashion is a Jewish religious practice."There is a birth and growth of creativity happening here, and even though all the resources for clothing making are not available and most are still in Tel Aviv, my desire to be in Jerusalem really comes from a desire to blossom forth," Zarembski said. "Ki mitziyon tetze Torah [Torah will come forth from Zion]."Zarembski's own transformative experience with the power of couture and designer fashion started in her 20s. She was born 39 years ago in Morristown, near Philadelphia, to a traditional Jewish family that later followed her footsteps towards a more observant lifestyle. While attending a Jewish day school and public high school, the world of fashion was far from her mind.