I love going to a bookshop, browsing for a while and then leaving with several books. While buying a new, untouched book can be thrilling in that it is pristinely clean, never been read before and is just waiting for you to delve in and make it yours, there is something equally exciting about buying a second- hand book with a long history hiding between its pages, particularly if it is an out-of-print or rare book, in which case buying it second hand is often the only way of acquiring it.As befits the People of the Book, Jerusalem has a plethora of bookshops that sell a wide range of books covering inter alia academic, secular and religious topics.While there are the more mainstream bookstore chains such as Steimatzky and Tzomet Sefarim, there is an increasing number of second-hand bookshops, niche bookshops and individuals who sell books through websites such as Abe Books or Amazon Marketplace.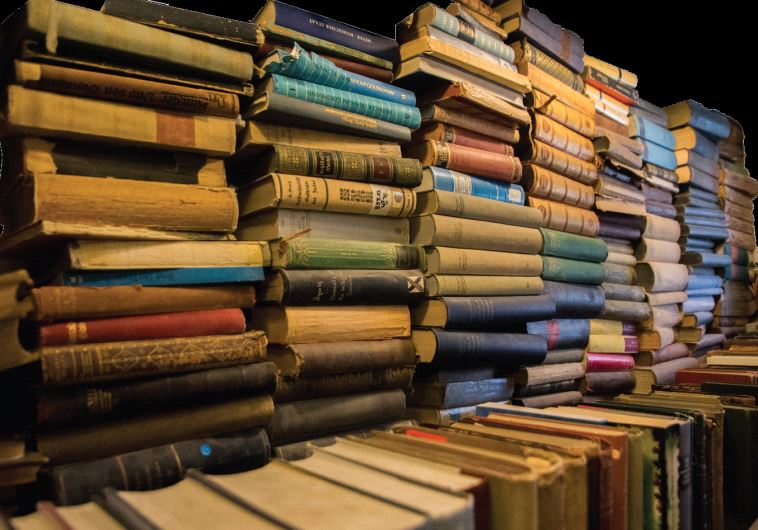 One of the oldest second-hand bookshops in Jerusalem is Stein Books on King George Street in the city center. It was founded more than 50 years ago by Herbert Stein and passed down to his son, and then to his grandson David Yehezkeli. However, after running it for more than 20 years, Yehezkeli needed a change of scene, sold the bookshop to Avraham Carmi and moved to Herzliya, where he still maintains an impressive collection of rare books that he continues to sell. Herbert Stein immigrated to Israel from Germany in 1933. After working in a variety of jobs, he opened a small bookstore on King George Street, next to the former site of the Knesset. After the store moved to Givat Ram in the 1960s, where it remained for more than 40 years, it moved to its current location in 2008.Yehezkeli grew up in the business, starting to work at the store as a young boy, and took over the running of the shop after the death of his grandfather in 1994. Yehezkeli sold the shop to Avraham Carmi in 2015, along with a significant number of the books heaped in every nook and cranny of the shop.Carmi has kept the name Stein Books.The bookshop remains true to its original character, although Carmi hopes to add o t h e r aspects to the business such as management, marketing and sales. Carmi is a pensioner with years of experience in the field of books. He formerly worked at the State Comptroller's Office and the Jewish Agency, has accompanied the bookshop and David for many years behind the scenes and has been a loyal customer since the time that Herbert ran the shop.Despite the fact that Stein Books is fully operational, Carmi regularly has to refute rumors that the bookshop has closed; and almost daily, a customer enters who expresses surprise that the shop is still open.Carmi has no intention of closing the bookshop and is in the process of sorting through the books and disposing of those that are not in a good condition or are unlikely to sell and just take up room.Indeed, Carmi views Stein Books as an institution that must be preserved. In addition to keeping the regular customers, he is also looking to attract new ones. While in the past, Stein's bread and butter was selling encyclopedias and other reference books, these have become somewhat obsolete in the Internet age. Stein's advantage is its sheer variety of books in almost every field, including children's books, fantasy, classics and Jewish books in a number of languages.Another landmark on the Jerusalem second-hand book scene is Sefer Ve Sefel on Yavetz Street near Jaffa Road, which is particularly well known to the city's Anglo community. Sefer Ve Sefel has been in existence for 35 years. It was developed and run by Uri Rucham for almost 30 years, who made it into the landmark it is today. Husband and wife Michael and Zia Rose took over the shop in June 2015 and have been investing a lot of energy into increasing the store's range of titles. Sefer Ve Sefel has been referred to by Lonely Planet as "the best English bookstore in the Middle East," and its atmosphere is cozy and inviting.
The Roses are always on hand to recommend a book if the customer so desires but are also delighted to have clients come in and browse until they find what they're looking for.Another store, Holzer Books on Jaffa Road, near Davidka Square, was founded in 2010 by Lior Holzer. It serves as a second home for book lovers.Holzer Books is known not only for its impressive collection of almost 55,000 books of all types and on all topics in a variety of languages but also for its free public lectures and cultural events. These events, on topics such as poetry, Jewish thought and high-quality literature, attract people of all ages, ethnicities and religions. Holzer's events have become synonymous with a meeting place where it is possible to exchange ideas and opinions in an open-minded and relaxed atmosphere.Holzer Books is also well known internationally for its department of art books, conveniently located in an art gallery. Alongside selling art books, it holds regular exhibitions of local artists who engage in photography, painting and drawing.In addition to second-hand bookshops in Jerusalem, there is an increasing number of individuals who sell new and used books from home through websites such as Abe Books. A friend of mine visiting from London was recently delighted to discover that the only copy available for sale of the photographic album of the American Colony, before it became a hotel, was in Jerusalem.After several phone calls and a bit of detective work, as the street listed had changed names several years earlier, we located the seller and the book, which my friend ecstatically purchased.An individual who sell new and used books from home is London-born Evelyne Schiff. She runs A Passion for Books from her home and sells books through Abe Books. Schiff, who moved to Israel 21 years ago, was originally a librarian in London and compiled the first bibliography of Holocaust material at the Wiener Library in the 1950s. She began selling books by visiting second- hand bookshops in London, buying a book in one shop and then selling it to another shop.She used to exhibit books at antiquarian book fairs in Bloomsbury, a literary area of London, for more than 25 years. She also dealt in selling and supplying ephemera (collectible memorabilia, typically written or printed, that were originally expected to have only short-term usefulness or popularity) to collectors, such as kosher cheese labels, wine labels and travel documents, often being fascinated by the unusual items that people would collect.Upon moving to Israel, Schiff shipped many of her books here. After a hiatus of several years, she decided to go online and return to selling books.She now ships books all over the world. While today's technology is both a help in terms of marketing and a hindrance to her in the form of tablets and Kindles, Schiff concurs that there is an increase in the number of people returning to reading actual books as opposed to e-books.While it is not easy running a business today in Israel, particularly a bookshop, with the lure of the technological competitors, it is clear that Jerusalem's second-hand book scene is still alive and vibrant and continuing to attract book lovers.They want the delight of being able to browse through a book before deciding whether to buy or just to explore a pile of books and perhaps discover treasure in the form of a rare book that they had always wanted to read or a book whose existence they were not aware of.It is definitely worth paying a visit to one of the many bookshops in Jerusalem. You will not be disappointed – as long as you bring a bag big enough to hold all your purchases!
The second-hand bookshops offer a unique, personal touch that is usually lacking in the more mainstream bookshops and offer the chance of finding a rare book.Although bookshops, and perhaps second-hand bookshops in particular, have taken a hit with the Internet age and the rising popularity of online bookshops such as Amazon and e-readers such as the Kindle, in recent years there seems to be a revival in people's buying tangible books as opposed to e-books or reading online. While immensely practical, reading online does not have the same attraction as snuggling in bed with a book, not to mention the fact that e-books cannot be used on Shabbat by the religiously observant.