Russia has issued search warrants for two people for their possible role in Monday's deadly metro blast in Saint Petersburg, which took the lives of dozens and injured at least 50 people.According to Russia's news agency TASS, the blast was a terrorist attack.
Russian authorities have said that explosions were heard in two train carriages at different metro stations."Two people are being sought on suspicion of planning the blasts, one of whom is thought to have placed the explosive device in the metro wagon and the second person for leaving a bomb at the metro station 'Ploshchad Revolutsii'," the source told Interfax.Russia's prosecutor general has also called the explosion a terror attack.Interfax news agency quoted an unnamed source as saying one of the blasts was caused by a bomb filled with shrapnel.
Group that follows accidents says there were explosions at two St. Petersburg metro stations with "many casualties" https://t.co/5hyn4MNBi9 pic.twitter.com/6IZ25Tqtf9

— Alec Luhn (@ASLuhn) April 3, 2017
The cause of the blast was not immediately known and a terror motive has not been ruled out. The Moscow metro said it was taking unspecified additional security measures in case of an attack there.Following the incident, all metro stations in Russia's second-largest city have been evacuated and closed. Reuters witnesses reported that at least eight ambulances had arrived near the Sennaya Ploshchad metro station.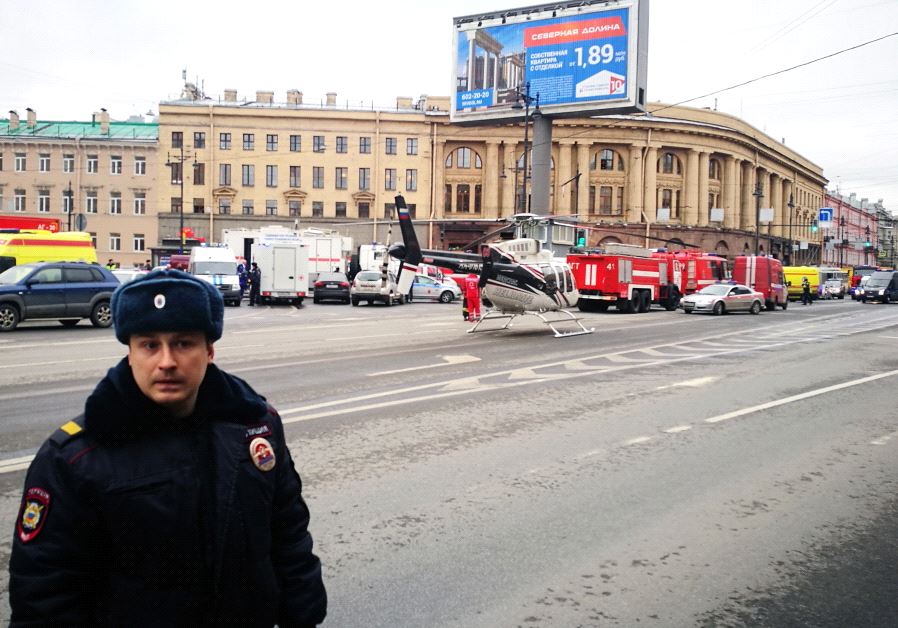 According to Russia's Interfax news agency, explosions were heard in at least two different carriages in two metro stations.The agency also said that the number of people injured is estimated at 20. Other reports suggest that there are at least 50 people injured.Life News, an online news outlet with close ties to Russia's security services, showed pictures of blown-out train doors and injured people at the Sennaya Ploshchad station platform.Video showed injured people lying bleeding on a platform, some being treated by emergency services. Others ran away from the platform amid clouds of smoke.
"I have already spoken to the head of our special services, they are working to ascertain the cause (of the blasts)," Putin, at a meeting with Belarus President Alexander Lukashenko, said."The causes are not clear, it's too early. We will look at all possible causes, terrorism as well as common crime," he added.

Russia has been the target of attacks by Chechen militants in past years. Chechen rebel leaders have frequently threatened further attacks.At least 38 people were killed in 2010 when two female suicide bombers detonated bombs on packed Moscow metro trains.Over 330 people, half of them children, were killed in 2004 when police stormed a school in southern Russia after a hostage taking by islamist militants. In 2002, 120 hostages were killed when police stormed a Moscow theatre to end another hostage taking.Putin, as prime minister, launched a 1999 campaign to crush a separatist government in the muslim southern region of Chechnya, and as president continued a hard line in suppressing rebellion.

This is a developing story.

A huge whole was blasted in the side of one carriage with mangled metal wreckage strewn around the platform. Passengers were seen hammering at the windows of one closed carriage.According to Russian media, Russian President Vladimir Putin has arrived in Saint Petersburg to closely monitor the scene and the investigation that will ensue.Speaking to state media, Putin said the cause of the blasts was not clear and efforts were underway to investigate. He said he was considering all possibilities, including terrorism, and expressed his condolences to the families of the victims.