Sir Anish Kapoor was visibly moved by his visit to the Zaatari refugee camp in Jordan in November 2014. After talking about art to a large group of children in the camp, home to some 80,000 Syrian refugees, the prominent British sculptor and human rights activist asked how he could help them. The children suggested building a Syrian garden, to remind them of home. Kapoor proceeded to work with the children and make clay models of Syrian gardens, but upon his return home to the UK, he wondered how he could do something more meaningful.It's a question Kapoor may be asking himself again after being
selected on Monday as the winner
of the milliondollar 2017 Genesis Prize.Beyond his immense contribution to the arts, Kapoor has a long history of social activism and a commitment to social justice, the Genesis Prize Foundation noted. "For many years, he has been a public advocate for the cause of refugees and an outspoken advocate for displaced people everywhere," the foundation said in a statement issued Monday. "Recently, he visited Syrian refugees in the Zaatari refugee camp in Jordan, as part of UNICEF's art therapy program, which is intended to help children who have witnessed atrocities to express themselves through art."On September 17, 2015, to show solidarity with refugees around the world, Kapoor and Chinese dissident artist Ai Weiwei led a 13-km. walk from London's Royal Academy of Arts at Piccadilly Circus to Kapoor's
Orbit
sculpture in the Olympic Park at Stratford, which at 115 meters is the UK's tallest piece of public art."This is a walk of compassion," Kapoor said at the time. "Peaceful. Quiet. Creative."It was classic Kapoor. "Artists don't make objects. Artists make mythologies," he once said. His shiny sculptures not only mirror both their viewers and the cities in which they are located, they also reflect the topsy-turvy world we live in. His 500-cm., polished-steel hourglass,
Turning the World Upside Down
(2010), at the Israel Museum, is perhaps the best example of this, both reflecting and reversing the Jerusalem sky and the museum's landscape, symbolizing the city's duality of heavenly and earthly."I was trying to bring the sky down to the level of earth," he said, after the piece was commissioned by the museum as a tribute to legendary Jerusalem mayor Teddy Kollek.No cause resonates more with Kapoor than the plight of Syrian refugees, especially children. He said he would use the million-dollar award, and the global platform provided by the Genesis Prize, to raise awareness of the plight of refugees and try to expand the engagement of the Jewish community in a global effort to help alleviate the refugee crisis."I am an artist, not a politician, and I feel I must speak out against indifference for the suffering of others. There are over 60 million refugees in the world today – whatever the geography of displacement the refugee's crisis is right here on our doorstep," he said. "I appeal to people of good conscience in the global Jewish community, and those outside it, who share this sentiment and cannot remain passive and silent, to join the call of the Genesis Prize, help save lives and give refugees an opportunity to return to normal life."Kapoor said he was honored to be the recipient of the 2017 Genesis Prize. The award, he said, "has ambitions that are generous, openhearted and humane. It seeks to broaden the context of Jewish identity and calls upon Jews and non- Jews to work together to influence some of the big issues of our times."Jewish identity and history have witnessed recurring conditions of indifference, persecution and the Holocaust, he said. "Repeatedly, we have had to repossess ourselves and reidentify our communities. As inheritors and carriers of Jewish values, it is unseemly, therefore, for us to ignore the plight of people who are persecuted, who have lost everything and had to flee as refugees in mortal danger. Outsider consciousness resides at the heart of Jewish identity, and this is what motivates me, while accepting the honor of the Genesis Prize, to re-gift the proceeds to refugee causes."Waxing poetic, Kapoor added passionately: "To lose one's home, one's land, one's sense of belonging, is bewildering. All that is left is one's body. I ask: How long before – for so many – even that is lost? "Together with the support of the Genesis Prize, we have set ourselves a mission to work for refugee causes," Kapoor said. "We have a duty to persuade our fellow citizens all over the world that those who are vulnerable are in need of our compassion and our empathy. Their well-being is our well-being; their desperation is ours. This is our message."
The long road from Baghdad
While the first three Genesis Prize laureates were all American Ashkenazi Jews from New York, Anish Kapoor represents a totally different demographic and shows the full diversity of the Jewish people. Kapoor's Jewish mother immigrated to India from Baghdad as a child, while his father was a Punjabi Indian who served in the Indian Navy as a hydrographer. His maternal grandfather served as the cantor of the Iraqi synagogue in Pune.Kapoor grew up with an ingrained feeling of being an outsider and a special perception of his Jewish identity."My parents were true cosmopolitans," he said. "We grew up with Judaism as a cultural and family element, but not religious."He was encouraged by his parents to explore the world – and himself. At the age of 16, he ventured into a world beyond India, making aliya and taking one of his younger brothers with him on a journey into the unknown and living on Kibbutz Gan Shmuel, east of Hadera, from 1971 to 1973. It was on this kibbutz, he said, "where I decided that I was going to be an artist."After being rejected by the Bezalel Academy of Arts and Design in Jerusalem, he moved to London in 1973 to study art, and has lived and worked there ever since. He studied at the Hornsey College of Art and the Chelsea College of Arts.Kapoor has a son and a daughter with his former wife, German-born art historian Susanne Spicale. He recently married Sophie Walker, a garden designer who received a commission to design a public memorial garden in memory of the great human rights activist Helen Bamber. Kapoor's brother, Prof. Ilan Kapoor, is a Canadian scholar at Toronto's York University, specializing in critical development studies and postcolonial politics.Kapoor was knighted by Queen Elizabeth II in 2013. His other civilian honors include the Padma Bhushan from India (2012), the
Ordre des Arts et des Lettres
from France (2011), and the Commander of the Order of the British Empire (2003). He was awarded an honorary fellowship by the Royal Institute of British Architects in London in 2001, and honorary fellowships at the University of Wolverhampton (1999), the London Institute (1997) and the University of Leeds (1997).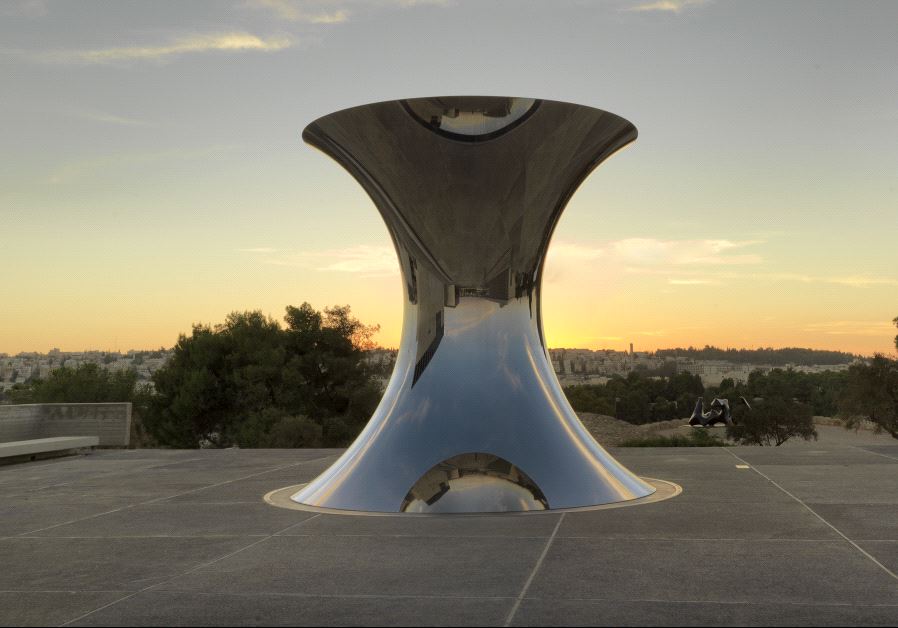 Kapoor's Jewish works
During his career, Kapoor created several Jewish-themed works dedicated to Holocaust remembrance. These include 70 hollow wax candles commissioned by the Holocaust Memorial Day Trust (2014), marking 70 years since the liberation of Auschwitz, which were lit in 70 locations across the UK. He previously designed the Shoah Monument (1996), a three-ton limestone with a polished, black void in the center, commissioned by the Liberal Jewish Synagogue of London. He is currently leading one of the teams competing to design the new National Holocaust Memorial outside the British Parliament."What do I know about the Holocaust? I'm a different generation, a different kind of Jew, but it is my history, and is my pain," he said. "To approach something as charged as the Holocaust is deeply humbling. At best, one can draw upon a collective psyche and make a work of dignity and openness that allows memorializing to happen."Kapoor's work is on display at prestigious galleries around the world, including the Museum of Modern Art in New York City, the Tate Modern in London, Fondazione Prada in Milan, the Art Gallery of New South Wales, Sydney, the Guggenheim in Bilbao, De Pont Museum of Contemporary Art in the Netherlands, the Moderna Museet in Stockholm, and the 21st Century Museum of Contemporary Art in Kanazawa, Japan.He has been honored with the Unilever commission for Tate Modern's Turbine Hall (2002), the Turner Prize (1991), and the Premior Duemila Prize (1990) at the XLIV Venice Biennale.In 2016, he was awarded the LennonOno Grant for Peace along with three other artists, including Ai, for showing the "true path of creativity, belief and hope for the world." Kapoor donated his grant to a British foundation that supports refugees and asylum-seekers.Despite his high honors, Kapoor never shies away from controversy. His art frequently arouses heated debate, which sometimes turns ugly, such as when his Versailles sculpture Dirty Corners was defaced with antisemitic slogans. Kapoor fought unsuccessfully to prevent the graffiti from being removed.In 2015, he acquired exclusive rights to Vantablack – the blackest substance known – and was criticized by some in the artistic community. He didn't care."The material is astonishing, so deeply black that your eyes can't really see it at all," Kapoor said. "It is like staring into the kind of black hole found in outer space."Now, as Kapoor gets ready to use the "Jewish Nobel Prize" to remind the world about millions of refugees knocking on its doors, this passion and no-holds-barred attitude will surely be on full display. ■
The Genesis Prize
Established in 2012, the annual Genesis Prize has been dubbed by
Time
magazine as the "Jewish Nobel." The Genesis Prize honors individuals who have attained excellence and international renown in their chosen professional fields, and who inspire others through their dedication to the Jewish community and Jewish values. The Genesis Prize promotes unity throughout the global Jewish community and the State of Israel by recognizing the many faces and forms of Jewish nationhood in the modern world.The prize includes a $1 million award. In the past it has been matched with additional contributions from other philanthropists, such as a $2m. gift from businessman and philanthropist Roman Abramovich in 2015 and 2016. Altogether during the past three years, almost $10m. has been raised to support philanthropic initiatives of the Genesis Prize laureates.It has become a tradition for the Genesis Prize laureates to direct their award to a meaningful cause they feel passionate about. The laureates also commit to a yearlong program of philanthropic initiatives developed jointly with the Genesis Prize Foundation. In the past, these have included causes ranging from support of social entrepreneurship based on Jewish values, led by Michael Bloomberg, inclusiveness of intermarried families in Jewish life, led by Michael Douglas, and improving the lives of individuals with special needs, led by Itzhak Perlman.
What they say about Kapoor Michael Bloomberg
, the 2014 Genesis Prize laureate: "Anish Kapoor is a groundbreaking artist whose exceptional talents and imagination have inspired people around the world. He is a deserving honoree of the Genesis Prize, and I applaud him for using the prize to support such an important cause."
Michael Douglas
, the 2015 Genesis Prize laureate: "The current refugee crisis is one that, unfortunately, we all know too well. Anish Kapoor's message that we must not stay silent is powerful and important. His desire to help displaced people resonates with the Jewish people, and all humanity."
Itzhak Perlman
, the 2016 Genesis Prize laureate: "As a fellow artist who has dedicated much of his life to help those less fortunate, I commend Anish Kapoor for his dedication to the Syrian refugee issue. It is truly the tragedy of our time, and those of us who are fortunate enough to live in much better circumstances have a responsibility to dedicate our time and resources to those in need."
Tony Blair
, former prime minister of Britain: "I am certain that Anish Kapoor's passion and commitment to social justice, as well as his creativity and candor, will increase the level of awareness of the catastrophic situation faced by the Syrian refugees. Genesis Prize could not have selected a better laureate or a more timely issue to focus on."
Natan Sharansky
, chairman of the Jewish Agency and head of the Genesis Prize selection committee: "Throughout our history, the Jewish people has suffered not only from active and violent antisemitism perpetrated by a minority, but also from the indifference of the majority. It is this indifference that made persecution, massacres and the Holocaust possible. Anish Kapoor has campaigned against indifference his whole life. His message is clear, powerful, and inspiring. I am confident that Anish will use the Genesis Prize to build on the good work already being done by Jews in this area, and his voice and energy will help to focus more people on the need to alleviate the suffering of refugees."
Stan Polovets
, chairman and co-founder of the Genesis Prize Foundation: "The profound impact of Kapoor's work continues a long history of Jewish contribution to the arts, while his social activism reaffirms the commitment of the Jewish people to humanitarian causes. We particularly admire how, in an age frequently characterized by cynicism and indifference, Kapoor continually advocates for the world's disadvantaged, challenging all of us to do more to help where and when we can. We are confident that his commitment to alleviate the plight of displaced people will resonate with the Jewish community, especially young Jews, everywhere."
Helen Mirren
, who hosted the 2016 Genesis Prize Award Ceremony in Jerusalem: "For decades, Anish Kapoor has been one of the world's most innovative, interesting and popular artists. He has transformed how we understand sculpture and – therefore – how we look at the world. The Jewish people have a long and powerful history of artistic tradition, contributing in all the arts, and Anish is a towering modern example of this tradition." –
S.L.