TEL AVIV –
Shoe designer Kobi Levi
was working in his design studio in 2011 when he got an email that he was sure couldn't be real.It was from a studio executive working on
Lady Gaga
's newest video — a raunchy, otherworldly clip to accompany her pop anthem "Born This Way." The studio wanted to order several pairs of Levi's custom-made "double" boots for the singer to wear in the video, a request that Levi — once he determined that the email was indeed real and not a practical joke from his friends — was happy to oblige.But there was one problem: Levi had no idea how much to charge for the shoes. That's because, despite spending the past 14 years furiously designing and executing fantastical footwear in a side room of his snug apartment here, he had never sold a single pair. A lot has changed since then.Levi, 40, has now sold plenty of pairs of his outlandish high heels. And though he won't disclose sales figures and still teaches design classes to augment his income, he says it's enough to make a living.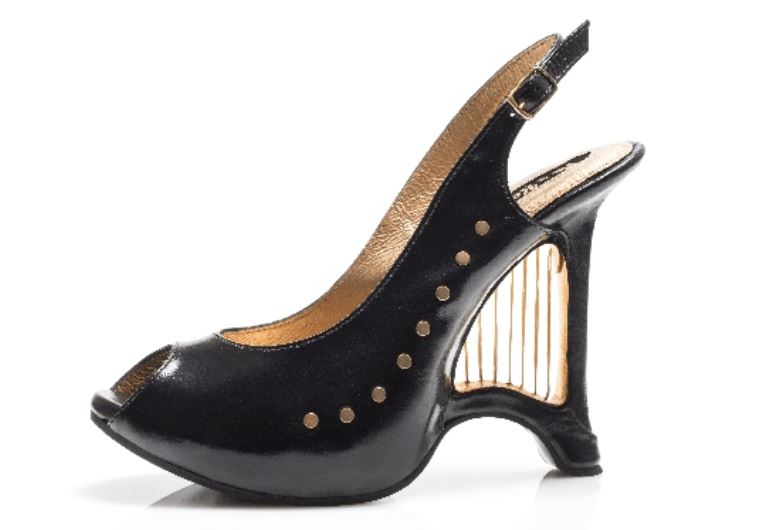 (
"Harp Black"
) His creations are less shoes than they are wearable works of warped and dreamy art: divinely twisted flamingos, their crossed stiletto legs masquerading as sleek spiked heels; a curved porcelain coffee pitcher, its arched handle welcoming the foot and a splash of free-flowing coffee anchoring it to the ground; a convoluted sex doll, complete with a plastic air stopper and a seductive "mouth" at the toe, its heel mimicking the seductive yet sterile shape of plastic inflated legs."I like to blend the line between art and design," Levi said over coffee at the legendary gay bar Shpagat on Tel Aviv's artsy Nachalat Binyamin Street. By day, the crowds at this ultimate hipster hotspot are thin and he has come here for some quiet to escape drumming construction underneath his nearby apartment. "Artists can say my shoes aren't art because they are a wearable product, and designers can say they're not design because they don't follow trends and they don't serve customers. And I can say to them, you're both right. You can fight about it or not, and I don't care."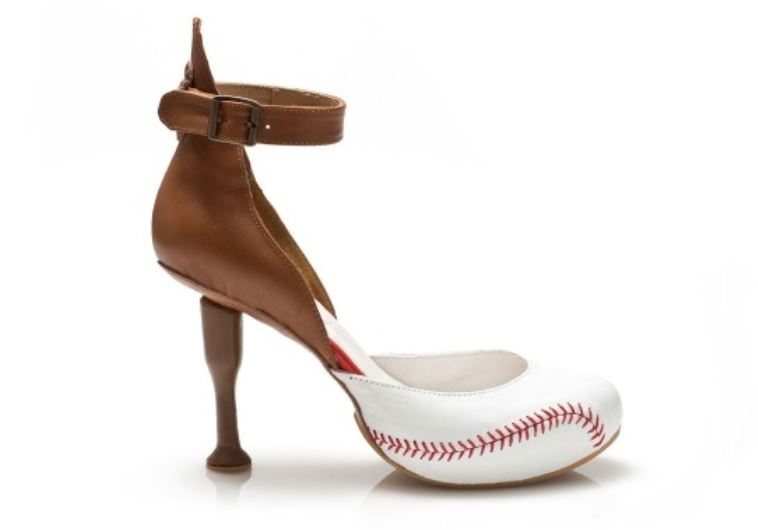 ("
Baseball
") In person, Levi belies his penchant for fabulously freakish design; he looks younger than his years and dresses simply in jeans and a plain V-neck T-shirt. When we meet, he is tired but bubbly — he has just welcomed a baby girl with a good friend, a single woman who also wanted a child. They plan to co-parent her.For years, Levi says, he used his own feet as guides when making his fabulous heels — but outside the studio, his footwear of choice is a generic male walking shoe. He says he doesn't know why he was drawn to creating shoes, but even as a young kid, he was already sketching them."The shapes were interesting and I loved the fact that you can also wear it," he said. "It's not just an object lying around, collecting dust."Levi is unabashedly modest about his success, admitting, "I never imagined that somebody would want to buy these shoes. I never thought about the things you're supposed to think about, like what the customer needs or how you give them what they're looking for. I don't design thinking 'this is a shoe for work' or 'this is a shoe for a wedding.' I just do it for myself." Nevertheless, a quiet buzz has been building around Levi ever since Gaga offered her stamp of approval. His designs have earned him coverage in publications such as Marie Claire and Glamour. CNN called his creations "shoe creatures" and "wearable sculptures" in an extensive interview, and Babble.com, the popular parenting portal, lifted an entry from Levi's blog to pay tribute to his special line of designs mimicking Disney villains.
("
Ostrich
")Levi — who still works solo out of that same room in his apartment — makes every pair by hand and keeps no inventory in stock. His studio is obsessively clean and organized to surgical precision: Bolts of fabric ranging from chartreuse vinyl to flashy purple leather fill the far wall, sorted in order of the rainbow. Foot molds, standing at attention in descending size, are stacked on shelves across the room, and an archaic leather press and an old-school sewing machine wait on the other side.He has learned to price his creations; each of his designs offered on his website cost $800 to $3,000. It's a stiff price tag, he admits, but because each shoe constitutes several weeks' worth of painstaking handiwork, he believes the cost is fair."The crazier the shoe, the more it costs," he explained, "because it requires more time, and you buy it for the art and the design. The more shoeish it is, the less it costs."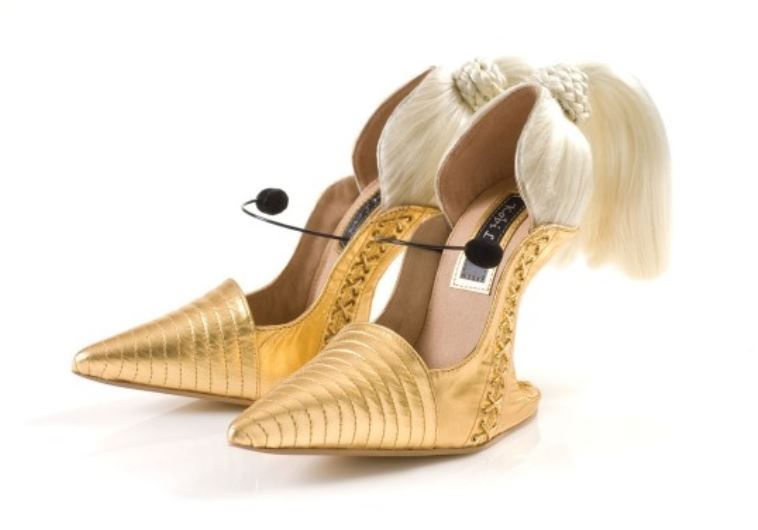 ("
Blond Ambition
")So his "Sing" heels, where the foot sits propped up on a microphone-shaped heel and the clever slingback evokes an open, lipstick-slicked mouth? Those go for $950 because the body of the shoe is a simple nude pump with a rounded toe. But his "Chewing Gum" shoes, one of the most whimsical pairs on offer, whose shape presents a retro walking shoe perched on a stretched pink "heel" of unfortunately stuck bubble gum? They cost a cool $2,240, thanks to their intricate structure, materials and design.Levi has dreamed up shoes that are birds, shoes that are fruit and shoes that are the head of Madonna herself, wrapped around the foot with a facial microphone and a platinum blonde wig. No design is too fantastic, he says, but there is one unifying element across all of his creations: style."It's not supposed to be comfortable," he said. "It's supposed to be beautiful. You don't wear them to jog. You wear them to look great."
("
Shark
")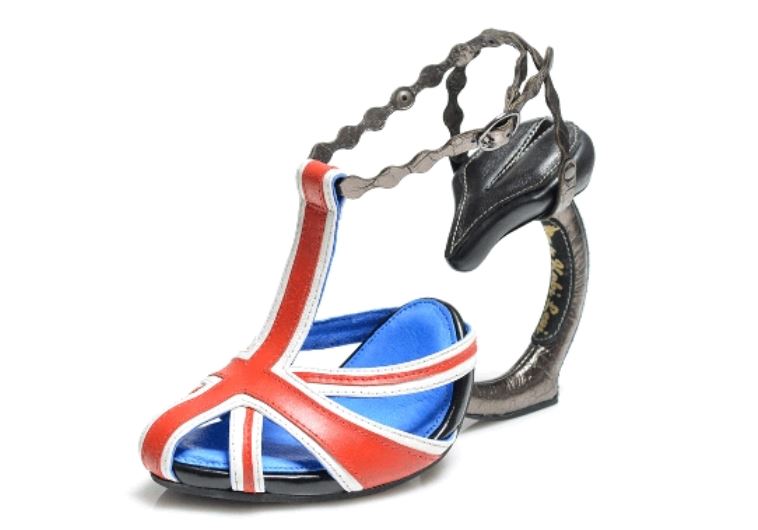 ("
Bicycle
")