Lawmakers and government officials read names of Jews who perished in the Shoah at the Knesset's annual "Every Person Has a Name" ceremony for Holocaust Remembrance Day on Thursday.The ceremony, instituted in 1989 by then-Knesset speaker Dov Shilansky, a Holocaust survivor, is named after a poem by Zelda, which was inspired those lost in the atrocities.The commemoration took place in the Knesset's Chagall Hall, beginning with the lighting of six candles, in memory of the six million Jews murdered.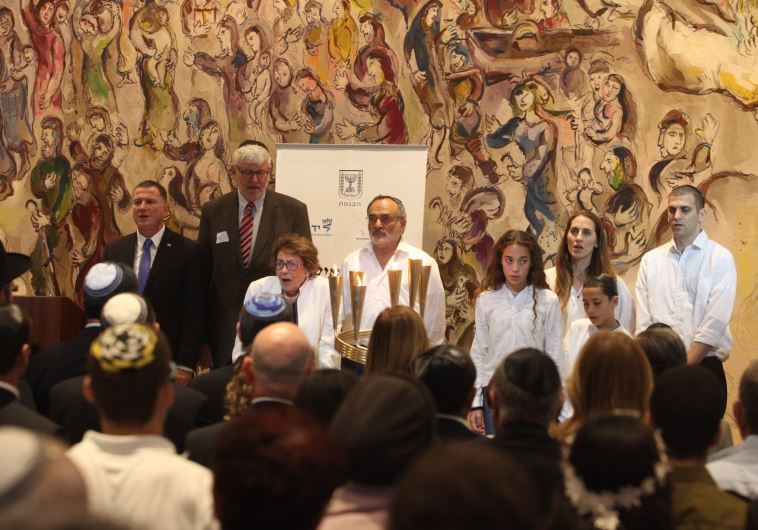 (Photo provided by: Knesset Spokesperson)
Others who lit candles were Holocaust survivors Esther Meron, Avraham Ivanir, Fruma Galant, mother of Construction Minister Yoav Galant, and Svetlana Sorokin, mother of MK Ksenia Svetlova, as well as Company for Location and Restitution of Holocaust Victims' Assets director-general Dr. Yisrael Peleg.Next, MK Ya'acov Margi read from Psalms, Sephardi Chief Rabbi Yaakov Yosef said Kaddish and an IDF cantor chanted the El Maleh Rachamim prayer.Knesset Speaker Yuli Edelstein began the name-reading by reading the names of children who died in the Sharogorod Ghetto in Transnistria, where his grandparents and mother survived the Holocaust.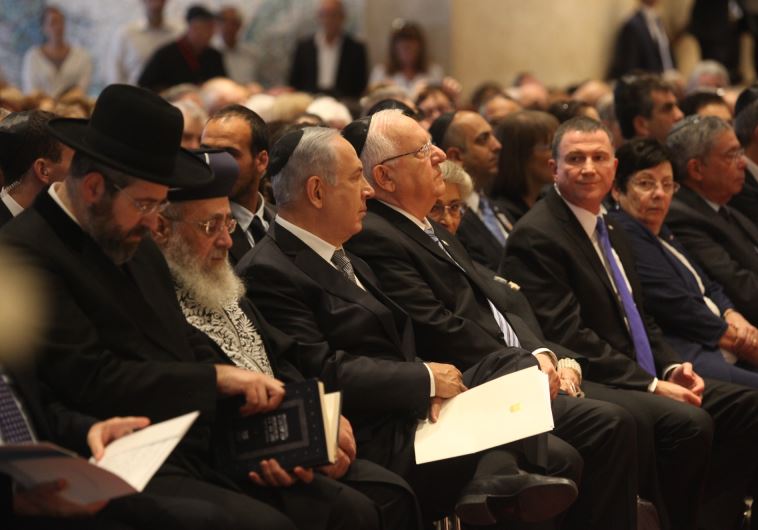 (Photo provided by: Knesset Spokesperson)
President Reuven Rivlin read the names of soldiers killed in the War of Independence who were the last surviving members of their families, as well as the names of their relatives who were murdered by the Nazis. His wife, Nechama Rivlin, read names of relatives, and had to stop in the middle to compose herself, as she was crying.Prime Minister Benjamin Netanyahu kept his annual tradition of reading a poem his father-in-law, Shmuel Ben-Artzi, wrote in 1941 in Israel, when he lost touch with his family in Europe and did not know what happened to them. They all died in the Holocaust.Supreme Court President Miriam Naor said she and her cousins did research to find out names and details about relatives who were killed in the Holocaust. "Every person had a name... We found many of them, but like in many Jewish families, we will never know the exact number [or relatives lost] and all of their names," she lamented.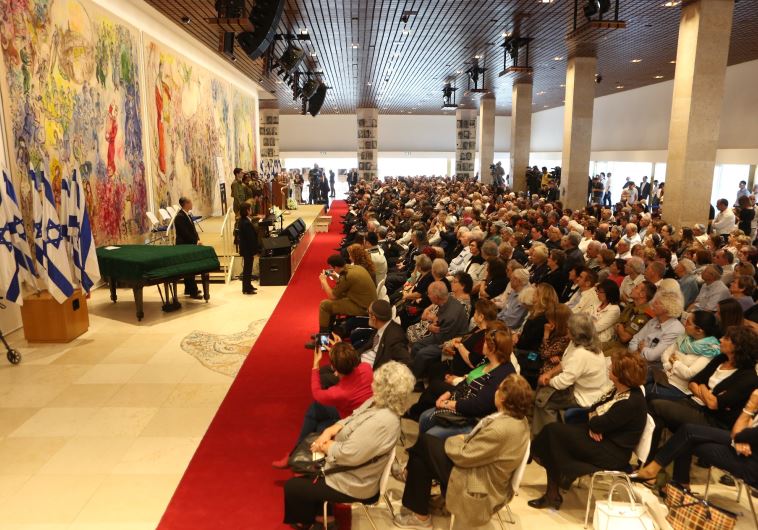 (Photo provided by: Knesset Spokesperson)
Ashkenazi Chief Rabbi David Lau talked about questions of Jewish law that arose in the Holocaust, recounting one, whose source is unknown, about a man who found bread that was hidden and was unsure if he could eat it or not, because someone might come back to look for it and he wouldn't be able to repay the person.Lau, whose father, former chief Rabbi Yisrael Meir Lau, survived Buchenwald, also read the names of his grandparents and their family members who were killed.US Ambassador Dan Shapiro participated in the ceremony, reading names of US Embassy staff members' relatives who died in the Holocaust.In the same hall as the ceremony, the Knesset displayed photographs taken by Holocaust survivors as part of a phototherapy course given by the Welfare Ministry and the Joint Distribution Committee.
Social Equality Minister Gila Gamliel and her daughters lit a candle in her mother's name, and in memory of her relatives killed in the Jado concentration camp in Libya, where 2,600 Jews were sent, 562 of whom died. Gamliel's great-grandfather, Shia Bracha, was sent to the camp from Tripoli, and was killed while trying to escape, and her grandparents lost a daughter from malnutrition in Jado."Israel owes its establishment to the heroes who underwent the hell of the Holocaust and rose from it to fight for Israel's independence, thus ensuring the continuation of future generations in Israel," Gamliel said. "The recognition in recent years of Holocaust survivors and victims of the Nazi regime in Arab countries is for me, as the daughter of a Holocaust survivor from Libya, is the closing of a circle and does justice to a large group in Israel that did not receive the recognition it deserves."