(Video credit Udi Shaham)
Firefighting crews on Thursday evening gained control of forest fires that broke out in Jerusalem and lead to the evacuation of dozens of residents of various neighborhoods in the capital. In the northern neighborhoods of Ramot and Romema, residents were told that they could return to their homes.In addition, traffic routes that had been cordoned off in the city due to the blazes were reopened.However, officials from the Environment Ministry advised residents to remain shuttered indoors as the threat of smoke pollution remained.
(Jerusalem fire. Credit: Shuki Cohen)
Earlier on Thursday, residents in parts of northern east Jerusalem's Ramot area were asked to evacuate their homes due to high winds, as firefighters feared the fire could rapidly spread to residential areas. Residents of two buildings in the south-western east Jerusalem neighborhood of Gilo were also evacuated as the flames encroached. Fire and rescue forces also evacuated the first line of houses closest to the blaze in northern Jerusalem's Mevasseret Zion. Environmental officials from Keren Kayemeth LeIsrael-Jewish National Fun (KKL-JNF) estimated that the fire in Jerusalem broke out at two locations in the Ramot Forest and the Cedar Valley. The fire then spread to toward the residential areas of Ramot, Gilo and Mevasseret Zion.Eighteen fire-fighting and rescue teams and four water-dropping air teams worked to control the blazes in the capital. The fire was thought to have been sparked by remnants of bonfires that were lit Wednesday night to mark the eve of the Jewish holiday of Lag B'Omer.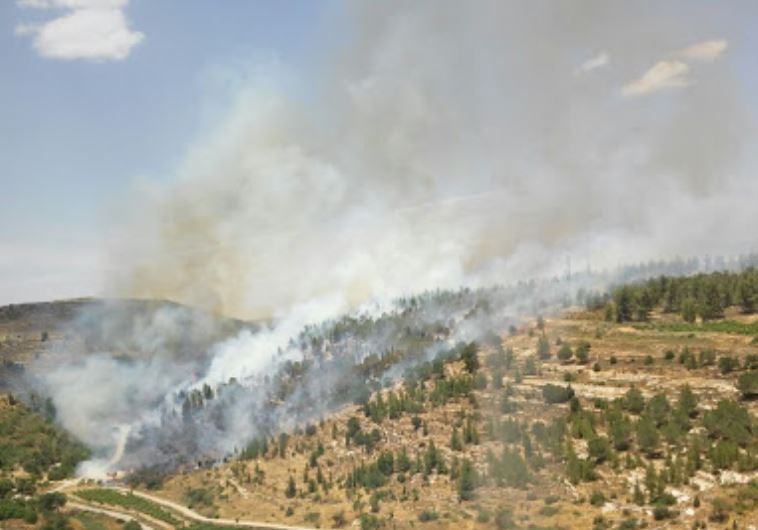 (Credit: Shuki Cohen)
No injuries had been reported thus far. In addition, weather conditions caused bush fires to break out in the South, in areas near Ashdod, Asheklon and Kiryat Gat including, Moshav Givati, Yanon, Merkaz Shapira, Be'er Tuvia Sde Uzia and Timorim.