Israel needs the newly formed Commando Brigade now more than ever, in light of threats from Hezbollah and Islamic State, IDF Chief of Staff Lt.-Gen. Gadi Eisenkot said on Sunday, during a ceremony marking the creation of the division.The Commando Brigade will incorporate the elite Egoz, Duvdevan, Maglan and Rimon units.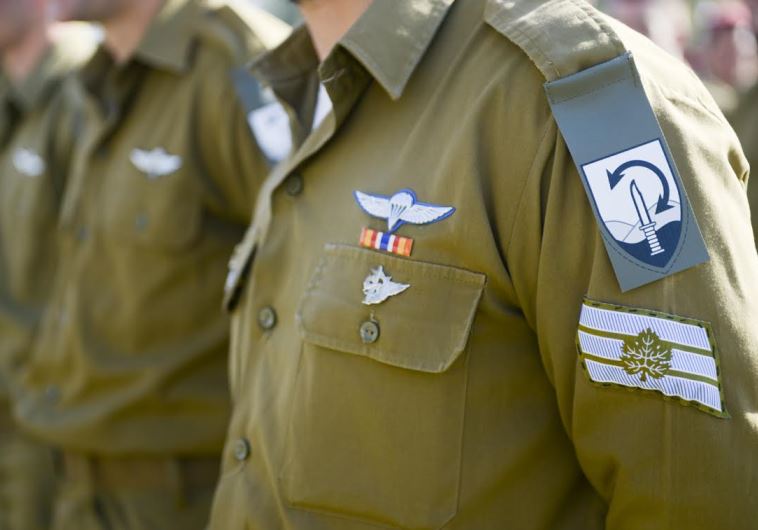 (
Photo: New unit's badge; dual arrow represents ability to get anywhere, any time, commando knife represents close-quarters combat
.)Brig.-Gen. Uri Gordin, commander of the 98 Division, said the new brigade will not only house all of the Ground Forces Command's elite units, but will also "lead the thinking and operational planning, develop the data and doctrine for activating special forces to win in wars and harm our enemies who are plotting against us in war between [wars]."Col. David Zini, commander of the Commando Brigade, said its very formation is a "declaration of the raising of the level of expectations from us as units, as a brigade, and from the whole of the IDF."The ceremony was also attended by OC Central Command Maj.- Gen. Roni Numa, OC Ground Forces Command Maj.-Gen. Guy Tzor, OC Depth Corps Maj.-Gen. (res.) Tal Russo and several other high-ranking military officers.
It will be tasked with being an accessible, independent, and flexible commando force that specializes in complex, face-to-face combat, long-range raids, and lengthy covert operations in the depths of enemy territory.The brigade was established following an order by Eisenkot to set it up under the Central Command's reserve 98 Division.Eisenkot said the four units that comprise the division have an impressive record in their defense of Israel."One does not need a broad intelligence or strategic understanding to understand the sensitivity of the current period."When we look north and see the boastful remarks [by Hezbollah], the wind blowing from Lebanon, the threats by Islamic State commanders in Syria and Iraq, and the wave of escalation we have been dealing with in recent months in Judea and Samaria, as well as threats from the south, all of these require us more than ever before to have the ability that exists here in this small space, the IDF's Commando Brigade."The commanders in the brigade will remain in a state of readiness and prepare for the "day they receive the order to realize our goal – the defense of the state of Israel, to ensure its existence, and if we are tested, to defeat any enemy."