The capital's Dormition Abbey compound of the Orthodox Church of Jerusalem, located near Zion Gate outside the Old City, was vandalized early Sunday morning by alleged Jewish extremists for the second time in nearly a year.The Benedictine monastery, on Mount Zion, is near a site where many Christians believe Jesus held the Last Supper, as well as a tomb revered as the resting place of the biblical King David, which draws many Jewish worshipers.The words "Christians to Hell," "Death to the heathen Christians the enemies of Israel," and "May his name be obliterated," accompanied by a Star of David, were crudely scrawled in red ink on a wall in the compound.Police spokesman Micky Rosenfeld said a forensics team was sent to analyze the writing, and an investigation into the hate crime has been opened, although no arrests have been made.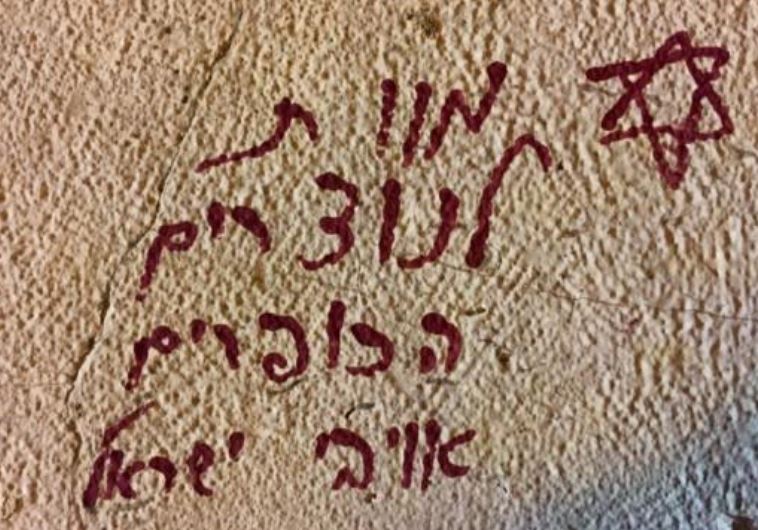 Photo
:
Grafitti at Dormition Abbey reads: "Death to the heretic Christians, enemies of Israel." (photo credit:Dormition Abbey)
During a cabinet meeting on Sunday, Prime Minister Benjamin Netanyahu condemned the crime and vowed to capture the perpetrators. "This is an action deserving of every condemnation; there is no place for actions like these," he said."Israel is a place where Christians and all other religions enjoy freedom of worship and the only place in the Middle East where the Christian population is growing. The police are working on finding those responsible."Public Security Minister Gilad Erdan called the vandalism an affront to the nation's religious principles."We will not let anyone undermine religious coexistence in Israel," he said. "We have zero tolerance for those who undercut our fundamental democratic principles and freedom of religion. We will deal with the perpetrators of these criminal acts."Head of the Joint List, MK Ayman Odeh, called the vandalism a hate crime."Harassment and harming of places that are holy to Islam and Christianity have become almost constant, and no one is held accountable," Odeh said."In Jerusalem members of the clergy have been harassed for years, but lately this phenomenon has become worse, more common and more violent."Moreover, Odeh blamed the government for "leading the hatred and approving, with a wink, the continuation of the hate crimes against the Arab minority in the state." In a statement, the Latin Patriarchate of Jerusalem described the Dormition Abbey as "a significant place for interreligious dialog between Judaism and Christianity" and expressed "hope that the perpetrators will be arrested before they put proposed threats into action."In a joint statement, Father Gabriel Naddaf, chairman of the Israeli Christians Recruitment Forum, together with Rabbi Yechiel Eckstein, president and founder of the International Fellowship of Christians and Jews, denounced the vandalism."These racist acts damage the friendship of Jews and Christians in Israel and worldwide, hinder Israeli-Christians from integrating into Israeli society and their recruitment into Israel's IDF," the statement said. "Furthermore, attacks like these hurt Israel's economy by scaring away religious pilgrims and tourists from visiting Israel."The statement continued: "A strong alliance of Christians and Jews is integral to Israel's standing in the world and to the security of its people. We call upon Israel's minister of public security and the police commissioner to act quickly and decisively to uproot this racist phenomenon from our midst."The American Jewish Committee described the attack as a contravention of "Israel's enduring commitment to respect for other religious faiths.""Once again, we are compelled to condemn vandalism of Christian holy sites in Israel, mindful that such acts of hatred not only threaten Christians, but also are a reprehensible affront to our Jewish heritage," wrote Rabbi David Rosen, director of international interreligious affairs."We count on the authorities to do their utmost to apprehend the perpetrators and seek to prevent other such similarly inspired crimes," Rosen continued."There must be zero tolerance for such vile acts of hate."Benny Kfir, chairman of the Israel Tour Guides Association, said the vandals have only succeeded in alienating potential overseas visitors."They deteriorate the reputation of Israel, deter tourists, bringing cancellations of orders and thus also seriously harm the Israeli economy," Kfir said in a statement calling for the perpetrators arrests.Last February, a bathroom and corridor in the Dormition Abbey compound were set on fire and its walls sprayed with anti-Christian graffiti by vandals who entered through a window during the early morning hours.Although the fire did not cause serious damage, the crime rattled the church and drew swift condemnation from local politicians and religious leaders.President Reuven Rivlin expressed outrage and called Patriarch Theophilos III of Jerusalem to voice his indignation, and to assure him that the perpetrators would be brought to justice."It is inconceivable that an act like this could happen in a house of prayer," Rivlin said at the time. "Such criminals not only threaten to set fire to places of worship holy to all of us, but ignite the regional powder keg upon which we all sit."The president added that protecting the holy sites for all religions is imperative to maintain the sanctity of Jerusalem.During the call, Theophilos thanked Rivlin for his reassurance, and spoke of the importance of tolerance."Our mission is to act to bring an end to such acts, in all areas of the Land of Israel," he said.Mordechai Meyer, an 18-year-old Jewish extremist from Ma'aleh Adumim, was arrested and placed on administrative detention by the Shin Bet (Israel Security Agency) in August for the arson and vandalism.However, he was released earlier this month and placed on house arrest after two unidentified minors confessed to the crime, while a third suspect has been indicted.In 2014, hours after Pope Francis concluded his visit to the capital, a vandal set fire to a guest book at the entrance to the compound.And in May of 2013, the church was vandalized with anti-Christian graffiti and cars parked near the building were slashed.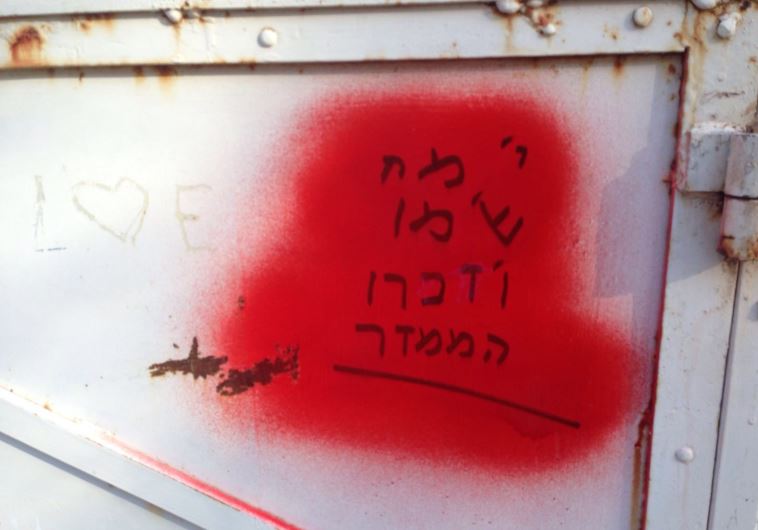 Photo
:
Grafitti at Dormition Abbey reads: "May his name and memory be erased, the bastard". (photo credit:SHLOMO MOR) Herb Keinon, Jerusalem Post staff and Reuters contributed to this report.