Israel Air Force (IAF) F-15 and F-15i squadrons are studying the results of an intensive, three-and-a-half week joint exercise with the United States Air Force (USAF), days after returning to Israel.The squadrons had taken part in the Red Flag exercise at Nellis air force base in Nevada, playing a 'blue force' against a 'red' US fighter jet squadron.Col. Or (full name withheld), head of the Training Division in the Israel Air Force, described the exercise as "most significant.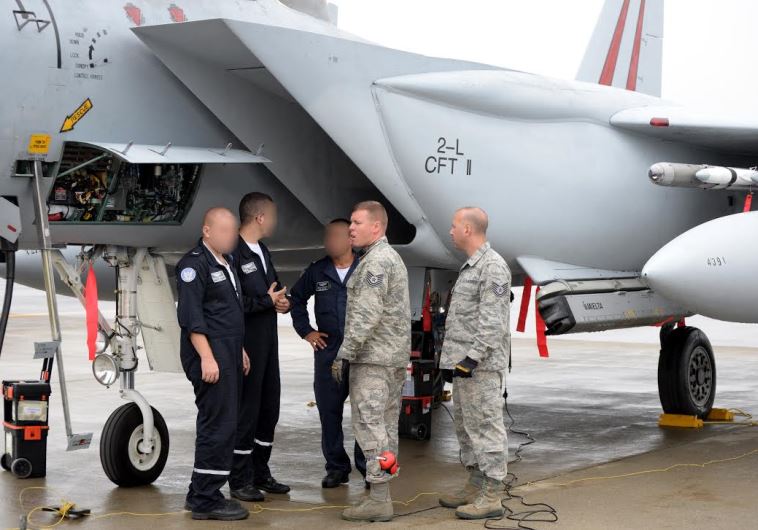 Training scenarios were varied, he added., The scenarios did "not relate to any one specific enemy. This was an imaginary enemy that was conjured from various places in the world. We had attack, interception, and pilot rescue scenarios, among others. Aerial threats and missile threat scenarios were there too," he said."The level of difficulty was high," Col. Or said, and the missions were "complex."Laser-guided weapons, GPS-guided weapons, and unguided weapons were used in training attacks by all forces, the IAF officer said.Planners installed a mock surface to air missile battery.IAF personnel and aircraft returned to Israel last week."I think that the results were very good. I don't have the pretension to say that we will never fall in this [type of operational] scenario," said Or."We carried out a lot of [mid-air] refueling on the way [to Nevada]. I do not think the number of times was important. It does not reflect the range of the flight, it reflects the planning," Or said.
"We taught and were taught a lot. I think this also has strategic value, in terms of cooperation, and in terms of our display. We wanted to do this in recent years and it did not work out. We are glad that this year, it did," Or told reporters during a conference call.The USAF is hosting a total of three other air forces in this year's Red Flag drill. In addition to the IAF, it has invited the Royal Jordanian Air Force, and the Republic of Singapore Air Force to take part. "It was an intensive drill and hence we sent a large number of crews. A respectable portion of pilots - and new pilots - took part," Or stated.