During Sunday's Purim procession in Hebron, far-right attorney Itamar Ben-Gvir, dressed as Hebron shooter Elor Azaria, could be seen holding hands with far-right activist Bentzi Gopstein, thinly disguised as US President Donald Trump.On Purim, where a Mardi Gras atmosphere mixes with right-wing politics in a city that dates back to biblical times, costumes based on popular characters in the news are hardly unusual."There is nothing more fitting than dressing up as Elor Azaria on a day like today," Ben-Gvir said.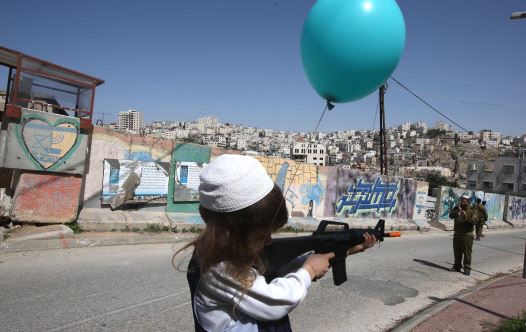 Gopstein wore a suit and tie and had dyed his hair orange."Bentzi dressed up as Donald Trump," said Ben-Gvir, putting his arm around Gopstein neck."If this had happened in the US, there is no question that [Azaria] would have received a warm hug from the US president, from Donald, just as we are hugging now. But in Israel, he received a cold shoulder," Ben-Gvir said.Gopstein said he wishes that a leader like Trump would be voted into office in Israel, particularly one who would reform the media.There were, of course, some visual differences between Trump and Gopstein, who still wore a yarmulke and kept his beard."It's been said that he actually looks more like [Likud MK] Yehuda Glick," Ben-Gvir said.Another costumed character with a keffiyeh on his head held a sign with a picture of a Palestinian flag that read, "ISIS for Free Falestine [sic]." The parade, which included community members as well as visitors, also featured a fair amount of attendees dressed in traditional costumes, such as pirates, clowns, brides and Queen Esther.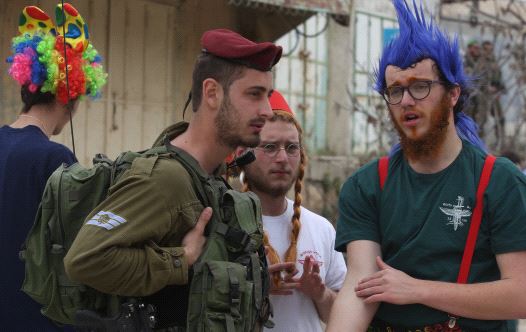 A van accompanying the parade blasted religious and secular music. Many parade-goers danced alongside it in the street, holding bottles of wine and liquor.The procession lasted for several hours and wound up next to the Cave of the Patriarchs.A few Palestinians and pro-Palestinian activists stood by to watch.One parade attendee, who said he was dressed as a Jew, heckled the foreign pro-Palestinian activists, saying, "You do not love me because I'm Jewish."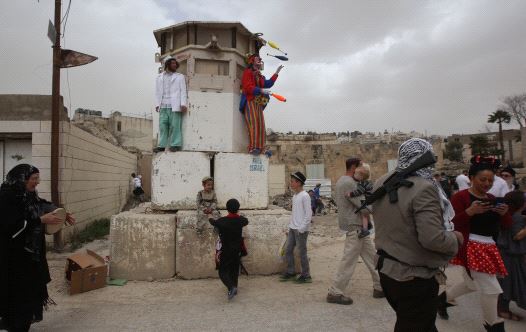 Assuming that the activists were Christians, he said, "After they killed us for thousands of years in the Diaspora, they came to see how the Muslims do it better. But they will not persevere.
One year ago, just before the Jewish community's annual Purim parade began in the Tel Rumeida neighborhood, Azaria fatally shot immobilized Palestinian assailant Abdel Fattah al-Sharif, after the latter stabbed his friend.Azaria, an IDF soldier, was charged with manslaughter last month and sentenced to 18 months in jail.On Sunday, just one year later, a number of people in the parade dressed up as a Azaria, who they view as a hero responsible for killing a dangerous terrorist."He is everyone's child," said Ben-Gvir as he called Gopstein, who heads the Lehava organization.