Netanel Mark went from being an IDF officer to a son the second he arrived at the scene of Friday's terrorist attack that killed his father Rabbi Michael "Miki" Mark.He had been stationed in the area that afternoon, when he heard that a shooting had occurred along Route 60 in the West Bank between his father's home community of Otniel and the settlement of Beit Haggai."We went there immediately. We didn't know whether people were wounded. I didn't know the scope of the attack or who was there," Netanel, 23, said on Monday as he sat on a plastic chair on the lawn of his family's private home in Otniel and spoke with reporters. His wife, Noa, sat next to him and held his hand.A slim tall young man with a short black beard, Netanel wore a gray T-shirt. It was torn, from the collar, as is traditionally done as part of the Jewish mourning ritual.He spoke softly and slowly, as he recalled his arrival at the scene, just a short time after Palestinian gunmen shot at his family's car, while his parents and two of his siblings were inside.The road was already crowded with soldiers, ambulances and paramedics, Netanel said. "I saw an overturned vehicle. I recognized that it was my parents' car," he said."I headed to an ambulance to see who was inside and found my younger brother Phedia," he continued.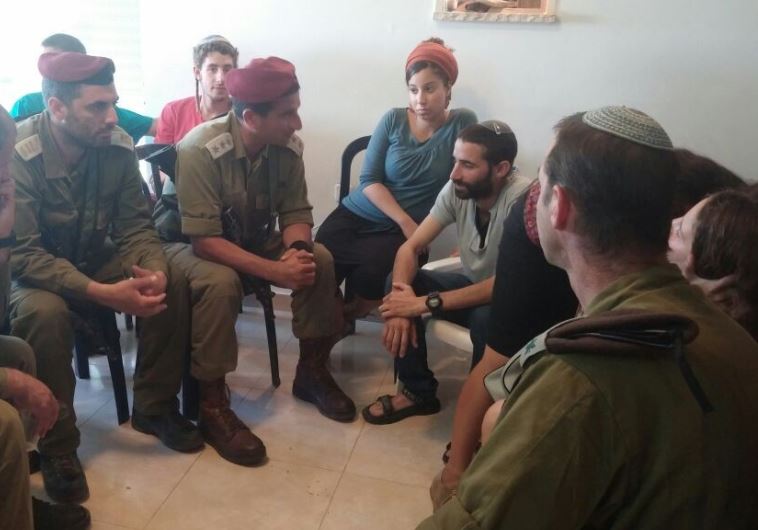 Netaneal (center) and his wife Noa flanked by IDF soldiers after Palestinian gunman killed his father 'Miki' Mark, July 4, 2016 (Credit:

SOUTH HEBRON HILLS REGIONAL COUNCIL)
On Monday, Kalmanzon sat with Mark's teenage daughter Orit, and spoke with reporters about the events of last week.After receiving an alert signal, he had flown to the scene so fast that he arrived along with the ambulances.Given his task as part of Otniel's security response team, he was concerned that the victims were from the settlement. Kalmanzon began to speculate about who, including his uncle, owned a black Toyota, like the one he saw in front of him.At first, Kalmanzon dismissed that possibility."No, not Miki - I told myself." He held onto that belief even after he saw his aunt Chava wounded at the scene."I said, 'Chavi, do you hear me?' She was speaking, but she didn't respond to me," he said. Then he checked the driver's seat in the car and understood that his uncle was dead.
Prayer service at funeral for Michael Mark (Credit: Jack Brook)
Within minutes Kalmanzon had returned to Otniel, where he gathered three of Mark's children, Orit and two of her younger sisters.Orit recalled how they sat in the living room and at first no one told them anything."We were afraid. We understood that something bad had happened but I didn't think it would be serious. Then they said that my father and mother were seriously injured," she said.Her first instinct was to utter minha, the daily afternoon prayer."It was clear that my father was gone. I prayed that at least my mother would live. I prayed a lot," Orit said. Then she hugged her two younger sisters.On the day of the attack she had woken up early to travel to Beersheba with her mother and one of her sisters.Along the way they sang religious songs very loudly. Her father also gave her details about a summer trip he had planned for them up north. They imagined the fun things they would do.One of these, would not be possible now.She was still learning for her license and would only receive it after they returned, Orit explained. "He [her father] promised me, that if I passed it before the end of the summer, we would take a day, that we would go up north and I would drive. We would go to a restaurant and return, just so I could drive and enjoy it. He believed in me. He said, 'you are going to pass the test the first time.' " She spoke of how much her father loved his children and wife."It was as if they were one, they could communicate just by looking at each other," Orit said, talking about her parents.The couple met when they were young teenagers and were married when he was 18 and she was 17, recalled Chava's brother Avi Batt, who lives in the Ofra settlement.Both he and his sister were born in the United States. Their parents immigrated to Israel in the early 1970s.His brother-in-law, was the only one in his immediate family who doesn't hold dual citizenship, Batt said."He was an amazing husband to my sister.My kids loved him, he was so giving and so loving. It is crazy to talk like this about Miki," said Batt.He recalled that they had last seen each other at a family bar mitzva."He was younger than I was, but more than once or twice when we had questions about what to do about this or that, we would call Miki," he said.Both he and Orit described how people would constantly seek Mark out for advice, including that last Friday morning.His brother-in-law was talented, in both his expertise in Jewish religious studies and in business, Batt said. "It is rare to find people who do both, excellently," he added.As the director-general of the Otniel Yeshiva, Batt said, Mark had transformed it from a small school with eight students to a large and well known Hesder program of 350 students." He was good at building and at learning Torah.""In the last years, he spent more and more time learning." He gave classes to people who were older and they listened to him, Batt said, "he was so deep."Batt first received a phone call about the attack when he was shopping for Shabbat with his wife in a Rami Levy supermarket.
Family of Rabbi Michael Mark at his funeral in Jerusalem. Credit: March Israel Sellem/The Jerusalem Post
They left their groceries there and went to the hospital.Doctors explained to them that Chava had sustained a head injury and had lost one of her eyes. They assured the family she would survive, but that it was unclear what her condition would be.But "thank God" she has opened her eyes and seems to recognize and know everyone, Batt said."She understands what is going on, but we still need prayers," he said.As Batt spoke with reporters, he received a message from relatives at the hospital who told him that Chava did not remember any details of the accident and was now learning, for the first time, that her husband had died.Phedia was released from the hospital already on Saturday night. Tehila, 14, was released on Tuesday and is recovering from a gunshot wound to the stomach.It's not the first time that this family was a victim of a terrorist attack, Batt said.His nephew, Yehonadav Haim Hirschfeld, 19, was one of eight students who were killed in 2008 when a Palestinian gunman infiltrated Mercaz Harav Yeshiva in Jerusalem.The family home, where the shiva takes place, is located just a few houses down from the late Dafna Meir's home, a mother of six who was killed in January by a Palestinian teenager at her own doorstep.In 2002, two Palestinian gunmen also infiltrated the settlement, entered the Otniel Yeshiva and killed four of its students.Speaking with reporters about the latest attack, Orit said in a grief stricken voice, "My father brought us up to be strong and not to break apart."
From the paramedics, he learned that his father had died and his mother Chava and sister Tehila, were on their way to Hadassah Medical Center in Jerusalem's Ein Kerem.Along the way Netanel reassured his bother, who was lightly wounded and shaking, that everything would be fine, even as he began to call his siblings – there are ten children in the family – to tell them to go the hospital. He also phoned his wife, who was in their Gilo apartment in Jerusalem.But he was not the first relative to arrive at the scene. His cousin, Elhanan Kalmanzon, had already traveled to that spot on Route 60 and returned to Otniel.