William Kiprono Yegon of Kenya, won the Tel Aviv Marathon on Friday morning, completing the race in 2 hours ten minutes and 51 seconds. Kiprono Yegon was just 21 seconds off the the Tel Aviv Marathon record that he set last year when he finished the race at 2 hours 10 minutes and 30 seconds. Approximately 40,000 runners were participating in five different races taking place as part of the 2016 Tel Aviv Marathon festivities on Friday. Over 2,000 runners were taking part in the full marathon, which passes through Dizengoff Street, Rothschild Boulevard, Rabin Square and the promenade, among other sites. Francis Kibiwott of Kenya took second place with a 2:12:19 finish and Kipnegtich Katamphen, also of Kenya finished at 2:14:09. Among the women, Lonah Chemtai Korlima of Kenya finished first at 2:40:16, Margaret Njuguna of Kenya took second place with a 2:43:11 finish and Azeb Weldehawariat of Ethiopia finished third at 2:58:51. The full marathon (42.1 kilometers) started at 7 a.m., the half-marathon started at 8:10 a.m. and the 10km races began at 7:20 a.m.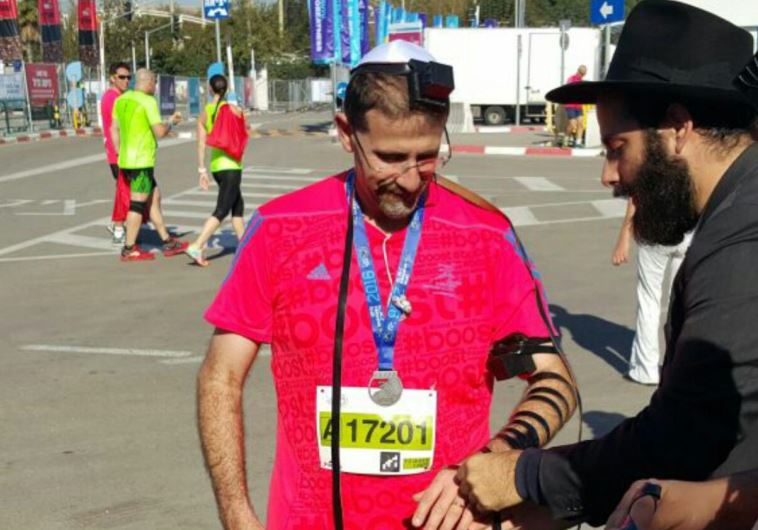 (Photo: US Ambassador Dan Shapiro putting on tefillin at the end of race, Credit: Yehuda Schlesinger, Yisrael Hayom)
A children's mini-marathon was held on Wednesday, with over 3,000 kids running courses of 420m. and 1km. "This is the eighth year in which we are celebrating the Tel Aviv Marathon," said Mayor Ron Huldai. "This is one of the most spectacular races in Israel and is among the world's biggest marathons." Samsung, the named sponsor for the event, said that the oldest person participating was a 92-year-old man and runners from some 60 nations were taking part. Magen David Adom was prepared to ensure the safety of the runners. Along the race's routes, MDA stationed mobile intensive care units, regular ambulances, ambucycles, tom cars (off-road vehicles), electrically-powered rescue vehicles and Segways, as well as paramedics and medics to provide first aid.Medical teams were present, on foot, along the course of the marathon. At the finish line stood a tented emergency medical facility with intensive care beds manned by doctors and nurses from Tel Aviv's Sourasky Medical Center and MDA medics and paramedics. There were two small pools of ice water to cool down hypothermia victims and three more tents for treating the lightly injured.
A $40,000 bonus will be handed to any runner who will complete the full marathon in under 2:08.00 hours. The event will also include a hand-cycle race.