Two vehicles were set ablaze and threats written on a nearby wall in the northern Arab town of Ara in a suspected hate crime on Wednesday.Scribbled on a wall in graffiti were the words "administrative price-tag" and "regards from the exiled." Police responded and opened an investigation.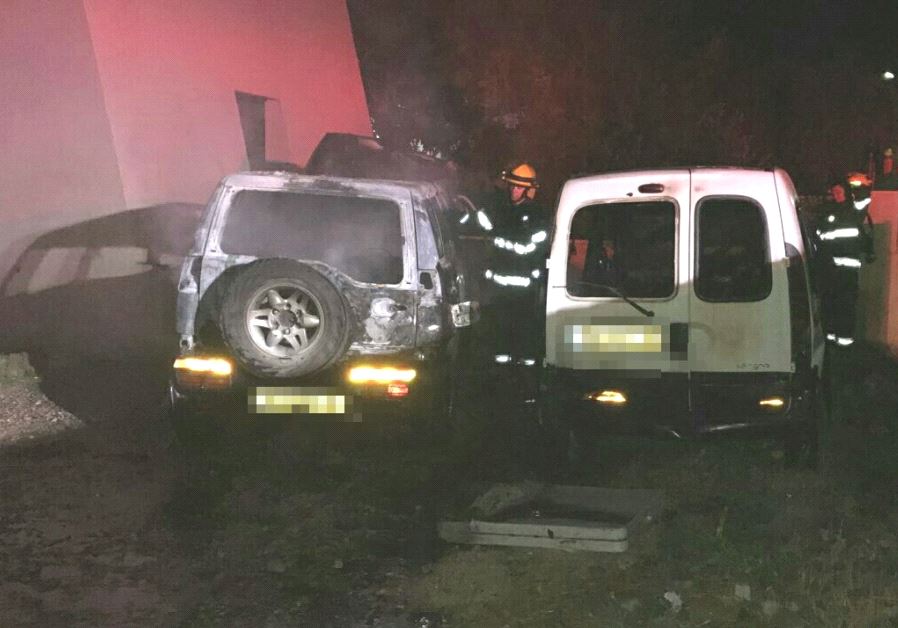 Price-tag attacks typically refer to acts of vandalism, including graffiti and arson, which are carried out by radical settlers, primarily in the West Bank, in response to unwelcome government policies or alleged Palestinian violence.The "exiled" possibly refers to government actions to bar certain suspected Jewish extremists from entering the West Bank.Following the incident Joint List MK Yousef Jabareen hammered the police. "They show criminal incompetence in dealing with price-tag terrorism," Jabareen said in a statement. "It is amazing that in these cases the police are unable to get their hands on the criminals, who continue to set fire to cars, houses, and houses of prayer."Earlier this month more than two dozen vehicles and homes in Arab enclaves of east Jerusalem and the Northern Galilee were vandalized in a suspected price-tag attack. Also this month in the Arab town of Na'ura south of Nazareth, at least eight cars had their tires slashed and several homes were defaced. The words "price tag," "administrative price tag" and "administrative revenge" were spray-painted in black Hebrew letters on several of the vehicles and homes.Meanwhile, a threatening note and bullets were placed on the car of Ramat Hasharon Mayor Avi Gruber earlier this month. The threat is suspected to be related to the mayor's ongoing tensions with segments of the ultra-Orthodox community.
Daniel K. Eisenbud contributed to this report.