Five months after they vowed to love each forever under the wedding canopy, Noy Yaakobi stood by her husband's freshly covered grave with tears streaming down her face, and promised that death would not part them. "I do not know how the world will continue to revolve without you, but I promise to continue to love you until I die," Yaakobi said.As she spoke, she looked out at the thousands of mourners who crowded into a back corner of the Mt. Herzl cemetery, on a ledge that looked out over the Jerusalem hills.Just the day before, she and her husband, Adv.-St.-Sgt.-Maj. Yosef Kirma, 29, had been looking forward to their future, and had dreamed of the children they would have together.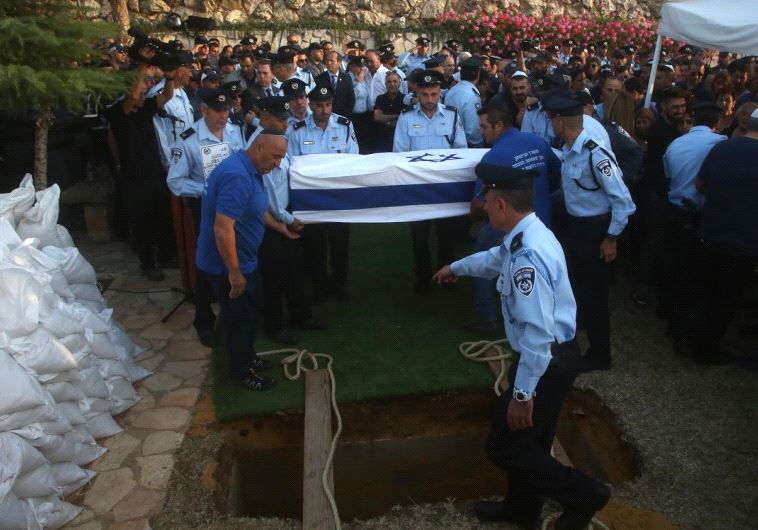 Those dreams ended on Sunday morning, when her husband was killed as he attempted to block the path of a Palestinian gunmen, who had injured five others and killed Levana Malichi, 60 near Jerusalem's Ammunition Hill.It was not the first time Kirma was confronted with terrorism. Last year, he thwarted an attack on a Jerusalem nursery school. In December while on patrol in Jerusalem, Kirma saw a suspicious looking Palestinian man near the school. Kirma stopped him, searched him and discovered that he had a knife. During the investigation that followed the man confessed that he had planned to execute a terrorist attack. Kirma was later given a citation from the Jerusalem District Commander for his bravery.But for Yaakobi, he was her long-time beloved, who always had her back and offered her a shoulder to lean on."You are my light and my heart," Yaakobi said.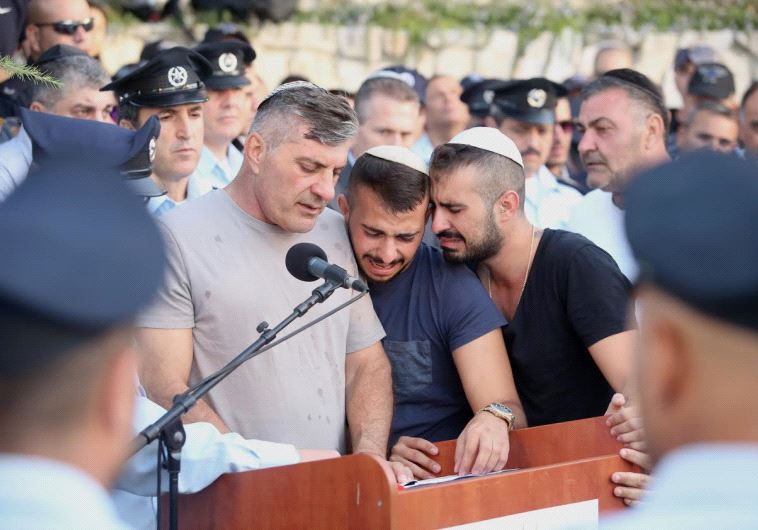 "They told me to write a blessing to you from my heart, but my heart is shattered into pieces," she said. "You loved me unconditionally, more than I love myself. You helped me with everything," Yaakobi said."You were beloved to everyone, you were their number one and my number one. I don't know how to part from you," Yaakobi said.Yosef's father, Uzi, spoke of his oldest son, who he also considered a friend."What will I do now?" he asked, as he spoke in a low, tearful voice. "How will I survive?" It was already clear to him, he said, that his son's death had cut his life into two parts: the time before the day, and the time after.Yosef's mother-in-law, Orit Yaakobi, said that she had waited for over a decade for him to become a part of her family."I can't believe that now I have to say goodbye," she said. "Just last week, we spoke about your dreams for the future. This is not the dream that you meant. I'm asking God to wake us up from this nightmare," she said.
His cousin, Shai Hassid, said, "I still feel that you are about to come through the door." He recalled the holidays they had spent together. "The 29 years you lived is not enough. You wanted more for yourself and for the nation you served." Yosef was the rock of the family, he said, the one who filled the house with life and organized events.National Police Commissioner, Insp.-Gen. Roni Alsheich, said, "You defended Israeli citizens time after time. This time, you paid a heavy price to save the lives of others."Almost immediately after his funeral, a funeral was held for the other shooting victim, Malichi who was buried in Jerusalem's Har Hamenuchot cemetery. She worked in the Knesset for 30 years, and left behind a husband, three daughters and six grandchildren.