On April 25, 2015, an earthquake measuring 7.8 on the Richter scale devastated Nepal. Just over two weeks later, the country was rattled again by a magnitude 7.3 quake centered northeast of Kathmandu.Nearly 9,000 people were killed, 22,000 injured and hundreds of thousands of homes destroyed or damaged in the twin quakes.As with most international disasters, Israel was among the first countries to send humanitarian aid in many forms.
The organization's connections and understanding of the region were of invaluable help to other NGOs arriving on the scene."The JDC [Joint Distribution Committee], which is one of our donors, showed up the day after the earthquake," says Kaminka. "We're not a disaster-relief organization, and they have more expertise in that but had no knowledge of Nepal and no staff here, so we joined forces and have been working closely together."One of their joint projects is a youth service program modeled after the Israeli year of national service, in earthquake- devastated villages. "We train and provide a small stipend to 40 youth leaders to take a role in rebuilding their own communities," says Kaminka."People always think about Israeli technology and agriculture, and we do introduce technologies such as drip irrigation, but Israeli social models are also interesting."Tevel helped an Israeli medical team from Natan International Humanitarian Aid with logistics immediately after the earthquake and recently finished a project with Magen David Adom to distribute building supplies and food to 800 Nepali families.With support from the Pears Foundation, Shusterman Foundation and Crown Foundation, Tevel has also worked with volunteers from the Jewish Coalition for Disaster Relief, World Jewish Relief and others. Bishnu Chapagain, the Nepali director of Tevel's activities in Nepal, earned his doctorate in plant science in Israel at Ben-Gurion University of the Negev. His agricultural training is critical to Tevel's long-term project to introduce Nepali farmers to Israeli farming practices.Currently, a variety of Tevel recovery programs in agriculture, education, disaster- risk reduction, resilience, crisis intervention and income generation are benefiting some 25,000 villagers in six of Nepal's most impoverished regions.The projects are run by 80 Nepali and 59 Israeli staff and volunteers working side by side, fulfilling a three-year commitment to the government of Nepal."We don't come and tell them what to do," stresses Kaminka. "They tell us what they need help with, and we approach our work as a partnership with them. Our focus is not only giving out things but developing people in the community who can take on these projects long after we're gone."This year, Tevel b'Tzedek was the first Israeli organization recognized in Nepal as an INGO (international NGO) among 127 others, including major players such as Save the Children and Care International. "This is a major accomplishment for the Israeli development world. The other NGOs see that there is an Israeli face at the table," says Kaminka."We are now recruiting for the fall 2016 sessions of both our one-month Exchange for Change program and seven- month Tevel Fellowship program, which mixes pairs of Israeli and Nepali volunteers in some of the poorest and most remote villages. We need great people who want to help rebuild Nepal."IsraAID IsraAID arrived in Nepal the second day after the earthquake to help rescue survivors and establish a temporary field clinic in northeast Nepal.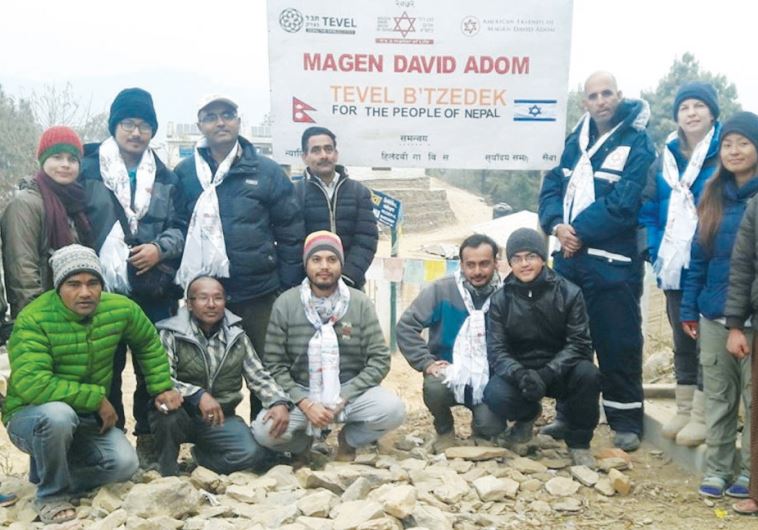 The organization now runs a variety of humanitarian projects in Nepal under the direction of 55 Nepali and five Israeli staffers, says IsraAID Global Partnership director Yotam Polizer, who visits every other month and directs all the NGO's activities in Asia. "We'll be there at least three more years because these are all long-term initiatives," he says.Polizer was quite familiar with the country before the earthquake through his previous positions at Tevel b'Tzedek and at the Israeli Embassy in Kathmandu."I had gained knowledge of Nepal and its language and had many contacts there, so I was able to build a team quickly when IsraAID arrived," Polizer says.Working in all six affected districts with support from the American Jewish Committee and Jewish Federation network, IsraAID brings in Israeli specialists to train local NGOs to run initiatives such as an emotional support hotline."We have an office and training center in Kathmandu," says Polizer.Ahead of this past winter, IsraAID and a Korean NGO distributed more than 1,000 packages of warm clothing to Nepali children affected by the earthquake.Polizer points out that the goal was not only to protect the children from the cold but also to ensure their ability to attend school during the winter.One of IsraAID's current projects, dubbed HoneyAID, is a beekeeping cooperative staffed by women who lost their homes and sources of income in the earthquake."We helped establish a factory that now employs 130 women and is expanding to employ 500 in the next year or so. They sell honey to local stores and to tourists in Nepal. Each woman receives one beehive stacked with a colony of local Himalayan bees to start her venture," Polizer says.IsraAID trained six theater troupes to present three different plays in all the earthquake-affected districts as an effective way of relaying information about building community resilience, helping children cope with trauma, and dangers to women stemming from violence and trafficking."Theater is an important part of the Nepali culture, and they don't have electricity or Internet, so it's the best way to deliver messages," explains Polizer."Altogether, more than 70,000 people have taken part in our theater program, and the model is now being adopted by UNICEF."As IsraAID also continues to work actively in Japan five years after the tsunami (the only foreign organization still on the ground after arriving to help in relief efforts in March 2011), several partnerships have developed between its teams in Fukushima and Nepal.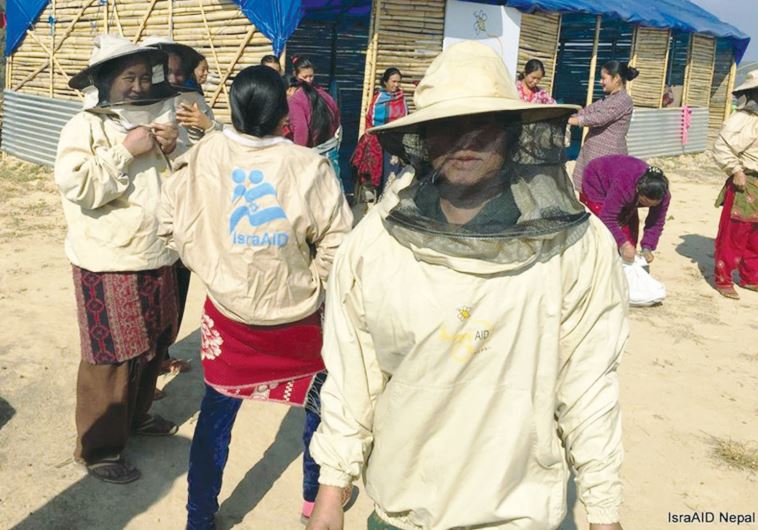 The Japanese government is funding Disaster Specialist Education, a program where Israeli and Japanese experts who have worked with IsraAID in Fukushima are sent to a Nepali university to train a cadre of disaster-relief professionals such as social workers.Polizer is especially excited about an exchange program involving five high school students from Nepal and five from Fukushima."The Nepali teens came to Japan and they learned from one another and created bonds," says Polizer. "This was significant because it's rare for victims of different disasters to make contact with one another. We hope to do more of this. We are fund-raising for it now because it was really successful."
Reprinted with permission from www.Israel21c.org
The lifesaving and rehabilitation activities of the Israeli government, military and various NGOs were so significant that the Nepalese came to see Israel as a source of inspiration.Whether it was pulling survivors from the rubble, delivering babies and treating the injured, cheering traumatized children, teaching resilience techniques, rebuilding villages or introducing lifesaving innovations, Israelis were prominent in all aspects of relief work.A year later, Israeli nonprofits Tevel b'Tzedek (The Earth in Justice) and IsraAID are still on the scene helping Nepali villagers get back on their feet, and expect to be there for some time to come.The Earth in Justice Tevel b'Tzedek, founded by Rabbi Micha Odenheimer with the goal of engaging young Jews and Israelis in the developing world, began its humanitarian work in Nepal in 2007. The original plan was to cycle volunteers to one impoverished district at a time. "When the earthquake hit, we were in the second cycle," deputy director Elana Kaminka says in a recent interview. "But the quake hit the communities from the first cycle and we knew these people, so we redeployed to those communities in addition to continuing with the ones in the second cycle, which also was hit by the earthquake. In addition, we took on a third district that was affected."