Rhythm and blues music is heard in the background.Feet move tentatively on the floor followed by hands unevenly clapping to the beat. The girls follow the instructions, dancing again and again until they get it right."Back-jump, base-base, jump and five-six-seven…" the music is played an additional time.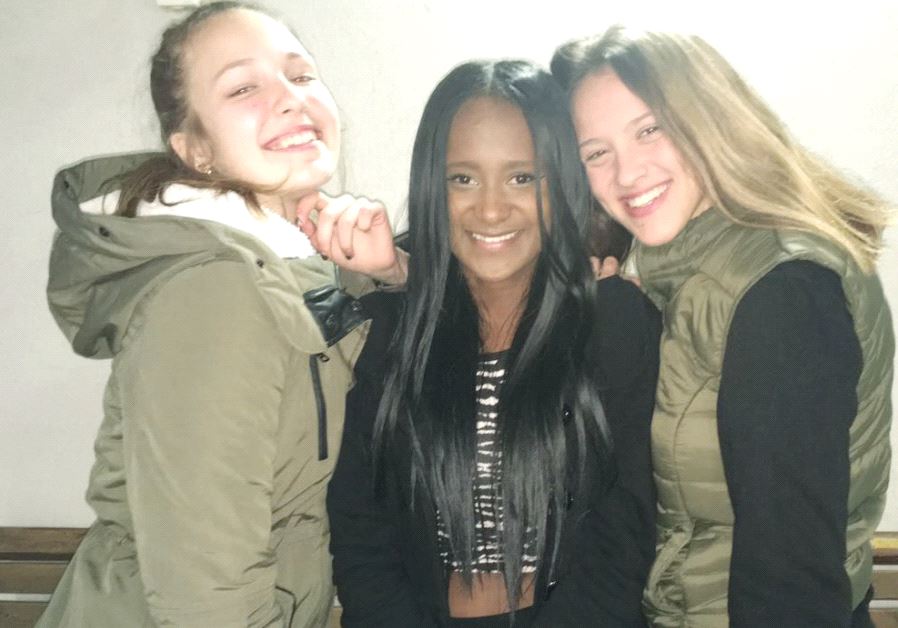 Budilovsky, an 18-year-old 12th-grade student, has been cheerleading for Hapoel Tel Aviv for the past three years. Because some of the games are on TV, the cheerleaders get the opportunity to be seen by their friends and family."Many friends of mine tell me – or message me on Facebook – that they saw me on TV. I really enjoy performing in front of a crowd and having some of the games even shown on TV, because it gives me the chance to perform more often," she says.Budilovsky says she gets a lot of support from her family and friends. However, since this is her final year in high school, tests have become more difficult and carry more weight."There are some problems with school, because sometimes a day after a game there is a test and I need to study harder for it," she says.Belete is 16 and in 10th grade. For her, cheerleading is first and foremost about having fun. Growing up in a family where both parents work, the challenges for her are not just on the dance floor."It's hard managing the time between cheerleading and family. I have two younger brothers at home and my parents are always working." Her family is indeed proud of what she does. "I have agreements with my parents about the busy schedule I have and I try not give up my time here in the dance studio when preparing for the next game."Bellayev, also 16, adds that there are daily challenges she has to cope with."Sometimes when we come home late after the games, my parents get angry and even say they won't allow me to attend the next game." Having said that, she adds she loves being a cheerleader. "There are difficulties with school and my parents, but I love performing! As long as I can do it as much possible, I am having fun."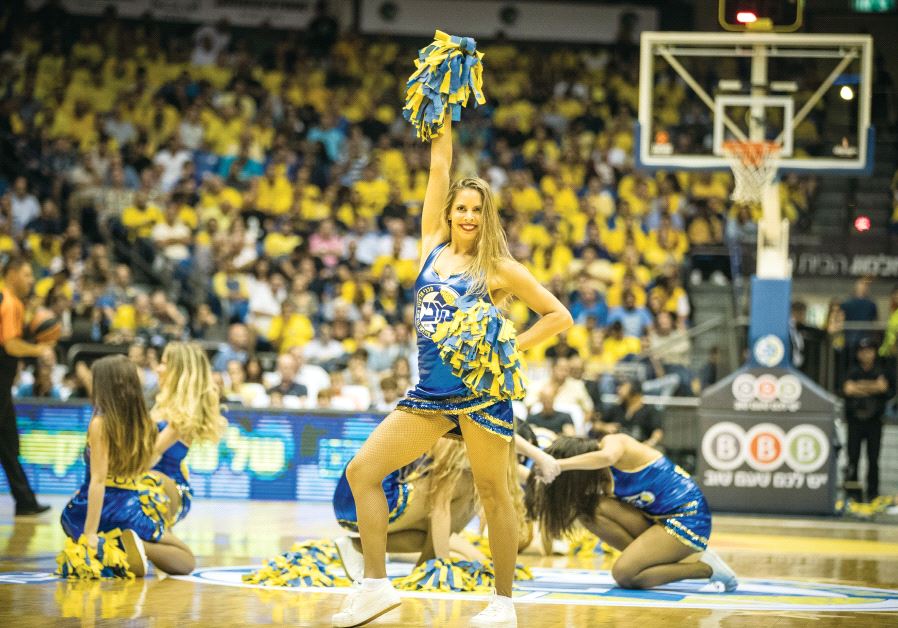 FOR 34-year-old Moran Mary, opening her studio was a natural progression from her dancing. Mary started dancing when she was four and danced for Claude Dadia's Dance Company while in high school. She has been involved with Hapoel Tel Aviv's cheerleading team for the past four years. While dancing at the Broadway Dance Center in New York City, Mary observed how big cheerleading is over there."When I was in the US, I noticed that working with a cheerleading squad is a multidimensional discipline. You see many different types of cheers that begin using a dance routine and then turn into a cheer."Growing up in a family who were big fans of Hapoel Tel Aviv, it seemed only natural for Mary to join the club in some way. One day, with no contact information to follow up on, she heard the team was searching for someone to lead Hapoel Tel Aviv's cheerleading squad."I decided I wanted to do this and nothing could stop me," she said, and indeed, nothing stopped her."I finally met with the team's chairman [Arye Mendel] and convinced him that I was the right person for the position."When asked what makes an ideal cheerleader, Mary says that being shy is not an option."A cheerleader, first and foremost, is a dancer full of motivation and happiness. She needs to love performing and also know how to manage her time with school, while being very responsible."Her squad is made up of 10 highschool girls aged 16 to 18, but there are also younger students preparing to become future members."We have a cheerleading academy for the younger girls, who we know will almost certainly join the squad," she says.This year, for the first time, the Basketball Super League Administration created a dance competition for all the cheerleading squads in the country.Each squad had to send a video made from a one-minute cheer for a particular song and the fans voted for a winner."The administration's cheerleading competition created an initial buzz, which I hope will help us get more exposure. It's a blessed move," says Mary.THE WINNER of the competition was the Ironi Nahariya squad. For 17-year-old 11th grader Gaya Gonda, the win filled her with a great sense of accomplishment."A cheerleader is simply being a part of the team for the team," she says. "When we won this year's cheerleading competition everyone was happy about it; we even got to meet with the mayor, which made us feel very proud of ourselves."Gonda acknowledges that cheerleading in the country has a low profile: "A cheerleader is a dancer who is also is a fan of a team and dances for it. Unlike the US, cheerleading isn't as popular here in Israel because it barely exists."Inbal Sason, 34, who is both manager of her dance studio in Nahariya and the choreographer of the squad, agrees with Gonda."Overseas it's treated completed differently. The level of intensity is different, there are more competitions," she says. "You can always try promoting it, but not many are interested in this."Having said that, she is extremely proud of her girls winning the BSL cheer competition this year."Cheerleading adds more color to the game. Every time the girls go on and cheer, the crowd gets more involved. You can feel everyone and not just the players are taking part in the game."For 18-year-old 12th-grade student Shahar Siboni, joining a cheerleading squad was like a dream come true. "I've been dancing from a very young age so as soon as I heard Nahariya was holding open auditions to join the squad, I decided to go for it. I got to fulfill a childhood dream."Siboni believes cheerleading gives her a sense of purpose."Like Magen David Adom or the Scouts, dancing as a cheerleader is also considered 'personal commitment' for school credit and it is my contribution to the city and the community."Unlike Hapoel Tel Aviv's and Nahariya's squads, Maccabi Tel Aviv's basketball team cheerleaders are professional dancers and are over 18.Performing regularly since 1995, the squad is made up of 10 dancers. They use eight dancers for each cheer routine while the others serve as backup cheerleaders.Shir Davidai, 30, has been with the squad for the past seven years and is currently the cheerleading team captain."Being the squad's captain means I am the head cheerleader. I choose which music numbers to perform during timeouts," she says. "I also make sure the girls are properly dressed and everything runs smoothly during the game."One of the biggest challenges for Davidai is getting the entire squad to meet for practice. "Because we don't all go the same dance studio, having everyone meet at the same time for practice has to be arranged ahead of time."Davidai considers her status as a Maccabi Tel Aviv cheerleader very important."For me being a cheerleader is like being an athlete with everything that entails. As far as I can see it, cheerleading is a sport like any other. The fact that here in Israel it isn't treated as such is not ideal. " But why only girls? There are also those who object to only females being allowed to be cheerleaders in Israel, and not coed like many squads in the United States.In February 2014, MK Tamar Zandberg of Meretz proposed an inquiry requesting that cheerleading performances during time-outs in men's basketball games be canceled. Zandberg cited the objectification of women and the use of primitive stereotypes as her reasons for the proposal. When asked to comment about the issue, MK Zandberg declined to respond.However, MK Merav Michaeli of the Zionist Union has very strong opinions about the topic."What I found very irritating was when, as far as I know, the BSL wouldn't allow boys to cheer for Hapoel Jerusalem's basketball club. Instead, they decided young girls should cheer wearing scanty outfits," she commented to
The Jerusalem Post Magazine.
According to a Ynet article from 2008, there was an incident involving the BSL threatening to fine Jerusalem if they couldn't arrange a female cheerleading squad to perform during games.Michaeli says gender classification still exists in our educational system as well."I still see today, in junior high schools, that there are places in the country where there is gender division in gym class. They are arranged in a way that boys go and run, and the girls have dance exercises, and if a girl wants to run with the boys she is not allowed to."While she can't foresee the future of cheerleading in Israel, she is determined to keep this issue relevant. "Young women shouldn't see themselves as the decoration for men doing the important work."Ramat Hasharon's women's basketball head coach, Orna Ostfeld, has been a leading figure in the battle against female cheerleading performances.Together with the team's chairman, Rachel Ostrowitz, she decided to put a stop to women's cheerleading at the Ramat Hasharon games and instead found alternatives."I don't think female cheerleading at basketball games or in our culture is worthy. It labels the women in a very particular way, sometimes even as sex objects with the type of clothes they wear."Ostfeld fears that women will be sidelined and become a pretty ornament for men's sports competitions."Women, in my view, should practice more in sports, competitive or for themselves. They shouldn't become something else in the sports scene, something which affects them as athletes," she says.One of her achievements is seen today in the Women's Basketball League. Instead of cheerleaders, each team in the league is allowed to use diverse forms of entertainment during time-outs. This includes gymnastics, dance or other acts involving the community in different ways."In Holon, the team brought in ballroom dancing with children to perform during timeout. We use a different community act for each game. This way, the fans and the team feel more connected to the city and the community. It even allows the children sometimes to be seen on television."Ostfeld says that, unfortunately, chauvinistic comments are not being heard only on the basketball court."Instead of spending time praising a woman's basketball player qualities as an athlete, their comments are first about how pretty she looks and only then regarding everything else."The cheerleaders who were interviewed for this article and who were asked to respond to this discussion say they are not ashamed by what they do and that they don't feel objectified."The show that we put on during games isn't aimed at insulting any group of people," says Budilovsky. "It's not a strip show and everything is modest and moderate."Bellayev is aware of the different perspectives but does not care for it all that much."Honestly, all we are doing is dancing to hip-hop music. Some people who choose to look at it through a sexist point of view have their own opinions. We simply dance to music we like."For the time being anyway, it seems that Budilovsky, Belete and Bellayev, Siboni and Gonda will continue to enjoy dancing and cheering their teams in their own way during the halftime break.
This is not the beginning of the movie Fame or Bring it On. At the Arik Einstein Lod Ganei Aviv Community Center, 10 girls meet and practice routines for their upcoming performance. Their goal is to get their routines ready by the following week. These girls, who are students at a local dance studio, are the Hapoel Tel Aviv men's basketball team cheerleaders, and they are very proud of it.Shani Budilovsky, Lili Belete and Nastya Bellayev are three members of the squad. Like their fellow squad members, they are all in high school and are very devoted both to school and their dancing. In Israel, almost all the cheerleader squads are comprised of girls who dance at local dance studios. Hapoel Tel Aviv's dancers all come from Moran Mary's Dance Studio located in Lod.