On the second day of our voyage in the Baltic Sea, captain Emmanouil Alevropoulos announced that a terrible storm was heading for our first destination – the German town of Warnemünde – and thus our vessel would be unable to dock at its pier. This was very unwelcome news, as everyone on the cruise had made plans to tour either Warnemünde, the neighboring village of Rostock, or Berlin.He could have just canceled Warnemünde as a port of call, the captain told us later, which is what most cruise ships would have done. But not his, not the Celebrity Silhouette on which we were sailing! Instead, he had spent the day completely revising the ship's itinerary, arranging for us to set sail for Stockholm and to hit Germany near the culmination of our journey. (When we finally got there seven days later, the weather was clear, crisp and sunny.) Several months ago, my husband and I decided we needed a really special vacation abroad.Our excuse: we would be celebrating our 46th wedding anniversary in July, when Israel's heat was oppressive, and, besides, we desperately needed a respite from worries that we hoped we could leave behind us in Jerusalem.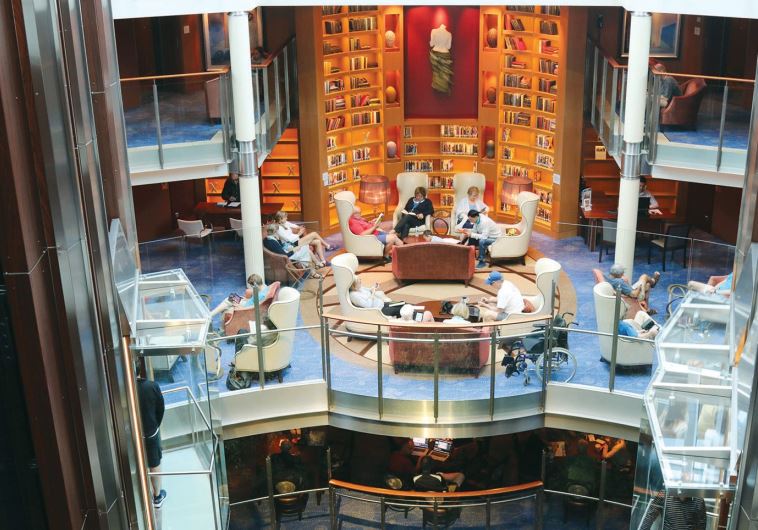 Our standard stateroom had plenty of storage space, a couch, an enormous, marvelously comfortable bed, a desk, a refrigerator, a lovely and well-equipped bathroom, and lots of room to move around.Like many of the cabins, ours featured a small veranda. We found it a fantastic venue for watching the ship sail in and out of ports when we didn't feel like going out on deck, and even more perfect for just sitting and gazing at endless, relaxing and mind-numbing blue/gray seas.Altering the ship's itinerary to bypass Warnemünde had meant changing the daily schedule. Now, instead of disembarking at a port of call the next morning, we would spend another day at sea (no hardship for me – I loved my view of sea and sky, with an occasional gull overhead).But here was our dilemma: to participate in the dozens of activities offered daily, the tournaments, lectures, movies, exercise classes, hilarious games, good-natured competitions and dance lessons? Perhaps we would relax by the swimming pools, jog on the top deck, or schmooze in the Jacuzzis with interesting people from foreign lands (including dozens of the 120 Israelis on the ship). What a quandary: relief for the soul in the depths of the sea – or good, clean fun and healthy pastimes.We had planned to tour Stockholm on our own, for the ship was slated to dock next to the city center. Unfortunately, because we were coming a week early, we had to drop anchor in the ocean some distance away.FIGURING OUT how to get us onto dry land was a no-brainer for our crew: all 3,000 of us (at staggered times) took 20-minute lifeboat rides to the small resort town of Nynäshamn, famous as the venue of the Olympic sailing regatta in 1912. But it is located 60 km. south of Stockholm's city center. So after being dropped on the dock we were bused into the city, let off next to the Opera House and provided with return tickets for use whenever we wanted to head back to our ship.The weather was lovely, and we had strolled through brilliant green parks filled with families – and some older people doing Tai Chi – when it suddenly began to rain. Fortunately we had an umbrella, thoughtfully provided by the ship. And when we ducked into the visitors' center, we found staff handing out free ponchos to wet tourists.Taking the light rail to Djurgården island, we stopped at the Vasa Museum. The Vasa was a royal flagship built in 1628 to engage in a battle over Poland, which sank the day it was inaugurated.After that, we toured the Skansen openair museum featuring more than a hundred original buildings depicting life in Sweden for the past 400 years. Our favorite talking figures, dressed in early 19th-century attire, were the ice man and the old-time apothecary.Stockholm consists of 14 islands with ferries and bridges for traveling back and forth. We ferried to Gamla Stan, Stockholm's 13th-century old town, one of the best-preserved medieval cities in Europe, and watched the changing of the guards outside the 600-room Royal Palace. Then we wandered into the 86-meter-high German Church, which started out in the 14th century as a merchants' guild.Later, we explored the oldest church in Stockholm, the Storkyrkan Cathedral (now a Lutheran church). Dating back to 1279, its unusual decor includes an enormous menorah, a relief depicting a procession with a menorah held high and the Lord's name in Hebrew.Long afterwards we discovered that the "menorah" was actually a candlestick with seven lamps, a popular symbol in the 13th century representing the seven golden lampstands in St. John's Apocalypse (the last book in the New Testament). The relief depicted a priestly procession passing by the candlestick during the inauguration of a church.What did relate directly to Judaism, however, were the four letters of God's name. At the end of the 17th century some people believed that Abraham's first journey took him to Sweden. If that were true, Hebrew would have been spoken in Sweden thousands of years ago.The Swedish king became interested in Kabbala, and in the search for the letters of God's name in everyday life. Later, the letters became a common church decoration.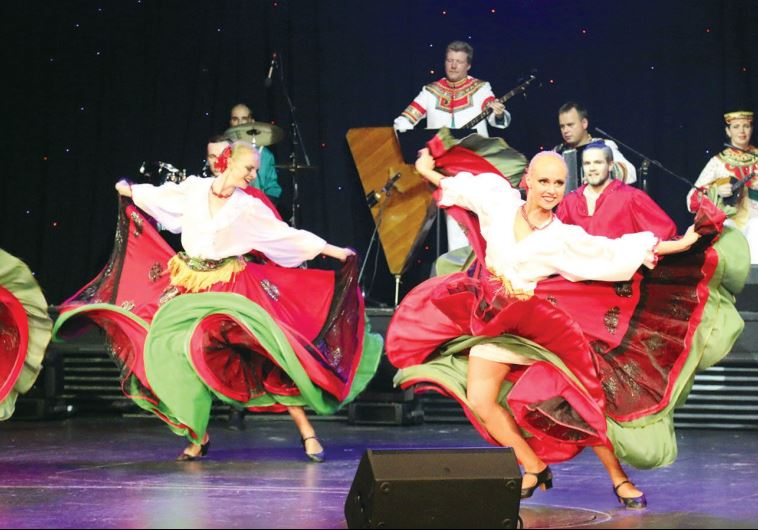 BACK AT the ship, we changed clothes and headed for the classy and super-elegant Grand Cuvée restaurant, one of six restaurant options (which we chose out of 11) that were included in our ticket.We adored the food. The menus were rich with possibilities and each item was both attractively presented and delicious. Every meal included a number of items prepared according to the principles of SPE (Sanitas Per Escam) – an organization dedicated to promoting health through food.According to executive chef Carlos Fernandes, who heads the Silhouette's staff of 250 sous chefs and gallery workers, Celebrity is the only cruise line in the world to offer passengers delicious alternative options that follow SPE guidelines: tempting dishes dense with nutrients, containing a minimum of salt and sugar and no unsaturated fats, but at the same time both appealing and delectable. (My favorite alternative choice – offered at dinner one night – was a scrumptious chocolate lava cake.) Sometimes, instead of elegant dining, we headed for the open buffet, which supplied a vast variety of vittles from morning until after midnight. Often, however, we preferred having breakfast and/or lunch at a small venue next to the water that was billed as "alternative dining."Here, all the items from grain and yogurt salads to fancy desserts were healthy, yummy and tantalizingly attractive.The next day we docked at Tallinn in Estonia. The bus, which held the Hebrew- speaking group tour that we had reserved, took us to some marvelous places outside the old city, including the spectacular Kadriorg Palace and Park that Peter the Great built for his beloved second wife, Catherine (he had forced his first wife, thrust upon him by his parents, into a convent).During the Holocaust, all Jewish houses of prayer in Estonia were destroyed and the Jews were completely eradicated – by the locals. We heard this tragic story at the Tallinn synagogue, which opened in 2000 in the presence of then president Moshe Katsav. Finally, we walked around Tallinn's Old Town, filled with wonderfully picturesque buildings like the town hall, dating back to 1404.Entertainment was offered twice every evening, and sometimes during the day as well, in the ship's theater, a huge, 1,400-seat auditorium with plush chairs, incredible sound, fancy lights and all kinds of special effects (including a hidden floor under the stage). I still remember the words uttered by our cruise director, Damian de Lorenzis, on our first visit to the theater: "Delighted you all made it – but, after all, is there anywhere else you have to be? Something you absolutely have to be doing?"SEVERAL TALKS offered during the cruise centered on Russian leaders.Thus, before we docked for two days in St. Petersburg, we heard that on the day Czar Alexander II was born in 1818, a monk predicted that he would be powerful, glorious and strong. But he also foresaw the czar's end: Alexander, he claimed, would die in red boots.Alexander was a reformer, and the first Russian emperor to abolish serfdom.He was also quite good to the Jews and on September 1, 1869, he permitted construction of the Grand Choral Synagogue of St. Petersburg meant to serve the city's entire Jewish community.While he was riding next to a St. Petersburg canal on March 13, 1881, a bomb exploded under Alexander's carriage.Unhurt, he dismounted to look after a youth who had been wounded in the assassination attempt. That's when a second bomb tore off Alexander's legs, and he was carried off to his Winter Palace, bleeding profusely from his lower parts (remember the prophecy?). He died soon afterwards.Two years later, son Alexander III began construction of the Church of the Savior on Spilled Blood on the site of his father's murder. Extraordinarily ornamental, it was designed in a medieval style that contrasted significantly with other 19th-century churches.During a two-day Hebrew-language tour of St. Petersburg, we visited both the extravagant church and the city's immense synagogue. Consecrated in 1893, of Moorish/Arabesque/Byzantine design, it was second in size only to the grandiose synagogue erected a few years earlier in Budapest.Other sites we toured included St.Isaac's Cathedral with its gold-plated dome (like the Dome of the Rock), the Peter and Paul Fortress, and the amazing fountains at Peterhof Palace. At the Catherine Palace we were especially impressed by the Amber Room, destroyed completely by the Nazis but later superbly restored down to the last amber mosaic. And, of course, we spent hours at the 18th-century sumptuous Hermitage Museum, which holds over three million works of art and boasts, after the Netherlands, the largest Rembrandt collection in the world.By this time, we thought of the Silhouette as "home," and returned joyfully to the ship's welcoming arms after every excursion ashore. Cunningly designed with the rooms arranged around a circle in the middle, our wonderful ship was delightfully easy to navigate. From vantage points on every floor there was a view of activities taking place above and below where we were standing, including live music, auctions and even an egg-drop competition! AS WE approached Helsinki, we had a decision to make. Aware that we would have gotten far more out of Stockholm if we had hired a guide to take us around the city, and pleased with the tours we had reserved in advance for Tallinn and St. Petersburg, we began looking into the possibility of a guided tour in Helsinki.One of the shore excursions offered by the ship – "Helsinki from Land and Sea" – sounded irresistible, and the cost was well within reason. Happily, the itinerary was diverse, well organized and perfectly executed.It began with a drive through typical neighborhoods and special sites accompanied by clear explanations about the city's origins, Finland's politics, people and religious make-up (70 percent Evangelical Lutheran). We also learned how important nature was to Finnish composer Jean Sibelius, especially when he was creating music. That's why the national monument dedicated to the great man is located in a gorgeous natural setting near the sea, and we were given time to ramble through the park and examine the abstract monument's more than 600 hollow steel pipes welded together to resemble waves. We shot some great photos of a rather comical effigy of the great man nearby.Our last stop was at Senate Square, site of the Helsinki Cathedral, and from there we walked to a wonderful openair market. But our favorite part of the trip was a mini-cruise through dozens of Helsinki's more than 300 charming islands. Our route took us as far as Suomenlinna, a sea fortress built on a group of seven islands and declared a World Heritage Site in 1991. And we were surprised to learn that a gigantic red building nearby was actually a sauna holding 100 people at once.AFTER ANOTHER marvelous day at sea, we finally reached Warnemünde, the port of call we had avoided at the beginning of the cruise. Most of the passengers left at 5:30 am for tours to Berlin.We took it easy all morning, then spent a few hours strolling through the colorful Old Town of Rostock.Copenhagen was our last port of call, and since we had been there before, we decided to ramble on our own. From the pier it was a short walk to stunningly landscaped parks and splendid fountains.We explored a fortress, caught a military parade near the Royal Palace and spent a pleasant hour at Nyhavn, a wonderfully picturesque, 17th-century waterfront district.Our final day on the Silhouette was at sea, and filled with "last day" events.After a festive farewell brunch in the elegant dining room, we took a last jog around the deck while breathing in the sea air, exercised for the last time at the health club, took in our last dazzling Celebrity matinée, enjoyed our last evening gala, ate our final dinner and said tearful goodbyes to our sweet and patient waiters. It was our last day of complete bliss until we climb board another Celebrity cruise ship – and may that day come soon.
As always, when considering a trip abroad, we began by consulting Kishuta Ronen, at Jerusalem's Zion Tours. Our travel agent for decades, she has never failed us. This time, aware of our affinity for the ocean and the need of a clean break from our daily routine, she suggested a Baltic cruise on the Celebrity Silhouette.After worrying for weeks about the cost, we paid for the trip. We had worked out that the Silhouette's five-star accommodations, gourmet dining, high-class entertainment and a host of amenities would be less expensive than a comparable trip we might take by land – and requiring absolutely no preparation on our part. Those 12 wonderful days and nights on board were positively magical.Friends dropped us off at the pier in Amsterdam, where our adventure began. Less than 20 minutes later we were already heading for our cabin and beginning to unpack when our concierge appeared. His name was Rodel, and he made it clear that every wish we might ever have was his command.