Just after 12:15 p.m. on July 22, 2014, all US airlines received an emergency bulletin – known as a Notice to Airman – from the Federal Aviation Administration. "Israel, potentially hazardous situation… created by armed conflict in Israel and Gaza, all flight operations to/from Ben-Gurion International Airport by US operations prohibited until further advised."Soon after receiving the message Delta flight 468, a Boeing 777 with 273 passengers and 17 crew flying to Israel from New York, was diverted to Paris.The FAA decision resulted from a Hamas rocket landing a mile from Ben-Gurion Airport. Stunned Israelis watched as more companies in Europe followed suit, creating what one industry insider called a "domino effect."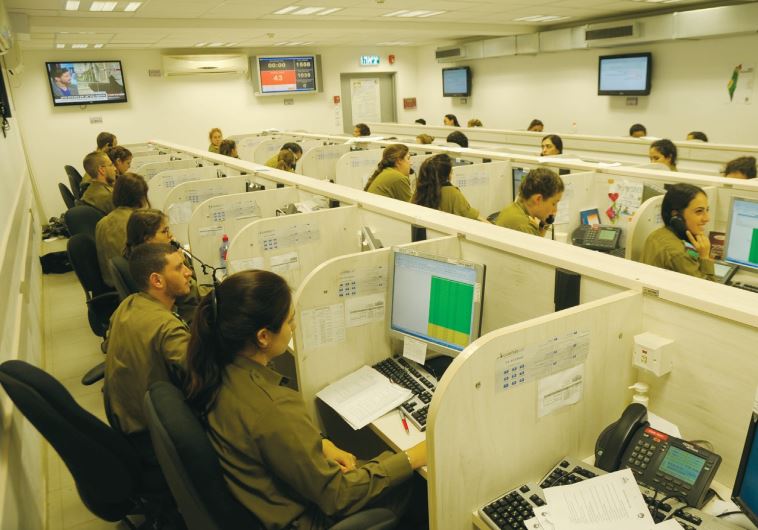 "It was proven Israel's skies are safe," declared Transportation Minister Israel Katz.The sudden impact of a rocket not far from the country's main civilian airport, and the resulting flight ban's effect on civilian life, fall mostly under the responsibility of the often unsung IDF Home Front Command, whose responsibilities run a large gamut of activities involving four battalions of soldiers, mostly conscripts. When an earthquake hit Nepal in April, it was a team of 250 – dispatched and coordinated by the Home Front Command – that helped in the disaster. From earthquakes to tidal waves and other mass disasters, whether war related or not, this is what it prepares for.THESE DAYS all seems quiet. At the Home Front base in Ramle, the summer temperatures routinely reach higher than 40 degrees. Soldiers manning the gate of the base were wiping sweat from their brows. Inside the base some old sturdy eucalyptus trees provide some cover from the heat.Brick buildings remind visitors that this place has a history going back to the Ottoman Empire. German reconnaissance planes were based here during the First World War.
Nowadays the base is a hodge-podge of old and newer buildings. A Home Front radio and TV station that can broadcast to the country in times of emergency has been fortified with the same concrete barriers used in the West Bank."You are in good hands," is the motto of this unit. In one room rows and rows of telephones lie mostly empty.A young soldier is washing the floor. A monitor above the phone banks reads: "Max waiting time" and "waiting calls." It's part of a system that, during times of crises, will help the hundreds assembled in the room respond to calls on 104, the Home Front emergency number.A map shows Israel with color codes for how long one has to get to a shelter if there is a siren warning of a rocket attack. On the northern border with Lebanon and Syria or near Gaza, it is around 15 seconds, while in Eilat or Jerusalem one has up to three minutes. These are the time frames everyone got used to during 2014 war, Operation Protective Edge. But the commanders are warning that next time may not be so easy. In March they briefed the 257 local authorities in Israel about a possible conflict with Hezbollah, which has the capacity to fire 1,000 to 1,500 rockets a day and a massive stockpile of more than 60,000 rockets.A Begin-Sadat Center study by Uzi Rubin published after Protective Edge estimated 3,970 rockets fell inside Israel. In those days, the great fear was Syrian-made 302 mm. rockets with a range of 100 km., as well as Iranian Fajr and Zelzal rockets. The latter was thought to have a range of 250 km. Rubin noted that they could reach "as far as Tel Aviv." That range is now considered likely, rather than an exception, for many of Hezbollah's rockets.In the last war with Hamas, its military wing, Izzadin Kassam, fired around 3,600 rockets at Israel, according to a West Point study by Jeffrey White, out of an estimated arsenal of 6,000. Although the bulk of those fired were shorter range Grad rockets, one M302 Syrian- made rocket landed near Hadera, more than 100 km. from Gaza.ACCORDING TO Lt.-Col. Tal Rozin, the head of the Public Guidance and Information Section and the Home Front Command Headquarters, the Home Front has been involved in numerous campaigns to prepare the public for the next round. Having worked in the public information section since 1999, she has seen major changes in the way they go about providing the public with all the information needed in case of an emergency."We are dealing with the Internet, numerous languages and ways to receive information," she says.This includes encouraging the public to call the 104 number to find out where their closest shelter is and details like that.The concept is to try to encourage the public to be as aware as possible before a war or disaster such as an earthquake.One of the issues the public faced in the last conflict is that the various warning areas affected by sirens can be relatively large and lead to a disruption of civilian life. There are some 146 coded regions in Israel, and sirens throughout that region are set off when a rocket is estimated to be heading for that area. Thus, the area of Lachish is region 246, Tel Aviv is coded 156.To get people connected to their work, they have used television advertising involving a family of amateur actors. They have put up fliers at schools and handed out maps of warning times and what emergency items people should have at home."What we learned from Operation Protective Edge [in 2014] was the different codes and to change the names.... Now we don't use the name of the cities but rather the geographical areas, and now people understand that better. So people understand that it isn't just the city," Rozin emphasized.
Despite Israel's reputation as the Start-up Nation, the Home Front Command has had to play some catch-up online. It has around 15,000 visits to its website a day by people seeking information. But when it comes to applications for smartphones, the command is still working on one. The one most people have, the "red alert" function, is a private initiative. The command is also seeking feedback and conducts surveys.For five-and-a-half years in his current position, and through several wars, Lt.-Col. Levi Itach has watched Israel's warning systems improve.As the director of the National Early Warning Center, one thing he has been focusing on is increasing the number of warning areas, so that the accuracy of sirens that are activated is more precise. In 2010 the whole country was divided into 50 areas; by the end of 2015, it is supposed to reach 200 areas; and by 2016, more than 240."So each time we create new warning districts, we bother less people, because we warn a smaller population," he says. "So you send less people to the shelter.We want to get to the point to be more dynamic, so you receive the information about the exact area."The goal is to get to 1,000 or 2,000 warning areas throughout the country. That means instead of shutting down all of Tel Aviv and sending a million people to shelters, the need will be to send 100,000 or so, depending on the precision.THE ISRAELI public tends to have a misconception that Iron Dome is a magic wand of protection, according to sources.During the last war, after Tel Aviv's bubble of security was first burst by sirens, complacency set in, and the threat was taken for granted. People sat at cafes as sirens wailed. But interception is not a guarantee. In a war with Hezbollah, with the potential for thousands of rockets fired in a day, the danger of them not all being intercepted rises exponentially.There are other issues as well. On July 18, 2014, a 32-year-old Beduin man named Aluj Aday was killed in the community of Qasr al-Sir, near Dimona, which has a population of more than 1,000 people but which is not a recognized community. This is a problem for more than 50,000 Beduin in the Negev who live in unrecognized communities.According to Itach the solution to that is not as simplistic as some in the public might think."We can't put up shelters for them all.So we did make it clear to Iron Dome that there are people there, and it will intercept missiles. We also arranged so that they are connected to radio and television and therefore they would know [about an alert]."The problem is that the 50,000 Beduin live in small hamlets and farmsteads strung out over 800,000 hectares.But reprogramming Iron Dome to see these areas as inhabited and not just desert provides some protection.Another issue the army faced is the threat to army units on maneuvers. On October 6, 2006, several dozen reserve soldiers in an artillery unit met in a field near Kfar Giladi, not far from the Tel Hai cemetery. A Katyusha rocket fired by Hezbollah hit amid the soldiers, killing 12. During the last war many units were strung out in fields around the Gaza Strip or in the Negev. The Iron Dome system and warning system is not calibrated to see these units as "residential areas" and no warning is given, and the procedures for not intercepting rockets that fall in open areas are followed.Itach notes that this problem has been partially solved by providing around 80 mobile sirens to 76 units.Another innovation is to connect the cellular network of smartphones for iOS 8 and above as well as Samsung and other handsets to a network that would receive SMS notices. National warning messages related to rockets, an earthquake or even a very unlikely tsunami would be sent out.The last major earthquake was in 1927 and struck near the northern end of the Dead Sea, killing 500 people in the country.Seismologists agree that the country is due for another relatively soon.For Itach, issues such as maintaining civilian air traffic at Ben-Gurion are clear."Five-and-a-half years is a long time [in the same position]. It was a very important several years, and I hope I played an important role in Israel's history. We are dealing with lives, not just a system, and we hope to better improve people's lives."There is a lot of continuity in the unit.If you have a high turnover, it can be a problem to focus on these major issues, he asserts. But he is moving on to a new career, and sees it as important to hand the reins to someone new."The years went by fast. The next war, [Home Front systems] will be more centralized," he says.He recalls the old days before Iron Dome, when the sirens were not all connected to a national system. Under the current system the Home Front and air force are more closely connected than before and there is improved communication between all of the army's various layers.THE HOME Front command was first established in 1992, in the wake of the Gulf War when Saddam Hussein rained scud missiles onto Israel. There was an awakening and an understanding that we face threats that affect the entire country, and that, especially relating to missiles, the enemy's intention is to strike at the civilian population. In military jargon this is called a "steep trajectory threat," which involves surface- to-surface missiles and mortar bombs.Experts in the field describe Israel's last wars as being basically between enemies who use these "steep trajectory" weapons and an Israel that relies on air power to deal heavy blows to the enemy. This is what happened in Lebanon in 2006 when Israel struck Beirut and other areas, while Hezbollah focused on Haifa and the North.When Hezbollah chief Hassan Nasrallah gave a speech on August 14 "celebrating" nine years since what he described as a "divine victory" over Israel in 2006, he claimed Israel's air power had not achieved its goals."Israel admits it has no strategy that can defeat Hezbollah; it is bringing nothing new," he said.An expert speaking on condition of anonymity noted that the enemy believes that Israel's sensitivity to civilian casualties means that hitting it with large numbers of missiles will eventually result in it being forced to bring a war to a quick conclusion.Hezbollah's involvement in Syria has meant it was distracted from its focus on Israel, but in recent weeks there have been rumblings of war in the Golan.On Thursday, August 20, four rockets were fired from Syria into Israel. The next day, Syrian state TV reported that Israel struck a car traveling near the village of Kom about 10 km. from the Golan border. The car was reported to have had Iranian-backed Palestinian Islamic Jihad members in it. Hezbollah, which is supported by the Assad regime and Iran, put its forces on high alert, according to a Kuwaiti newspaper, and the US Embassy warned citizens against travel to northern Israel and the Golan.The recent incidents in the Golan mean that while Israel's last major conflicts have been with Hamas, what looms large for the Home Front Command is the prospect of war in the North.In 2013, when it emerged that Syrian President Bashar Assad had used chemical weapons, there was real fear that the West would bomb Syria and that he would respond with chemical weapons on Israel, much as Saddam had threatened in 1991."There will always be an element of surprise," notes an official with knowledge of the situation. That means that the civilian populace must be prepared that the seemingly "easy" war of recent experience cannot be guaranteed for the next war. The tunnel threat that emerged in 2014, for instance, was well known for almost a decade. But the public had forgotten that it was tunnels that were used to capture Gilad Schalit. In 2014 everyone was surprised at the extent of Hamas's tunnel infrastructure.HOME FRONT experts note that Israel's casualties have sometimes been due to people who don't adhere to recommendations. In 2012 two people were killed in Kiryat Malachi while standing on a balcony watching the war as sirens went off.Hezbollah has learned lessons from the Syrian war that it has been heavily invested in for the last three years. For instance, it has continued to receive sophisticated weaponry from Iran.In the wake of the Iran deal, "Iran may feel less constrained about smuggling weapons to Lebanon and Gaza; and [Hezbollah] might feel more bold," in the assessment of one official.The Home Front Command tries to strike a balance between disruption to civilian life and saving lives. The damage to the economy in time of war can be considerable, and the command is aware of it. It believes that the next war will be more challenging than the previous ones.Ironically it is the threats below ground, in the tectonic plates, that many people should also be worried about."We are an unbreakable nation. What's more worrying than our enemies is mother nature. If there is a big earthquake, and it is only a matter of time, that is more damaging than Iran, Hezbollah and Hamas together," argues one official.
Prime Minister Benjamin Netanyahu described the suspensions as a victory for the terrorist group in Gaza. Yet just 24 hours later, the ban was over; the European Aviation Safety Agency and FAA agreed that flights could go ahead, and major carriers accepted the advice.