Last month, LGBT (lesbian, gay, bisexual and transgender) activists were floored when the Tourism Ministry announced an NIS 11 million campaign to promote international attendance at Tel Aviv's annual gay pride parade. As part of a campaign, the ministry had "set up an international competition whose winners [would] be flown to Israel in a plane specially painted in gay pride colors,"
Haaretz
reported in April.Imri Kalman, the co-chairman of The Aguda – The Israeli National LGBT Task Force, lashed out at the government for this gross hypocrisy, noting that Israel had a particularly egregious year for LGBT rights."Unlike the gay communities around the world who celebrated historic achievements," he told Channel 2 on April 17, "the gay community of Israel had one of its worst years: Murder at the Jerusalem parade," he said, referring to the murder of Shira Banki, "many bills did not make it past the ministerial committee [for legislation] and the plenum, violence, and inciting comments from MKs and a government minister," he said, referring to MKs such as Health Minister Ya'acov Litzman, who in February equated the LGBT community and biblical sinners.
Kalman added wryly, "In response to the community's demand to increase the budget... we got a painted plane instead."Though the plane idea was nixed, this debacle highlights what LGBT activists such as Aeyal Gross have been saying for years: that Israel is engaging in pinkwashing, which Gross defined in a
Haaretz
op-ed last month as "Israel using LGBT rights for propaganda purposes." LGBT organizations in Israel receive NIS 1.5m. (approximately $400,000) in state funding, a fraction of the budget for the proposed party plane. After the attack that led to Banki's death at last year's Jerusalem pride parade, Education Minister Naftali Bennett promised to double the budget for Israel Gay Youth, which provides educational and social programming for LGBT youth. IGY president Gal Uchovsky said that the budget increase they actually received "wasn't even close" to Bennett's pledge, according to The Forward. And that, according to LGBT activists in Israel across the political spectrum, is pinkwashing.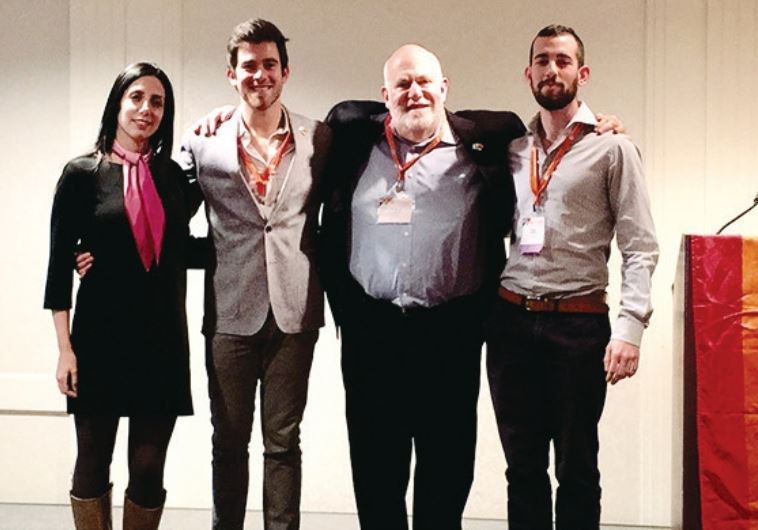 But the word "pinkwashing" carries a wholly different set of implications outside of the State of Israel. When critics such as City University of New York professor Sarah Schulman accuse the country of pinkwashing, it suggests that Israel touts its LGBT freedoms to demonstrate that it is a progressive society when, in fact, it is not, since the government treats Palestinians with little dignity. These critics argue that Israel advertises its LGBT record to create a smoke screen and distract the world from its oppression of minorities, most notably non-Jews. ANTI-PINKWASHING critics in the United States began as a fringe group of academics, led by individuals such as Schulman and Judith Butler. Since Israel's war with Hamas in the Gaza Strip in 2014, anti-pinkwashing criticism has spread. In the current era of increased intersectionality between progressive groups fighting oppression, criticizing Israel's pinkwashing efforts is no longer reserved for the academic elite. It has now permeated into the discourse of how Israel violates Palestinian rights.Pinkwashing has also become a talking point among Jewish and pro-Israel groups in North America, and is rigorously combated like the notorious Iran deal. These groups see the local anti-pinkwashers' critique of Israel in tandem with the Boycott, Divestment, and Sanctions movement, which organizations such as AIPAC and the Jewish Federations of North America see as a form of "warfare against Israel," as AIPAC states on its website. They see non-Israeli pinkwashing critics as part of a larger scheme of individuals working to delegitimize Israel. Israeli anti-pinkwashers do not fit into the narrative. The dynamic currently at play between Israeli anti-pinkwashers, American anti-pinkwashers and the Jewish and pro-Israel lobby, and the fact that they all use the word "anti-pinkwashing" differently, have added yet another layer of nuance to Israel's already complex human rights narrative.Anti-pinkwashing, an American dream When it came to legalizing LGBT rights, Israel was ahead of the curve, suspending sodomy laws in 1963 and legalizing LGBT rights in 1988. Discrimination based on sexual orientation was outlawed in 1992. Openly LGBT individuals are free to join the military as well. Israel is the only country in the region to recognize any sort of same sex union; however, ceremonies cannot be performed in Israel and gay marriage is forbidden by Jewish law. Since 2008, gay couples in Israel could legally adopt children.To anti-pinkwashing critics outside of Israel, these human rights accomplishments don't make Israel progressive. In fact, using these pieces of history to suggest that Israel has a good human rights record in this department is pinkwashing, according to detractors abroad. Pinkwashing is "when Israel points to gay rights as proof that Israel is 'progressive,'" Schulman said in an interview with the Magazine. Pinkwashing can also be "using gay rights as a sign of modernity, especially to emphasize some kind of racial or cultural superiority over Arabs, Muslims and the Palestinians," as Prime Minister Benjamin Netanyahu does when he says that Iran hangs LGBT people. Schulman calls this "illogic" and pinpoints these straw-man tactics as propaganda. "The fact that a country has gay rights doesn't mean it's progressive," she emphasized.Schulman is known as a polarizing character in North America's Jewish and pro-Israel world. Having been called before the anti-Semitism task force at CUNY, the Students for Justice in Palestine faculty adviser is no stranger to clashes with Jewish reporters and groups such as Hillel. Schulman also organized the first LGBT delegation to Ramallah and Jerusalem. Delegates included activist leaders such as Darnelle Moore of Black Lives Matter, Dean Spade, an associate professor at the Seattle University School of Law, and Pauline Park, the chairwoman of the New York Association for Gender Rights, who have impacted progressive student groups and leaders in the intersectional fight for human rights.By Schulman's estimation, two major factors over the course of the last two years have contributed to the increased visibility of anti-pinkwashers like herself: the 2014 Gaza War and the rise of the Black Lives Matter movement and the overlapping of liberal progressive movements across the US."I think that Black Lives Matter has had a big impact. I think the whole country is looking at racism. Racism is the issue of the election. The rise of emblematic black individuals on television, and in the popular discourse, on campuses has made people more aware of racial oppression and racial separation," she said, like between Israelis and Palestinians. "Because there's been a discourse inside the queer community about race and imperialism for decades. So now that these are mainstream concerns, I think that it has amplified the discussion internally."Israel's focus on queer consumers is part of the Brand Israel campaign, a public relations campaign started in 2005 aimed at painting the country as a progressive and Western democracy.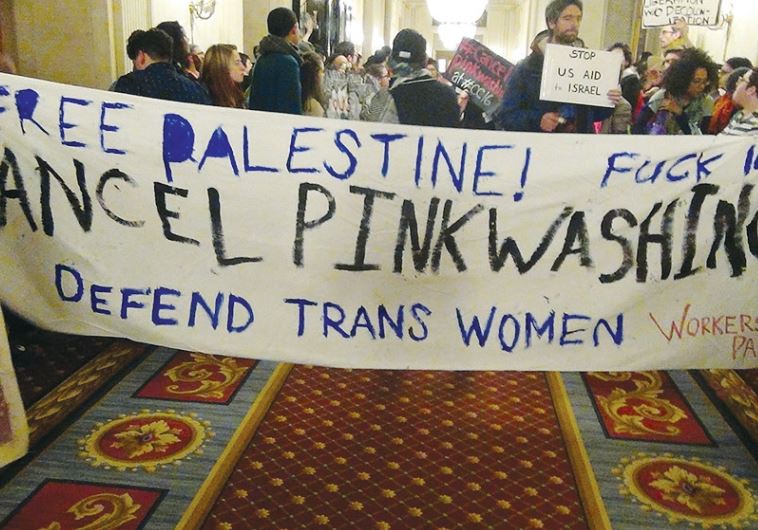 "The Israelis, in their very conscious approach here, try to insinuate that the fact that there's gay pride in Tel Aviv or the fact that there are gay enclaves in Tel Aviv means that Israel is a progressive country," Schulman explained."They're trying to equate those things, and I don't think that that's the case. Because although 25 years ago any place that would have had basic gay rights would have been a more liberal society, today we're in a different era."She went on to explain that in certain societies where there is a large population of individuals whose only source of oppression is that they are gay, when gay rights are achieved, the society doesn't become one with less oppression; rather, it takes on heteronormative societal structures. For example, white gay men who have no social contradiction other than being gay will tend to become more identified with the power structures already in place, Schulman explained.In Israel, "we're seeing that white gay people, or by extension Jewish gay people, are able to achieve rights in a context that is not necessarily progressive," according to Schulman. "The Israelis have used this to whitewash the occupation. They say, 'See we have gay pride in Tel Aviv, so we're a progressive country, so don't criticize us for the occupation.' But the fact is that there's no relationship between these two events."Schulman's opposition to Israel's pinkwashing movement is outlined in her book Israel/Palestine and the Queer International, and in essays for the New York Times and the Huffington Post, among others, where she outlines what has become the opus for the liberal anti-pinkwashing movement in America.QUEER POLITICS promotes the dismantling of barriers and challenging structural binaries. Israel's existence is at existential odds with queer theology, which rejects anything that separates peoples. The country, in many respects, is filled with walls, be it the literal wall separating the West Bank; or Arabic's and Hebrew's linguistic walls between men and women. Queer history views the LGBT community as victims of separation, oppression and inequality, and thus identified with the Palestinians' narrative that they are victims of separation, oppression, and inequality at the hands of the Israeli government.Joseph Massad, a professor of Arab politics at Columbia University, takes an approach to anti-pinkwashing that is different from Schulman's, but reaches the same conclusion. In an interview with Time magazine in 2011, he said that the Israeli government "insist[s] on advertising and exaggerating its recent record on LGBT rights... to fend off international condemnation of its violations of the rights of the Palestinian people."Ido Aharoni, former head of the Brand Israel project, responded to Massad's criticisms in Time, saying, "we are not trying to hide the conflict, but broaden the conversation. We want to create a sense of relevance with other communities."Both of these ideas, those elicited by Schulman and Massad and those elicited by Aharoni, are taken to the extreme in that they often fail to see the nuance. According to Jay Michaelson, an esteemed writer and LGBT activist, the core claim that "any time that Israel says or does anything LGBT-related it's just to cover up what's going on in Palestine [is] not true and it's a very naive way of looking at how a country works."He explained, "You see an adoption of a very simplistic issue that if a country is good on one human rights issue, it's good on all human rights issues, or to criticize a country on one practice is to somehow invalidate its good record on another – and that's just ridiculous."There are people with the hard-left view, and they feel that nothing Israel does is legitimate – everything is compromised by the occupation or by Zionism itself. For them, talking about 'Startup Nation' is propaganda. Talking about the green-tech in the Negev is propaganda," Michaelson told the Magazine in an interview. "It's important to see that hard-left view for what it is: just a basic delegitimization of everything Israel does." While Michaelson said that Israel strips Palestinians of their dignity and has "moved backwards on the Palestine issue in the last five years," it does have an above-average LGBT record. "It might seem like a contradiction, but it's not."LGBT issues on the BDS table With the growing progressive coalitions forming on college campuses and in the liberal world often leaving out Jewish groups, North American Jewish leaders see anti-pinkwashing critics, who are now students and leaders, not only professors, as a threat to Israel.This is what led to the debacle at this year's National Gay and Lesbian Task Force Creating Change Conference in Chicago, where an event run by a Jerusalem- based LGBT group was shut down by pro-Palestinian activists. The protest took place a week after conference organizers had initially pulled the event from the program due to pressure from individuals who charged that A Wider Bridge and those involved in the Jerusalem Open House reception were engaging in pinkwashing.Arthur Slepian, the director of A Wider Bridge, which will be running an LGBT Israel trip in the week leading up to Tel Aviv Pride, wrote in Haaretz: "What the protesters are really trying to silence is any conversation about Israel that is not solely about the conflict and the occupation. The real enemy they are trying to shout down is complexity, nuance and the possibility for empathy. The BDS movement uses the pinkwashing charge as part of their strategy to keep the US LGBT community in a perpetual state of ignorance and myopia about Israel, silencing anything that does not corroborate their one-dimensional and one-sided caricature of the country."The BDS movement's website often criticizes Israel for pinkwashing. For those combating BDS, anti-pinkwashers has become another head on the hydra. Organizations such as the Jewish Federations of North America, the UJA-Federation of New York, the Jewish Community Centers Association of North America, the Jewish Community Relations Council and AIPAC all have information on their websites about the BDS movement, and are trying to combat, what has been called by the JCRC, "economic warfare against Israel." The JFNA listed pinkwashing as one of the "political and philanthropic issues" facing Israel.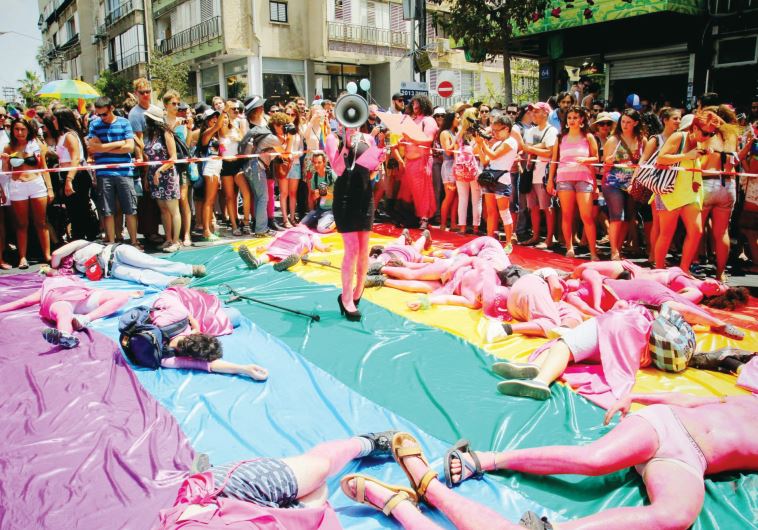 Perhaps that is why there has been an increase in LGBT trips and missions to Israel as of late, though the JFNA, UJANY, and JCCA were unable to provide a definitive reason for the increased amount of trips. Birthright LGBT trips have been running since 2008.Trip leaders and longtime observers and participants of the Jewish gay community are slightly more skeptical."The reason why these American Jewish organizations are all running Israel trips has more to do with how they're seen here in the US," said Jayson Littman, founder of Hebro, a Jewish gay social organization based in New York."It's a badge of credibility for organizations to support gays now," Littman explained, who has staffed LGBT Israel missions, "and that's what's really prompting these Jewish institutions to create these trips."Plus, he added, "they're starting to see from a fund-raising perspective that it makes sense.... People like Lynn Schusterman have pushed that change," he said referring to the philanthropist behind the Schusterman Foundation, which last year funded the first-ever Jewish LGBTQ international leader's fellowship, Eighteen:22, which was named after the biblical verse forbidding homosexuality as a way to reclaim it. "For fund-raising, it makes sense to support the LGBT community."Littman isn't alone in this critique.Activists such as Mordechai Levovitz, the executive director of Jewish Queer Youth, and Michaelson agree. "They have the same ulterior motive as any other federation mission – and that is to raise money," Michaelson explained."They woke up and smelled the coffee and realized there's a lot of money in the gay community."It's 'pinkfund-raising,'" Michaelson said, half in jest.Is it propaganda or capitalism? Last week, the Social Services Ministry announced it would double its funding for programs for at-risk LGBT youth, making the budget NIS 5m. (approximately $1,312,000). After the rainbow plane fiasco last month, this was a step toward furthering LGBT rights in the country. The move came after a year of legal setbacks, including the Shira Banki Bill – which included outlawing conversion therapy for minors – being vetoed a day after LGBT Rights Day in the Knesset."The gap between the painted plane and recent Knesset votes nixing LGBT rights bills, as well as between the budget LGBT groups receive and the budget for gay tourism," Gross wrote in his Haaretz piece, "shows that the state has commandeered the gay community and its less-than-full rights for public- diplomacy purposes."The Tel Aviv-Jaffa Municipality together with the country's Tourism Ministry spend around NIS 1m. (approximately $258,000) a year on targeted marketing for LGBT tourists from countries such as Germany, Italy, England, France, the Russian community (there is no official marketing in Russia), the US and South America, according to Mira Marcus, international press director at the municipality. Tel Aviv attracts an estimated 30,000 LGBT tourists annually, many of whom come for Pride, Marcus added, and that an LGBT tourist in Tel Aviv spends an average of $245 per day, which is 140% more than the average expenditure of Tel Aviv tourists.HEBRO'S LITTMAN sees advertising LGBT tourism as a purely financial move, not propaganda as the anti-pinkwashers argue. "I can't imagine the Israeli government sitting in a room saying, 'Oh let's figure out how to fool the world into showing how progressive we are,' but at the same time pissing off the ultra-Orthodox in our country,'" he explained, alluding to the ultra-Orthodox community's ironclad denial of the possibility of an LGBT identity. "The [LGBT rights] promotion isn't done from a propaganda perspective, it's done from a capitalist perspective... Israel promotes itself as gay-friendly to bring tourists" and, effectively, capital, he said.But there is no way to gauge the success of the Tourism Ministry's pricey ad campaigns. According to the ministry, it does not have a figure related to LGBT tourists, as "sexual orientation is not one of the questions asked in the survey of incoming tourists."