Miryam arranges her suitcase for the film crew crouching across from her in the cramped room. She holds traditional Bnei Menashe and Indian needlework to her chest, feigning packing.She nervously answers questions in English, trying to maintain her composure in front of the blinding spotlight.It's cool in the cement and wood room, but the number of people – eight family members, three journalists and two Shavei Israel staff – chokes the air.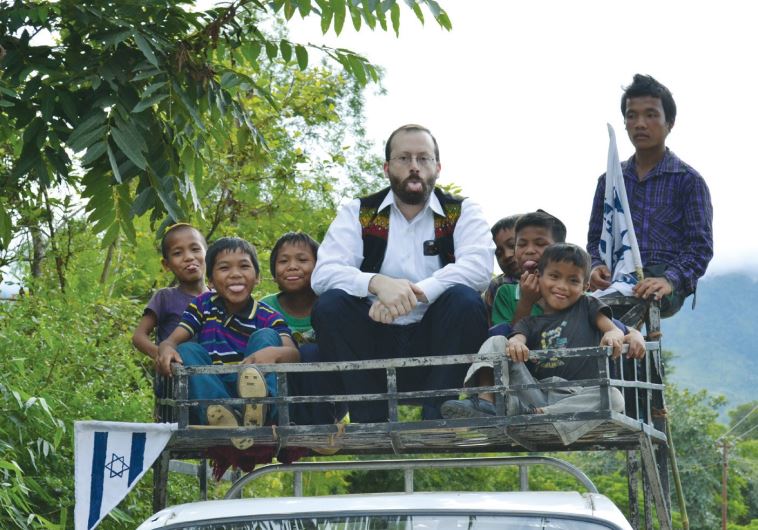 In a few days' time, Miryam – a 22-year-old university student of biology and chemistry – will land at Ben-Gurion Airport, accompanied by 79 other Bnei Menashe, who will spend three months in an absorption center near Haifa before going through the conversion process and qualifying for Israeli citizenship and the basket of services it provides.The group members, of which the majority come from the small city of Churachandpur, Manipur, in eastern India, do not live in abject poverty – there are few computers but everyone owns a cellphone, some homes have running water while others purchase it in large barrels, electricity is intermittent – but this opportunity is far from what they can afford.Shavei Israel, which began in 1997, has invested millions of dollars in strengthening the Jewish education and the eventual aliya of this remote Indian community.Michael Freund, an American-born Orthodox Jew who lives in Israel, is the founder of Shavei Israel. While working as an aide in the office of Prime Minister Benjamin Netanyahu – during his 1996 term – Freund came upon a letter from one of the leaders of the Bnei Menashe community saying they had written to every prime minister since the inception of the State of Israel, asking to come home. I first met Freund a year and a half ago.A regular columnist for
The Jerusalem Post,
he occasionally stops by the office to chat and say hello. We share a common interest in our desire to travel parts unknown. For myself, it's any opportunity for adventure. When Freund called to invite me to visit this lost tribe of Judaism in the hills of Manipur, I didn't hesitate for a second.Religiously observant, Freund is always presentable in his black slacks and white Oxford button-down. He wears a crocheted kippa and in Manipur dons a black vest with traditional Bnei Menashe stitching detail. He maintains a childlike enthusiasm and curiosity; he doesn't hesitate to climb up the hood of a truck to join youngsters piled on top of the roof (a normal sight in Manipur), and he poses and jokes with them. The only thing he says when he manages to get down is: "Well, I'm not 20 years old anymore."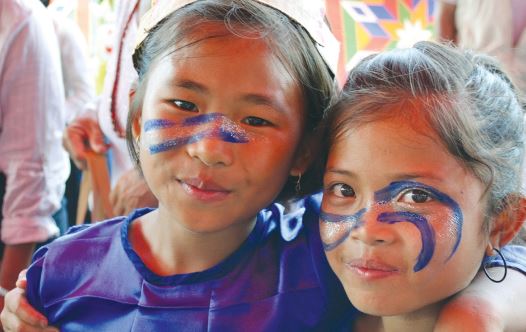 Taking into account his enthusiasm, dedication to religion, Zionism and love for Israel and the Jewish people, there is still a piece of the puzzle missing as to what motivates Freund. A sign at the Shavei Israel center sheds some light.Off to the side, sheltered by the cement roof, is a dedication to his grandmother, Dr. Miriam Freund-Rosenthal. Miriam died in 1999 at the age of 92 and left behind a legacy of Jewish activism and philanthropy."She's my hero," Freund says wistfully when I ask him about the sign. Miriam achieved her PhD in the history of Colonial American Jewry, was the president of Hadassah, the Women's Zionist Organization of America, and was active in helping with the aliya of North African Jewry from Morocco and Tunisia in the 1950s and '60s.One can see how she influenced her grandson.In addition to its work in India, Shavei Israel has opened and operates centers all over the world, including El Salvador, Colombia, Chile, Poland, Spain, Portugal, Sicily, China and Russia; a large part of Shavei Israel's budget comes from Freund himself, as well as foundations and private donors from the US and Europe. Freund's goal is to find all those who descended from generations that suffered under the Inquisition and forced conversions, to bring them back into the fold and welcome them to Israel.FREUND EXPLAINS that the Bnei Menashe claim descent from the Tribe of Menashe (Manasseh), one of the Ten Lost Tribes of Israel that were exiled by the Assyrians in 723 BCE, about 140 years prior to the destruction of the First Temple.Their connection to Judaism today, as one journalist put it, is "foggy" at best.One of their most enduring tribal songs, "Ka Thangnge," references "Elohim," "Judah," "Ben Menashe" and "Zion."The song speaks to their belief that their elder brother Judah would seek them out, find them and restore them to Zion.In the 1980s and '90s, they came to Israel in very small numbers, mostly young people between the ages of 18 and 30. Larger groups started to come in 2000, and by 2005 Freund had successfully lobbied the Interior Ministry to allow groups of 100 or more to make aliya. Through Freund and Shavei Israel, an expedited conversion process was set up, so that the first few months in the country for the new immigrants could be focused on preparing for the conversion and adjusting to the culture.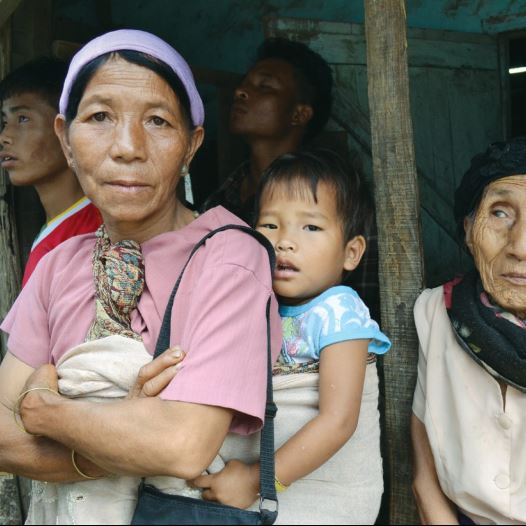 The Bnei Menashe have to convert to be considered Jews under Israeli and Orthodox law. This is different from other Indian Jewish communities, including but not limited to the Cochin Jews in the south; Jews of Spanish and Portuguese descent from Goa in the west; and Surat Jews in the east of the country who came from the Middle East. Before Shavei Israel, the Bnei Menashe had to support themselves financially while adjusting to a radically different culture in an unknown language, all the while preparing for their conversion.Freund continues that to qualify for aliya, the Bnei Menashe must demonstrate proficiency in Jewish knowledge and practice, to the satisfaction of the Chief Rabbinate, which compiles a list of candidates and then passes it to the government for approval. In October 2013, the government under Netanyahu granted approval to 900 Bnei Menashe to come to Israel, go through the conversion process and make aliya.For 2016, the rabbinate has already approved 700 people and now awaits a governmental resolution.THE ROAD to the Beith Shalom Synagogue and Center is paved but not well maintained. Cars and trucks overtake each other with disregard while slowing and swerving only to avoid meandering cows on the road. Fields and partitioned rice paddies stretch to the distance to meet lush, green mountains.The majority of people in this part of India – which borders Myanmar – are Christians. They were converted during the 19th century and churches of every denomination dot the landscape. Christian idioms are painted on brick walls – such as "Cleanliness is next to godliness."There is a small Muslim community, easily defined with a beginning and an end along the main road."They [the Muslims] treat us with respect, saying that we are their 'cousins,'" says one Bnei Menashe. "But we don't like to associate with them because they steal."To visitors like myself, the Bnei Menashe put forth an image of insularity."There are Christians at my college but I don't talk to them," one girl offers.But most of the community members attend Christian schools – the most abundant source of education – and they walk freely through the small villages sporting kippot.THE SHAVEI Israel Synagogue in Manipur has all the markings of a small, traditional Orthodox synagogue in Israel.The men's section in the front is separated by a wood partition sporting a lace curtain from the women, who sit on benches wearing skirts that fall below their knees and shirts that cover their elbows. Those who don't fit inside sit on the covered patio outside.There is a Torah scroll behind a tapestry and prayer books emblazoned with "Shavei Israel" are in abundance. Inside is Hebrew text with transliteration and explanations in Kuki, the most widely spoken local dialect. Tzvi Khaute, a senior member of Shavei Israel and a Bnei Menashe immigrant, painstakingly and lovingly produced them.Khaute's given name is Pu Tin Lul – Lul for his grandfather, and a name he gave his son to keep the tradition alive. Tin means one who is important, an influencer – which he is.Khaute made aliya in 2000, at the age of 23, with his wife and the first of his five children, with the rest born in Israel.This was before Freund and Shavei Israel, which has streamlined the aliya process for the Bnei Menashe."Culture was the biggest obstacle," Khaute recounts, citing some of the difficulties that immigrants from traditional and agricultural societies face when they arrive in Israel.I ask if it is comparable to that faced by the Ethiopians, overcoming the culture shock of women going out of the home to work and confronting the reality that the man is not always the breadwinner.Khaute responds that it's not the same.Yes, it is not typical for the woman to work and this was something they had to overcome, but it is much more than that.Khaute details that in the matter of encountering racism, it comes in different forms and severity. Before he came to Israel, he had studied economics at the university in Delhi. There, the Indians would say he wasn't Indian, that he looked Asian. It's true that in northeast India, on the border of Myanmar and Nepal, the people bear a resemblance to their Asian neighbors.At the Shavei Israel center in Manipur, Khaute tries to prepare for the culture shock as much as he can. When we sit down for Shabbat dinner, on one side of the table sits Khaute, Freund and our respective news crews, on the other are five girls and two boys. "In a traditional meal, it would be 10 men and one woman, and when the men speak, the women do not," Khaute explains.Integration into Israeli society is more difficult for the adults than for the children, he adds. His children, today, like Israeli food more than traditional food from Manipur.Our meal is rice and spicy fish with an assortment of salads of marinated local mushrooms, carrot and peanut salad, cucumbers and pickles. It's hard to tell how much is local and how much is adopted to continue education for Israel preparedness. The bread for the Hamotzi blessing is a homemade rectangular loaf. Shavei Israel benchers are passed around and the group begins to sing the Grace After Meals.On this Shabbat evening, the congregation comprises about 300 people who all live in the area. Some were born in Churachandpur, others arrived decades ago with young families. Moreover, others even gave up prospective professional futures in cities like Delhi or in Kolkata (Calcutta) to relocate to a religious center and prepare to make aliya.All those who introduced themselves used their Hebrew names – some given to them at birth, others they've chosen for themselves. There's Yonatan, Yinon, Tehila, Efrat, Osnat, Rivka, Devora and Shmuel – but with family names such as Chong, Haokip and Singson.Clans and tribes define communities, and five to seven different dialects are spoken. During a heritage celebration ceremony (that dovetailed as an Israeli and Hebrew pride performance), women wore dresses adorned with native stitching, men went shirtless with wrapped material for pants and performed traditional dance – an elegant and reserved choreography that exemplifies the Bnei Menashe's polite and peaceful nature.This ceremony took place in celebration of the four groups traveling to Israel; 3,000 people filled the airy hall rented for the event. Children performed a dance to the alef bet and the ceremony closed with the entire crowd singing a powerful rendition of "Hatikva" that gave me goose bumps.Bnei Menashe from as far as Myanmar traveled two days by bus to attend.Freund stood at the front of the hall – a decaying expanse where birds would fly in and out of the rafters – extolling the virtues of studying Torah, Halacha and keeping Shabbat, a theme he would revisit many times over the three-day visit.TO UNDERSTAND the Bnei Menashe, their connection to Judaism and Israel, one has to change their frame of reference.Today, those who commit their time to the community center in Manipur practice a recognizable and familiar form of Orthodox Judaism. They go to synagogue, they have a mikve (ritual bath), they pray and sing in Hebrew – pronouncing the transliteration, if not understanding the actual words – and recite the Kiddush and Hamotzi.But it's abundantly clear that these people didn't flee from the shtetls of Europe."When there was an earthquake, our people, the Bnei Menashe, would run out of the house and scream to the sky, 'We are the children of Menashe! We live!' until the earthquake would stop," relates Meital Chong, the manager of the Beith Shalom Center.Chong, 28, moved to Churachandpur with her family four years ago, like many others, to prepare to go to Israel.Before working at the center, she was an English teacher. Growing up, she attended a Christian school, and when the nuns would tell her to pray, she would politely refuse, maintaining she was not a Christian.Today, Chong has all the habits and practices of an Orthodox Jew. She turns her phone off come Friday evening and politely declines any action that would cause her to break Shabbat. She sings traditional Ashkenazi Shabbat tunes with enthusiasm, leading when others falter. She dresses modestly, divulging that her guilty pleasures are shoes and handbags. But surely this was not how she was raised."My great-grandmother would tell my grandmother, 'We do not belong here, we belong in Zion, will go there on an iron bird.' My grandmother then told my mother the same thing, 'We are Bnei Menashe, we do not belong here, we belong in Zion, we will go to Zion on an iron bird.' I mean, this is crazy, what is an iron bird? But now we know and it's a miracle, we're seeing it in our time. We know an iron bird is an airplane, and we are going to Zion."This is her dream, she says, and once she arrives in Israel, she hopes to get married and start a family. "Although I would love to be an English teacher again," she concedes.Generally, people will wait here for five to six years to make aliya. Efrat is another Bnei Menashe who moved to the center to prepare for aliya. She studied at a culinary school in Kolkata and became a master chef. But she gave up the prospect of a good job – even an opportunity to work in restaurants in Miami – and a comfortable life to wait out the immigration process here.There are around 3,000 Bnei Menashe in Israel, and around 6,000 still in India, concentrated in Manipur and Mizoram.When people arrive in Churachandpur, they find housing close to the Shavei Israel center. Khaute describes the houses, much like the mentality of the people, as temporary. "You see they are made of bamboo and are a structure that can be taken apart. These people don't belong here, they are waiting to go to Zion."While Chong runs the center to support herself over the years of waiting, others take up day labor, office jobs, government positions or teaching posts. The makeup of the community is at extremes. Hannah is a young Bnei Menashe who is the teacher of the children at the center. She's enrolled in the university and says her biggest push for education came from her parents, both illiterate.Shavei Israel has also invested in the community, starting a fellowship scholarship program which identifies young leaders and trains them to help build a strong Jewish identity within their community.IT TAKES two days and four flights to reach Israel. From Imphal Airport in Manipur, the Bnei Menashe wait for a transit flight in a connecting city before continuing to Delhi. They spend the night in the capital city of a country of one billion people, receiving – for many – their first-ever passports and, in addition, their visas for Israel.With 80 people traveling at once, many with young children, the Shavei Israel staff doesn't want to take any chances on hang-ups or screw-ups, delays or missed flights.Our group's flight goes smoothly; except for a scary bout of intense turbulence on the flight from Delhi to Tashkent, Uzbekistan, it all goes off without a hitch. In Uzbekistan, the immigrants have a six-hour layover. The children pass the time running from one end of the small waiting area to the other, playing with new toys given out the night before by Shavei Israel at a "going-away party," as their parents sit and wait patiently for the flight.By the time we arrive in Israel that evening, the Bnei Menashe are excited yet exhausted.Family members already in Israel have been given permission to meet the arriving Bnei Menashe at the gate, and staff of Shavei Israel provide plastic Israeli flags to wave and celebrate. The procession makes its way to passport control, breaking out into joyous singing of "Hatikva" and "Am Yisrael Hai." Curious travelers heading for departing flights on the upper level peer over the partition at the commotion – and some wave and join in the singing.The atmosphere is unlike anything I've experienced before, and these people have managed to bring tears to my eyes in their devotion and realization of their dream to come to Israel.I approach passport control and hand over my US passport and press card – expecting to be questioned over the numerous country stamps (I was just in Iraqi Kurdistan) and as to why I was in India for only four days."I just traveled with the Bnei Menashe, the people singing, here now!" I offer up breathlessly, not even waiting for the attendant to ask me."Really?" She responds with a smile. "I'm from India, too."We look at each other with mutual understanding and it's clear she wants to say more – but there's a line of other travelers behind me who aren't so enamored with the Zionist scene playing out.She prints out my entry visa and waves me on, both of our hearts a little lighter.