Billed as a mid-career retrospective, Roee Rosen's recently opened exhibition, titled "Roee Rosen: A Group Exhibition," at the Tel Aviv Museum of Art, is a large affair presenting over 300 paintings and drawings, video works amounting to approximately three hours of film footage and the launch of an artist book, The Blind Merchant.Rosen's back catalogue is in fact so large and convoluted that curators Gilad Melzer and Joshua Simon were given three gallery spaces in the museum, the better to separate the works into their respective mediums and to maintain some clarity and unity of theme, where possible.Much of Rosen's work has involved the use of text, which is often interwoven with characters he has created, three of whom form the central focus of the exhibition and are on display in the Markus B. Mizne Gallery through the end of April.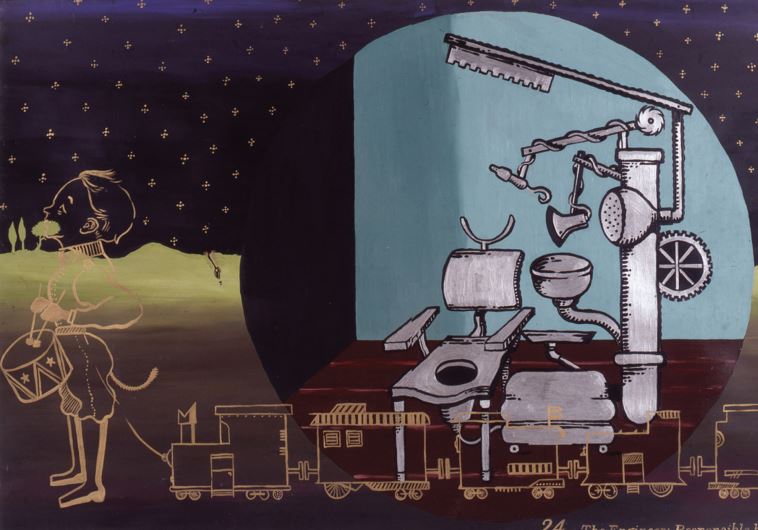 "We were tasked with structuring a show of works and characters Roee had created, some of which are presented under assumed names," Melzer said."Roee's work is very conceptual. We knew we had to create an apparatus for reading each project and wanted to make sure the mechanism for each installation [the juxtaposition of image and text] would be understood. It was Joshua who had the idea to call it a group show."Rosen has been active as an artist for almost 30 years, 12 of which he spent in New York. His work does not sit comfortably or appear typical of any Israeli art school or generation of the 1980s or 1990s. "There is a common apprenticeship for most Israeli artists that I did not go through. Rather than studying in Bezalel [Academy of Arts and Design in Jerusalem] or Hamidrasha [at Beit Berl College] I began by studying literature and philosophy and continued my studies at The School of Visual Arts in New York," he said, in conversation with Metro. "Growing up I never felt my identity as being defined by the locale or by what we refer to as 'Israeliness.' Judaism was a big part of my identity, and the qualities of intellect and culture traditionally attributed to Jews of the Enlightenment were more influential for me then some idea we have of the virile IDF soldier. Early on it was clear to me that I would pursue those qualities."Rosen's work and influences are a potent, almost toxic, mix of modernism, pop culture, medieval illuminated manuscripts and what are known as emblem books – illustrated books, often featuring allegorical tales and pictorial symbols, popular in Europe during the Renaissance.The theme of identity, both Jewish and Israeli, and that of the self, is explored in a complex manner, leading the viewer into a maze-like world of real and make-believe characters that often involve the most bizarre, fantastic and perverse outcasts and scenarios.The body – its scents and smells, nooks and crannies, limbs and form – is often rendered in graphic fashion and appears to hold a fascination for many of Rosen's dramatis personae.Two of his major projects, revolving around the invented figures of Justine Frank and Maxim Komar-Myshkin, are given biographies of a sort and are credited with their own bodies of work.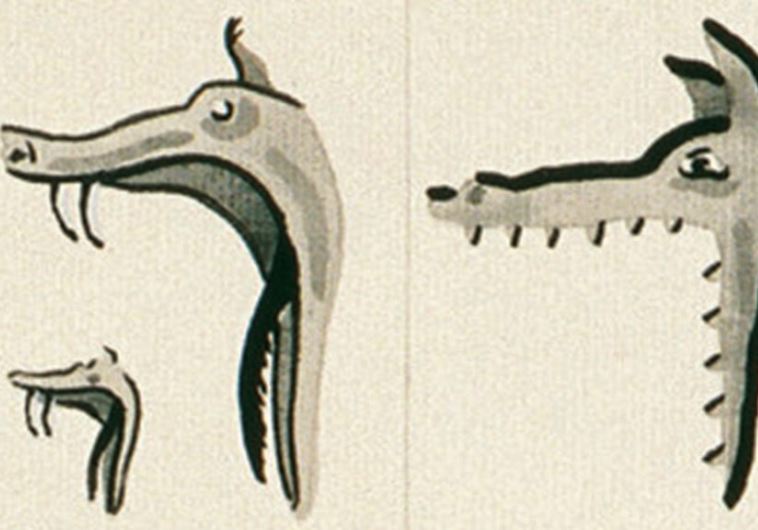 A third installation invites the viewer to enter into the mind of Hitler's mistress, Eva Braun, and caused some controversy, due to its "treatment" of the Holocaust, when first exhibited at the Israel Museum in 1997.The installation featuring Justine Frank, a Jewish surrealist artist "rediscovered" by Rosen, blurs the boundaries between reality and fiction and still confuses viewers as to the authenticity of her existence. On display are a series of paintings and a portfolio of over 100 drawings, titled "The Stained Portfolio," each bearing Frank's signature. An erotic novel authored by Frank, Sweet Sweat, can be perused with Rosen's artist books in the Gina and Gabriel Katri Gallery.A wall text informs the viewer that "the artist Justine Frank was an active member of the Surrealist movement in Paris in the 1920s and 1930s and that her artistic career continued until her death in Tel Aviv."Frank, we can surmise, was a product of the Diaspora, an assimilated Jew reminiscent of early 20th-century intelligentsia, but whose artistic vision did not mesh with her contemporaries.Her works are provocative and concerned with gender, Jewish identity and the body. She fashions a Hebrew alphabet from the bodies, torsos and genitalia of men and women; female forms sprout male sexual organs and mutate into figures of hassidic rabbis; elsewhere, she reinvents herself as "Frankomas," based on a character made famous in a series of pulp novels and B movies created in France in the early 20th century.The Maxim Komar-Myshkin persona is another of Rosen's troubled characters.Komar-Myshkin is the pseudonym of a fictive Russian artist, Efim Poplavski, who immigrated to Israel in the 1990s and established an artist collective known as the "Buried Alive" group. The collective was made up of Soviet Union emigrants and created video works that can be seen in the museum's video room, the Laurence Graff Gallery of Contemporary Art.Komar-Myshkin suffered from acute paranoia, the symptoms of which seem to inform the wild imaginings and delusions of his poetry and paintings.Komar-Myshkin is convinced that Russian President Vladimir Putin is intent on killing him and exerts a kind of twisted act of revenge by penning an illustrated poem, "Vladimir's Night," in which a figure resembling Putin is mutilated and subjected to all manner of depraved acts by household objects.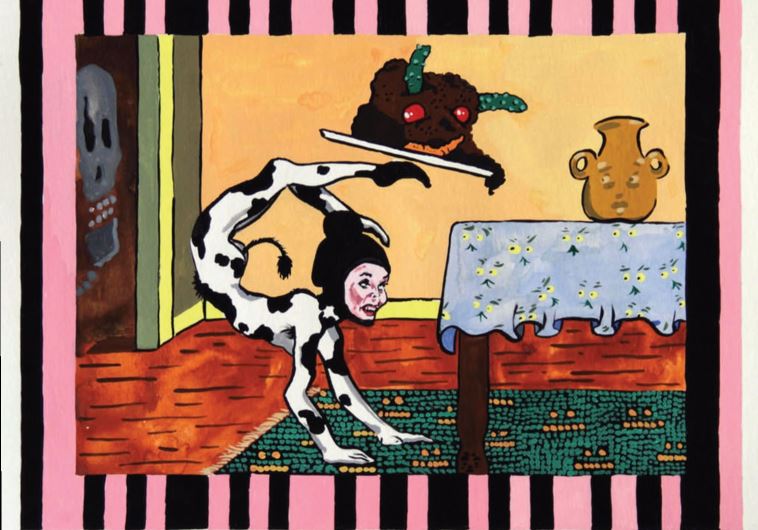 "Vladimir's Night" is in the tradition of Russian absurdist literature, but is also possibly the best example in this exhibition of Rosen's desire to marry text with image.A superhero the character of Vladimir is not, but the accompanying illustrations show some of the influence of comic book art, a medium Rosen acknowledges interested him as a child."My grandmother owned a kiosk and I was an addictive consumer of comics. I began drawing super heroes, but even as a child when I was writing and doing comics the separation between text and drawing seemed artificial to me. I'm an artist who is also a writer and filmmaker. It does not seem natural to me that I should lose my ability to write or have a voice because I am working on a painting," he said.Both Frank and Komar-Myshkin are wayward souls, alienated personas mired in their own preoccupations, excesses and idiosyncrasies. Akin to many of Rosen's figures they are drawn from society's periphery. Unconventional and freakish they might seem, but characters of a similar nature were and are not unknown in Israeli society.Rosen's character projects and films are dark and unsettling, although not without humor. The combination of image and text and the labyrinthine aspect of Rosen's work places demands on the viewer."The projects are on one level seductive, to lure the viewer and reader in by offering beauty, desire and playfulness.But, once you're in it's like a trap.You have to face something that is uncomfortable and ask questions about good and evil," he explained.Rosen's personae might be interpreted as alter egos and his image appears in many of his projects, particularly in the series "Martyr Paintings," in which the artist depicts himself in the likeness of a Christian saint.Commenting on his reasons for creating art Rosen said, "I don't know if there is one answer. I would sway between psychological, political and sexual reasons, all are compelling for me. Maybe it's a question of desire, wanting to emancipate myself. Or the result of an inner fixation, for meaning in the world and a desire for beauty. All those answers would coexist for me."