If the feud between the Fatah-led Palestinian Authority and Hamas cannot be felt in the streets of the Palestinian territories, it can surely be seen through the pencil-tips of their propagandists. In Hamas's latest assault on their foes in the West Bank, the Islamist organization issued a cartoon accusing the PA of collaboration with Israel, but also, perhaps inadvertently, alleging that the Palestinians of the West Bank have behaved with traitorous complacency. The drawing, publicized on Hamas's Twitter account, shows the PA as a guard standing complacent at his post while a hook-nosed Jew rapes a Palestinian woman. While violating the Palestinian woman, the Jew is also simultaneously spraying her children with gunfire.
The woman, clad in yellow, the color of the Fatah, is then told by a kaffiyeh-clad man, billed Gaza, that she should "get up and defend your honor and your children."The woman then responds, "Yes, I would like to, but I have no permit." The cartoon enraged not only the PA, but average Palestinians, prompting Hamas to remove it from social media. However, the cartoonist responsible for the drawing replaced the initial illustration with one that appears to be a sequel rather than an entirely different scenario.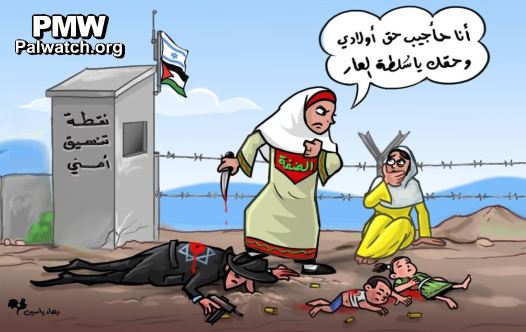 In the new cartoon, a new woman, labeled West Bank in green, the color of Hamas, stands holding a blood covered knife, over a Jew who she had just stabbed and killed. While angrily glaring at the woman from the initial cartoon, the new woman apparently admonishes the first, saying " I will attain what children deserve and what you deserve, [Palestinian Authority] of shame." The cartoon also features the text, added by the artists, "This is the West Bank I know."