An Iranian drone flew over a US aircraft carrier Friday afternoon, taking pictures of the ship as part of a naval exercise, Iran's semi-offiial Fars News Agency reported. The report said that the incident occurred on the third day of naval excises being conducted off the Persian Gulf, but did not specify the date of the event nor the name of the US carrier.An additional report from the state-run IRNA news agency said an Iranian light submarine also aided in the surreptitious operation.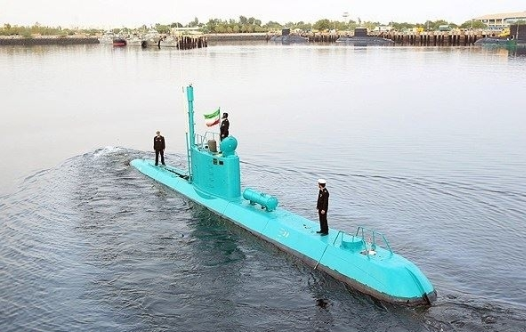 (Ebrahim Noroozi, Fars News Agency)
The agency, close to the Revolutionary Guards, reported on Wednesday that Iran's navy had given the warning to the ship, which had approached the area, after which it left the area instantly and the situation returned to normal. Commander Kevin Stephens, a spokesman for the US Navy's 5th Fleet based in Bahrain, declined to comment specifically on surveillance incident, but was quoted as saying: "We are confident in the ability of US naval forces operating in the region to respond appropriately as the situation dictates, and will exercise our right to defend our forces against any threat."The event comes less than a month after Iran detained 10 US sailors aboard two US Navy boats in the Persian Gulf, who were released without incident on January 14, two days after their initial capture.On January 17, just three days later,
world powers dropped sanctions on Iran
after international monitors concluded the first phase of their landmark nuclear deal complete, marking the formal commencement of the accord, or "Implementation Day," foreign ministers declared in Vienna on Saturday.Implementation of the Joint Comprehensive Plan of Action (JCPOA) reached last summer brought Tehran back into the global marketplace after decades of pariah status. The Islamic Republic retained full and immediate access to tens of billions of dollars in unfrozen assets, a surge in business opportunities, and reconnection to the Society for the Worldwide Interbank Financial Telecommunications, or SWIFT, the world's largest payments network for financial institutions.
Reuters and Michael Wilner contributed to this report.
However, earlier in the week Iran's navy warned a US warship to leave the sea of Oman where Iran's military was holding a naval drill, the Tasnim news agency said.