A Palestinian protester who was apparently hit in the face with a gas canister during a protest in the West Bank town of Nebi Saleh died of his wounds in The Rabin Medical Center-Beilinson Campus, Petah Tikva Saturday morning.
According to activists, 28-year-old Mustafa Tamimi sustained serious injuries to his head when
IDF forces attempting to disperse a demonstration in the town fired a projectile in his direction
. The IDF is investigating the incident.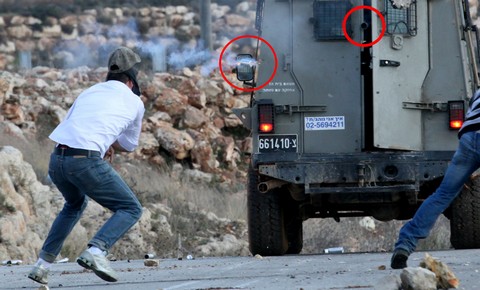 The IDF transferred the injured man to The Rabin Medical Center-Beilinson Campus in Petah Tikva after he was treated by on-site IDF medics.
One witness said Tamimi was in very bad condition, writing that "his face is half gone," according to Ma'an News Agency.
RELATED:
2,000 turn out for Human Rights March in Tel Aviv
Another activist claimed that Tamini was hit after he was seen throwing stones at an IDF jeep.Tamimi was due to undergo surgery at Belinson Friday evening, according to activist group the Popular Struggle Coordination Committee.The Palestinian town ofNabi Saleh - near the West Bank Israeli settlement of Halamish - is the site of weekly Friday protests.
cnxps.cmd.push(function () { cnxps({ playerId: '36af7c51-0caf-4741-9824-2c941fc6c17b' }).render('4c4d856e0e6f4e3d808bbc1715e132f6'); });
if(window.location.pathname.indexOf("656089") != -1){console.log("hedva connatix");document.getElementsByClassName("divConnatix")[0].style.display ="none";}