A right-wing Polish weekly magazine is causing a stir after posting a provocative image of a Caucasian woman wrapped in a European Union flag just as she is being sexually assaulted by anonymous men meant to represent Muslim migrants.The cover of the magazine,
wSieci
("the network"), bares the headline: "The Islamic rape of Europe."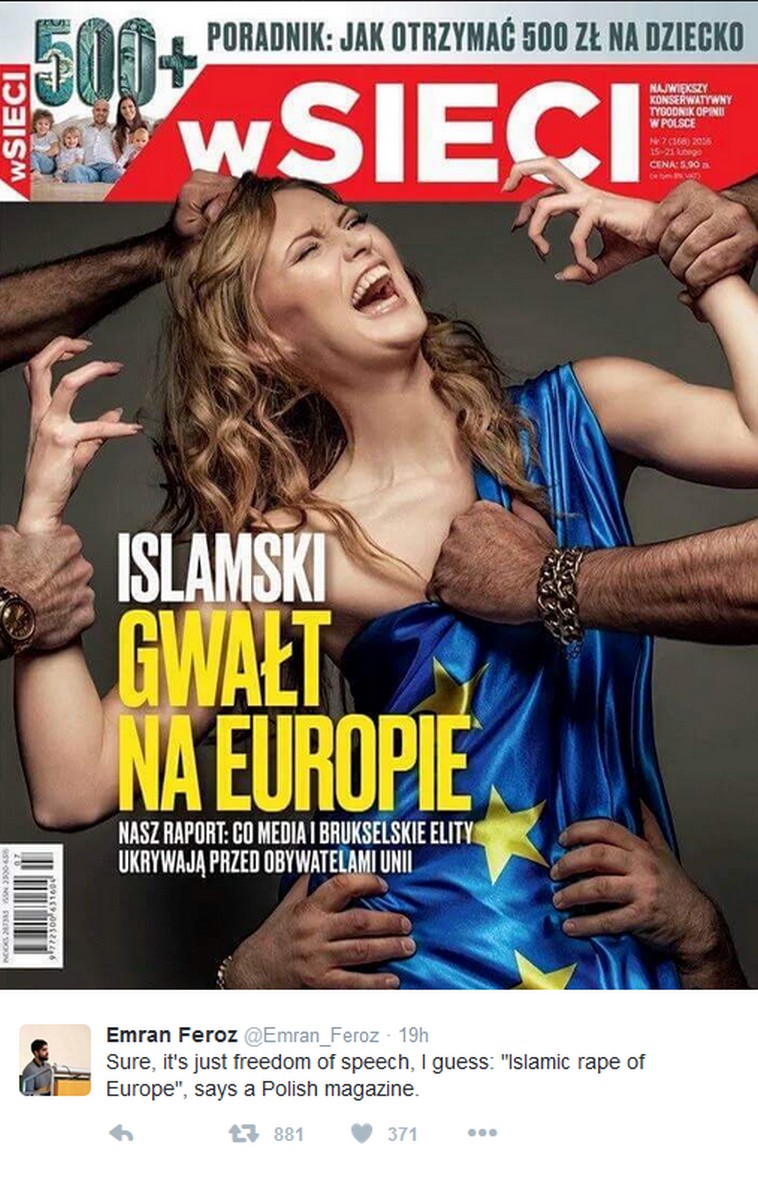 The magazine wrote that its aim is to expose "what the media and the Brussels elite are hiding from the citizens of the European Union," according to Newsweek.The publication criticized European governments for placing political correctness above the safety of its citizens, particularly in light of reports of widespread sexual assaults against women allegedly perpetrated by newly arrived migrants from the Middle East and North Africa.Poland is one of several eastern European countries that have urged the bloc to tighten restrictions for immigrants seeking to resettle on the conflict.On social media, some compared the magazine cover to Fascist propaganda from the 1930s and 40s warning of African migrants and their supposed lust for white women.
Left: Polish magazine @Tygodnik_Sieci, 2016. Right: Fascist Italy's poster, 1943. pic.twitter.com/cCqLpZR3sd

— Alessio Fratticcioli (@fratticcioli) February 16, 2016
Dear @Tygodnik_Sieci , were you inspired by Nazi and Fascist posters? pic.twitter.com/d2AbAejB21

— Alessio Fratticcioli (@fratticcioli) February 17, 2016
European Commission President Jean-Claude Juncker told Germany's Bild daily that Europe is making progress in tackling the migrant crisis and praised Chancellor Angela Merkel for sticking to "long-sighted" policies in the face of criticism.In an interview published on Wednesday, a day before leaders hold a closely watched summit on the refugee crisis and on a reform deal to keep Britain in the 28-member bloc, Juncker said history would prove Merkel and her liberal refugee policy right.Merkel is looking increasingly isolated with her demands for a fair distribution of migrants among EU members and for ensuring Turkey cooperates to stem the flow of people arriving in Europe.Some EU members, including Hungary, Poland, the Czech Republic and Slovakia, are deeply opposed to any quota system and their leaders said this week that there should be tighter controls on the borders of Balkan countries neighboring Greece if attempts to limit the numbers from Turkey to Greece failed. Juncker told
Bild
that a number of individual steps would together have an effect on the crisis but that this would take time."We are at last seeing some first progress," he told
Bild
, adding the number of migrants arriving in Greece from Turkey was falling.He said it was the job of a head of government to stand by their policies even under pressure and suggested Merkel would outlast all her critics."The European migration policies she and I are pursuing will prevail. It is political strength to say we can do it. Anything else is capitulation to the populists," he said.Support in Germany for Merkel has dipped over her handling of the crisis, opinion polls show.Merkel aides said that the two-day EU summit starting on Thursday will not focus on a divisive quota system to distribute refugees among member states but on how to secure the bloc's external borders to stem the flow of migrants.Thomas Oppermann, parliamentary leader of the Social Democrats (SPD), Merkel's junior coalition partner, said that a deal on the quota system must be reached before another EU summit in March.He added that the absence of a deal by then could push member states, including Germany, to reinstate border controls within the free-travel Schengen area."We have consensus that the external borders must be safer but no consensus on common quotas," Oppermann told the ARD broadcaster. "I believe that a deal must be reached until the summit in March. If we fail, I expect that all the internal borders will be renationalized and tighter border controls will occur all over Europe. Presumably in Germany too."Merkel has resisted demands from some members of her conservatives to shut Germany's border with Austria to migrants.
Reuters contributed to this report.