"Where are you from?" a young girl being treated at Hadassah-University Medical Center in Jerusalem's Ein Kerem asked Abdullah Abu Shaaban, a medical clown from the central Gaza Strip."I am from haaretz," Abu Shaaban responded in fluent Hebrew, referring to the Hebrew term meaning the land."In the North or the South?" the young girl responded, sitting alongside her mother.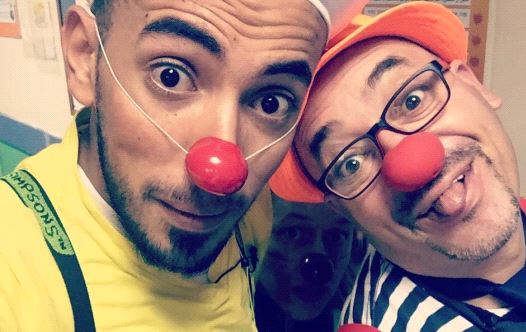 (
Abdullah Abu Shaanan and an Israeli medical clown at the Sheba Medical Center)
She sat quietly at home for ten days and then decided that there was no other choice but to send her son to Israel to receive medical treatment. Abu Shaaban promptly applied for a permit to go to Israel through the Health Ministry in Gaza and a week later made the trek to the Erez Crossing between Israel and Gaza, where a Red Cross vehicle brought him to Assaf HaRofeh Medical Center in Tel Aviv."It was really difficult time," Abu Shabaan said. "I could barely walk five meters on my own."Abu Shaaban, who was accompanied by his uncle because his mother was denied permission to enter Israel, underwent another series of tests at the hospital, and doctors found that he had not developed neuroblastoma but instead a rare type of cancer called Ewing's sarcoma.The doctors determined that Abu Shaaban needed to undergo chemotherapy and surgery to remove the tumor, as well as a bone marrow transplant."Every 23 days, I received a treatment of chemotherapy. I would spend two weeks in the hospital and one week in Gaza," Abu Shaaban said. "It was the most painful experience in my life."After moving between Gaza and Israel for several months, the doctors decided it was time to perform the surgery and bone marrow transplant in April 2008. Both procedures were performed successfully and Abu Shaaban was declared cancer free.Throughout his illness, Abu Shaaban felt anxious and worried about his future, but when he was at the hospital, medical clowns transported him to an alternate reality and brought a smile to his face."I was sitting in bed the first time I met a clown. I heard music and saw the clown," Abu Shaaban recalled. "I didn't know that there were such people as clowns and thought that a crazy person had come into my room. I wondered how people were allowed to do such things in a hospital."Abu Shaaban said that it quickly became clear to him that the clown was there to cheer him up."I felt so great at the time. The clown had pulled me out of my depression and brought joy into my life," he said. "I knew at the moment that I wanted to be a clown."In mid-2008, Abu Shaaban returned to his hometown and continued his schooling there. While he started his studies at the Islamic University in Gaza to be a journalist in 2014, he knew that he ultimately wanted to pursue a career as a medical clown.The only problem was that medical clowning is largely unheard of in Gaza."In Gaza, there is not much interest in medical clowning, but I found two organizations that, among their other work, bring medical clowns to hospitals in Gaza," Abu Shaaban said. "So I went to them and became a medical clown for the first time."Abu Shaaban worked with the two organizations for more than a year, but they did not have the resources to educate him in clowning. Struggling to find a way to develop his skills, Abu Shaaban resorted to Youtube videos and other websites to educate himself.In mid-February 2016, Abu Shaaban was searching for medical clowns on Facebook and added Sasha Kapustina, an American-Israeli documentary filmmaker, as a friend.Kapustina, who had just returned to her hometown of Los Angeles after months of filming a documentary on medical clowns in Israel, was surprised by Abu Shaaban's friend request."I got a Facebook request from Abdullah and I was like, 'What?'" Kapustina said. "I looked at his Facebook page and noticed that he writes in Hebrew, and I thought that was interesting."Kapustina also noticed that she and Abdullah had many mutual medical clown friends and concluded that he must be a clown."We spoke over Facebook and WhatsApp for several weeks and Abdullah told me about how he wanted to come study clowning in Israel," Kapustina said. "So I reached out to Dudi Barashi, a clown at Hadassah, about looking into the possibility of Abdullah training with him."Barashi liked the idea and presented it to Kerem Eitan, Hadassah's head of pediatrics, who gave the plan his blessing. Barashi, Kerem and Kapustina agreed that Abu Shaaban would come to Israel for four weeks to train under Barashi's instruction, and for Kapustina to film him for her documentary.Kapustina then contacted the Coordinator of Government Activities in the Territories, a branch of the Defense Ministry, to help Abu Shaaban obtain a permit. Approximately three months later, Kapustina received a message from COGAT that he had been approved.For the month of February, Abu Shaaban worked with Barashi, learning medical clowning formally for the first time. "I didn't realize how complicated clowning actually was and it was hard for me to internalize that at first," Abu Shaaban said. "But I tried to hone my skills and gradually improved, with the help of my teacher." According to Abu Shaaban, he achieved part of his dream in coming to Jerusalem to study how to be a clown, but he still has a long way to go until he completes his clowning education."I want to continue to learn, but I'll have to rely on the Internet again when I return to Gaza," Abu Shaaban said.Abu Shaaban plans to continue to volunteer, as he has been unable to find a paid clowning positions in Gaza."I love this work. It allows me to enter a world where your religion, language or race doesn't matter. What is important is that we are all human," Abu Shaaban remarked. "So I will continue to do this work, even if I am not paid."Since returning to Gaza two weeks ago, Abu Shaaban has already volunteered as a clown four times at al-Rantisi children's hospital, employing the skills he learned from his fellow clowns in Israel.
"I will make this easier for you," Abu Shaaban said. "I live in the center."After a number of incorrect guesses, Abu Shaaban told the girl that his home is next to Egypt."Gaza?" she asked incredulously.Abu Shaaban replied in the affirmative, smiling at the girl, who had not expected to meet a medical clown from Gaza. Abu Shaaban, a 23-year-old resident of Deir al-Balah, a modest neighborhood south of Gaza City, first came to Israel in July 2007 for cancer treatment."I felt that I couldn't breathe one day and went to the local al-Aksa Martyrs Hospital to do an X-ray with my mom," Abu Shaaban said, during an interview in Tel Aviv two weeks ago.The doctors, who reviewed the X-ray, told Abu Shaaban that it was unclear to them why he was unable to breathe. However, his mother, who is a doctor, knew immediately upon glancing at the X-ray that her son had developed some form of cancer (Abu Shaaban asked that his mother's first name be withheld for security concerns).The next day, Abu Shaaban and his mother went to al-Shifa Hospital in Gaza City, where he underwent a series of tests, including a biopsy. The conclusion was that Abu Shaaban had developed neuroblastoma, a cancer that forms in nerve tissue and other bodily organs."My mom knew that she could not let me be treated in Gaza's medical facilities, but felt uncomfortable sending me to Israel because it would offend her medical colleagues," Abu Shaaban recalled.