Pity Jennifer Lopez. As far as memorable red carpet moments go, she set such a high bar at the 2000 Grammys with her now-legendary plunging green Versace dress that she seemed destined to never top it.But many fashion insiders (and followers) have been buzzing about the actress-singer's Golden Globes gown earlier this month. That's not because of how much of her body she showed off, but precisely the opposite: The caped, marigold-colored Giambattista Valli dress covered her shoulders, most of her arms and even much of her legs.J.Lo was hardly the only celeb on the red carpet taking a (relatively) modest turn. Cate Blanchett rocked an elbow- and knee-covering flapper-inspired fringe dress from Givenchy, while Julianne Moore wore a long-sleeved blue sequin Tom Ford gown that would have been appropriately gorgeous attire for a black-tie synagogue event. And all three women landed on many a best dressed list.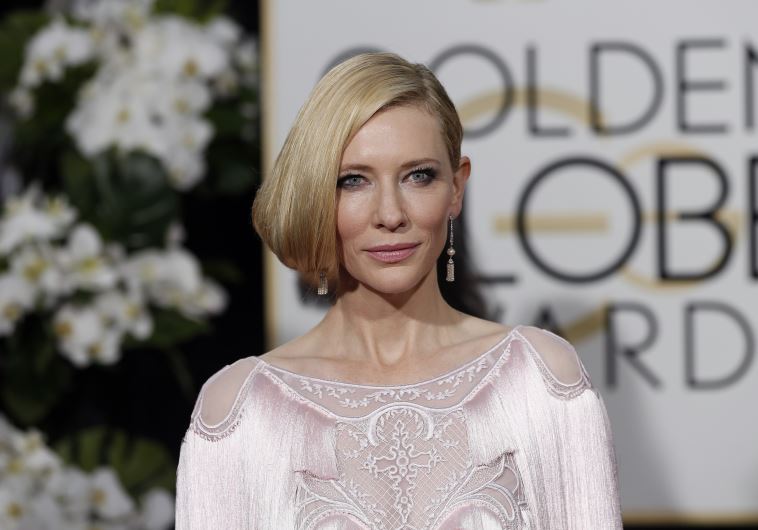 (Photo: Actress Cate Blanchett arrives at the 73rd Golden Globe Awards, January 10, 2016. Credit: Reuters)
As such, many fashion insiders are predicting the chaste leanings on display at the Globes are just a taste of what's to come at the upcoming Academy Awards and eventually, in true trickle-down "fashionomics," a high-street shop near you.Esti Burton, owner of Esti's, a boutique specializing in modest couture with locations on Long Island and in Brooklyn, New York, says she wouldn't be surprised to see more modesty at the Oscars, which will be held Feb. 28. While her team is often asked to build sleeves and higher necklines onto more revealing dresses, she says her stores also carry dresses from couture designers like Lanvin, Valentino and Carolina Herrera that meet religious clients' needs. Even Alexander McQueen, a design house known for outrageous style, has "covered-up dresses," she says."The red carpet fashions tend to come in cycles," Burton says. Now there's a "been there, done that" feel when it comes to the completely bare look, she says."The red carpet will always reflect what's happening in fashion, and over the past two years or so we've seen a definite increase in looks that feature more material and more draping," says Mimi Hecht, a Hasidic designer who with sister-in-law Mushky Notik runs Mimu Maxi, which has been featured in Vogue. The line specializes in oversized casual clothing, but Hecht says they have plans to roll out some eveningwear in response to requests from religious Jews and Muslims."Fashion is always about rebelling, and younger women are now rebelling against the idea that they have to show their skin to be sexy," Hecht says. "It used to be empowering to show what you have, but now more is more." Plus, at the biggest-ticket events in the celebrity circuit, it makes sense that women would want to wear more material, says Heyman — after all, the gowns are works of art."When you're talking in terms of design aesthetic, I say the more the merrier," she says. "It's always best when there's more to look at." Heyman credits actresses like Mary-Kate and Ashley Olsen, Michelle Williams and Emma Stone — as well as fashionistas like Olivia Palermo and Alexa Chung — for giving a fresher, cutting-edge feel to a more traditional style of dress, both on and off the red carpet.
(Actress Julianne Moore arrives at the 73rd Golden Globe Awards, January 10, 2016. Credit: Reuters)
In some ways, the Olsen twins have become the patron saints of high-end modest fashion. The two women, who are often photographed in layers of voluminous, flowing clothes, have their own high-end line of ready-to-wear clothing with ankle-length skirts, long-sleeve shirts and coats as staples. Called The Row. the line is described by The Council of Fashion Designers of America as "simplistic shapes that speak to discretion.""I've always been obsessed with them," Hecht says of the star siblings. "It's simplicity done so regally and luxuriously. People always talk really highly about their clothes without talking about how modest they are, which just shows you that you can have clothes that are completely fashionable without the modesty aspect being so obvious."But when it comes to red carpet designers that really nail the look, "Valentino is the epitome of modern modesty," Heyman says. Even labels like Dolce & Gabanna — known for some outrageous, show-stopping looks — have more conservative dresses, she says. (In fact, D & G recently launched its very own line of high-end hijabs and abayas.)
(Photo: Mayim Bialik arrives at the 21st Annual Critics' Choice Awards, January 17, 2016. Credit: Reuters)
Mayim Bialik, an Emmy nominee for "The Big Bang Theory" and an observant Jew, says her self-imposed red carpet dress code (nothing too short, nothing sleeveless) is a mix of social and religious modesty — and a way to demonstrate her "second-wave feminist side." The thinking, according to Bialik, is that she doesn't need to show everything — that keeping parts of your body private is empowering. "There's a resurgence of younger women who are rebelling against the idea that they have to show skin to be sexy," she says. "In fact, the more you're covered up, the more you can show your attitude. It used to be just older women or larger-sized women who dressed modestly, but even the most petite actresses are doing it."Bialik has also perfected the art of covered-up chic, such as the green Oliver Tolentino dress she wore on Sunday to accept her Critics' Choice Award for Best Supporting Actress in a Comedy Series. She's learned some tricks over the years, too."When you dress modestly, you need to keep jewelry, makeup and hair sleek, modern and sexy, or risk looking matronly," Bialik says.It's a lesson that some stars will likely put into practice at the upcoming Oscars. Heyman, for one, predicts that we'll see stars wearing more covered-up, sparkly frocks, like what Moore wore to the Globes.And while there will undoubtedly be lots of "strapless and low-cut looks" at the Academy Awards, Hecht expects to see a good showing of modest dresses, too."Modesty isn't considered a matronly, archaic, biblical way of dressing anymore," she says. "And that creates an opening for a lot of designers."
"Modesty has very much found its niche within the fashion world, and not just for religious women," says Adi Heyman, founder of the Jewish fashion blog Fabologie. "There's an empowerment to owning your look and not having to put everything out there."Granted, only a few of these red carpet gowns actually adhere to Orthodox rules of modesty — varying among communities, that typically means covering necklines, backs, elbows and knees. Blanchett's Golden Globes dress had an open back, after all, and J.Lo's frock had a slit up to her thigh (and she seemingly spared no opportunity to flaunt said thigh). But compared to the typical trajectory of ever more revealing designs — after all, 2015 showcased the super-bare "naked dress" favored by La Lopez herself — this year's red carpet represented a shift toward a more covered-up kind of chic. "You're not seeing that same in-your-face sex appeal you saw in the late 1990s and early 2000s," Heyman says. "Even when a dress is sleeveless, you're often getting a cape or a higher neckline. Modern fashion is taking a modest spin."