Two Israeli men died following a terrorist attack in Jerusalem on Wednesday afternoon, one after being accidentally shot by Border Police officers as they fired at and killed two knife-wielding Palestinian terrorists, who were stabbing two Jewish civilians near the Old City's Jaffa Gate.Jerusalem resident Ofer Ben- Ari, 40, the married father of two children, was pronounced dead at about 7 p.m., following emergency surgery for a bullet wound to his abdomen."Despite vigorous efforts to save him, the wounded man has died," Shaare Zedek Medical Center said in a statement.The second stabbing victim, Rabbi Reuven Biermacher, died of multiple stab wounds to the upper torso later Wednesday night at Hadassah-University Medical Center in Jerusalem's Ein Kerem.The terrorists, identified as Anan Hamad, 20, and Issa Asaf, 21, were both convicted felons from the West Bank's Kalandiya refugee camp. Hamad was imprisoned in 2010 after entering the Kalandiya checkpoint with a knife to attack security personnel, and Asaf was incarcerated this year for participating in unspecified terrorist activity.The attack took place in a busy area outside the Old City where thousands of tourists from around the globe are preparing to celebrate Christmas."Just after 12:30 p.m., two Palestinians carried out a stabbing attack here," police spokesman Micky Rosenfeld said shortly after the assault.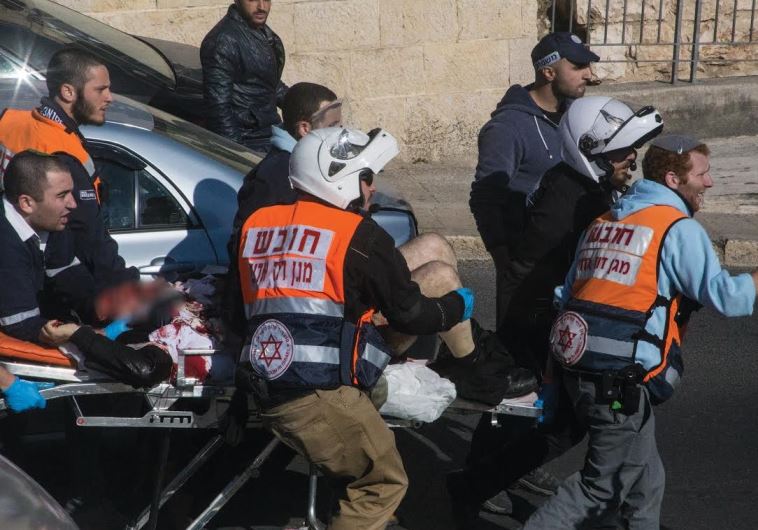 Paramedics rush a wounded victim from the scene of a stabbing in Jerusalem. (Sarah Levi)
As dozens of concerned passersby and members of the media took in the chaos behind heavily armed police officers who secured the scene approximately 100 meters from Jaffa Gate, Magen David Adom paramedics and ZAKA rescue and recovery personnel placed the dead terrorist's corpse into a black plastic body bag and a police forensics team gathered evidence.Rosenfeld said he could not confirm that the third Israeli victim was shot by police, but indicated that officers were "checking to see if one of the people taken to the hospital was injured by a stray bullet."However, Shaare Zedek Medical Center spokeswoman Shoham Ruvio said Ben- Ari had indeed died of a bullet wound several hours after the attack. A 24-yearold man who was stabbed in the chest and back is in stable condition and resting in the hospital's intensive care unit, she said.Rosenfeld said police are investigating whether the two assailants acted independently or were part of an organized terrorist cell. "We can see that this was an organized attack by two terrorists who coordinated together, but we don't see at this moment in time any connections with any organized terrorist cell," he said."But that's something that we continue to look into, both the Israel Police and internal security. We're still looking into exactly how they got to the Jaffa Gate area."Rosenfeld said heightened security will continue across the capital, with a special emphasis on the Old City, in anticipation of the thousands of Christian tourists who will make a pilgrimage there on Thursday."There are going to be thousands of tourists who are going to be visiting in and around different areas of Jerusalem, including the Old City, and, therefore, it's vital that we make sure that heightened security continues and no further terrorist attacks take place," he said.Prime Minister Benjamin Netanyahu addressed the attack at an event at the Menachem Begin Heritage Center in Jerusalem – not far from the scene of the attack – marking former defense minister and ambassador to the US Moshe Arens's 90th birthday."We are under continuous terrorist attacks," he said."The entire world is being washed over by wild terrorism and we are fighting it and will overcome it."
Paramedics rush a wounded victim from the scene of a stabbing in Jerusalem. (Sarah Levi)
Netanyahu, after extending condolences to the families of the terrorism victims, praised the two Border Police officers for acting swiftly under difficult conditions.Devorah, a middle-aged Orthodox woman who waited for police to allow pedestrians to walk past the crime scene to enter Jaffa Gate, said she was shaken that the attack struck so close to home."I was really kind of shocked that this actually happened right in my backyard," she said, requesting that her last name not be published.Nonetheless, Devorah said her faith in God gives her hope that she will not be harmed in future attacks."I feel that the light of God is always shining down on the people here, and we go back and forth through the shuk, down Jaffa Road and to the Kotel every single day, many times a day, and I'm happy to say there are no incidents in the Jewish Quarter that I'm aware of and we feel very safe," she said.Despite the volatile and brutal nature of the ongoing knife attacks fueling the capital's nearly threemonth- long terrorism wave, Devorah said she remains unafraid."I don't like it, but I feel like I'm in the holiest place in the world," she said."I feel that I'm taken care of. I will continue to walk through Jaffa Gate without fear."After the police removed their barriers, a dozen or so young Israeli men wearing kippot and T-shirts loudly sang "Am Yisrael Chai" (the people of Israel lives) as they walked past the scene of the attack, en route to pass through Jaffa Gate.
Herb Keinon contributed to this report.
"As a result, three Israelis were injured; two of them seriously, one of them moderately- to-seriously. Two female Border Police officers who were in the area responded, ran to the scene, spotted the terrorists and shot them. One was killed and one was taken to the hospital."The second terrorist later died of his wounds.