Slight, strawberry-blond Maya Tiben, 19, has always been close to her twin brother, doing almost everything together. So, when it came time for their army service, she saw no reason to limit herself to roles considered traditional - ly "female."Standing in full combat gear in the dwindling gray of a late twilight among the rubble of a destroyed house where she and her platoon in the IDF's Search and Rescue Unit have spent all day conducting a simulation exercise, she is tired and ready to call it a day, but has no regrets about the choice she made nor complaints about the work she is doing.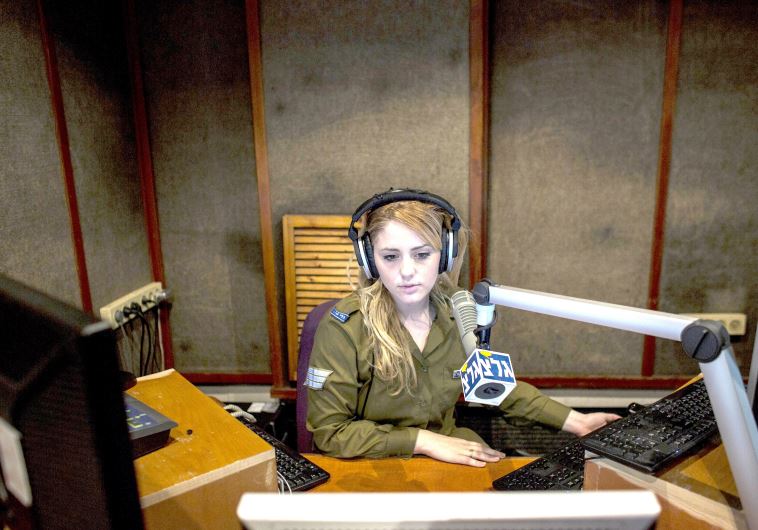 (photo credit: IDF SPOKESMAN'S UNIT)
The unit's training has been long and rigorous, and the work they do sometimes even harder, she says, with both the female and male recruits expected to meet the same standards. What she signed up for includes being far away from home for longer periods then girlfriends who are serving in non-combat units; less time off to see her boyfriend; and longer days than she might have otherwise had, but, she says there is plenty of satisfaction in the work."I have the honor to defend our country and I am doing a lot of things I never imagined I could," Tiben says.Still, despite the continuing integration of women into the army, she does not always feel that commanders are prepared to handle the emotional differences in the way men and women see things and react to situations. "Because they don't always understand us, it is hard to approach a commander sometimes. Sometimes I think we are even stronger than the men in missions, but I think it is still hard for them to accept us."The Search and Rescue Unit of the Home Front Command is considered a combat force ‒ though they do not get involved in actual fighting, acting more in a combat-support role. In addition to being trained to rescue people in natural and unnatural catastrophes, they also guard the borders. Unlike the well-publicized majority female Caracal Battalion, which keeps watch over the southern border with Egypt, the majority of the soldiers in the Search and Rescue Unit are male.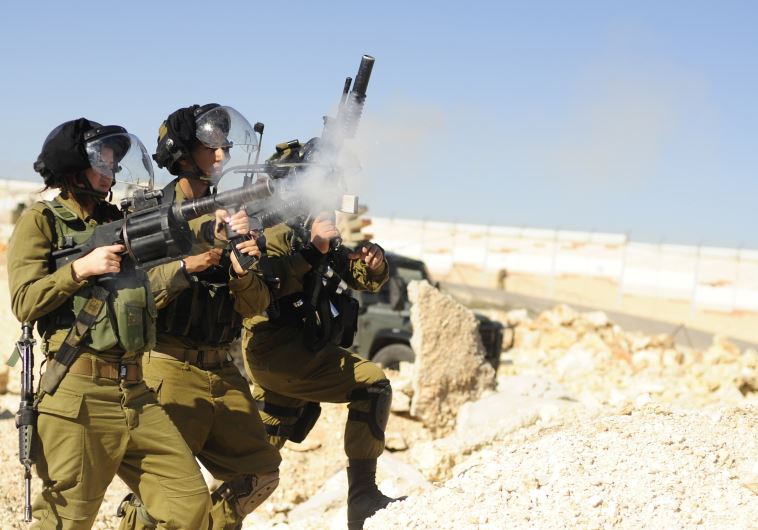 A Home Front Command soldier fires an automatic grenade launcher


(photo credit: IDF SPOKESMAN'S UNIT)
"We get intelligence reports that something is about to happen along the border and then we have to go out and make sure it doesn't happen," Tiben says.In Israel, some 92 percent of army positions are open to women, including elite units in the Artillery Corps ‒ including in the "Sky Riders," which operate unmanned aerial vehicles ‒ and combat roles in the Navy, Air Force, Home Front Command and Military Police in the West Bank. In addition to the Caracal Battalion, the IDF has just finished recruiting for the new mixed gender light-infantry battalion "Lions of the Jordan" ‒ another border patrol unit to be stationed along the eastern border of the Jordan Rift Valley.Last year, the IDF appointed its first female combat battalion commander, Lt-Col. Oshrat Bachar, who headed the Eitam Battalion attached to Southern Command. Also, 2014 saw a 13 percent increase in the number of Orthodox women recruits compared to 2013 and an increase of 71 percent of Orthodox women enlisting in combat-related units, with the number of Orthodox women officers growing 30 percent in the past two years, despite opposition by rabbis of the national-religious community.In October, the first female religious Israel Air Force navigator, Cpt. Tamar Ariel, was killed in an avalanche in Nepal. Recently, a second religious woman was among the graduating class of new pilots.Danielle Tzur, 22, who comes from a religious family in Talmon near the city of Modi'in, and is serving as an education officer in what is considered a traditional female role ‒ organizing and guiding groups of soldiers through museums and national institutions for briefings on Israeli and Jewish history and heritage ‒ says that though a combat role was not right for her, she admires women who decide to go that route."Everyone should be able to go to where they can do their best service," says Tzur, whose parents at first were not enthralled at the idea of their daughter doing military ser vice rather than the national service normally expected of women in national-religious circles. According to Aluma, a group that assists in the integration of various population groups, including Orthodox girls, before, during and after their army or national service, about one-quarter of high school girls graduating from national-religious schools enlist in the IDF.Women in combat roles serve the same as their male counterparts, though women in the IDF normally serve only two years. The length of service for men was reduced on July 6 from three years to 32 months and the IDF is pushing to lengthen the women's draft from 24 months to 28 months to cover the shortfall and reduce the gap between men and women's service time."If girls want to do this kind of service, I see no reason not to," Tiben says. "But to be really equal, a lot more women need to be here; they still don't feel our presence."Following field tests, the IDF decided in May not to allow female recruits to serve in tanks, partially because of some of the physically demanding tasks and partially out of concern for the lack of privacy. They did, however, leave room to reconsider allowing female soldiers to serve as combat engineers operating heavy equipment, also in enemy territory, after reviewing the policies of other Western militaries. Though women soldiers in the IDF serve in a higher proportion than in any other Western army ‒ female soldiers constitute some 34 percent of the IDF's manpower compared to the US military where women make up only 15 percent of the troops ‒ Israel still has an aversion to seeing women serve in a full combat capacity, says Prof. Orna Sasson-Levy, Sociology Department chair at Bar-Ilan University. Sasson-Levy, who has researched the topic of women in the military for 30 years, spoke at a recent conference on "Women in the IDF" at Ramat Efal organized by BINA, a secular yeshiva in south Tel Aviv that is working to create a Jewish identity among the general public.One of the military's concerns is how having men and women in the same platoon under difficult physical and field conditions might affect the performance of the soldiers, as well as undesired romantic relationships. But Michal Cooper, 21, who also serves in a search and rescue unit, says that after going through so much training and operations together, the soldiers tend to see each other more as siblings than potential romantic partners."They have seen me smelly and dirty, we don't think about each other that way," Cooper contends. "The men in the unit are like brothers to me. We do work that is very difficult and giving of ourselves, we don't sleep at night and do scary things and go to places that you don't know how you will get out of, but you are aware that you are preventing bad things from happening," she tells The Report. Because their unit is mostly male, the level of expectation for the women soldiers in the unit is high and they have to be as good as or better than the men, she adds.Still, despite the hard work of young women soldiers like Cooper and Tiben, some people still seem to have a need to cling to the old sexual stereotypes of women in the military.This year, the Tel Aviv clothing line MTKL, which founders Amnon Shenfeld and Ilan Missulawin say is named in the spirit of the IDF's elite Matkal commando unit, launched its second calendar to fund its military-inspired apparel featuring models who are touted as being "real Israeli army women." The women, who are no longer on active duty, are scantily dressed and heavily armed. Shenfeld and Missulawin say they created the calendar as a "tribute to women soldiers and the lives they lead."Cooper, in her sweaty and grimy uniform after a day of digging and carrying heavy loads in a rescue exercise, says she could do without that kind of tribute. Male soldiers are slowly beginning to accept and respect the women, and these kinds of photographs don't help in their quest for equality, she says.Sasson-Levy tells The Report that only three to four percent of IDF women serve in combat and semi-combat positions and that is not enough for the IDF to start patting itself on its back in terms of gender equality."There have been symbolic changes, a small number of changes that are important, but women are not yet expressing their potential," she says. "They still do not serve in crucial combat roles, though for me it is not so important whether they serve in combat or non-combat units. What is bad is gender segregation. Most women serve in female or mostly female roles. In the military, there is a hierarchy and at the top of the hierarchy are combat soldiers. For the army to be equal, we need to see more men as clerks and teachers, and more women as combatants."Despite the fact that a woman, Orna Bar - bivai, the former head of the IDF Manpower Directorate, reached the rank of major-general (only the chief of staff has a higher rank), in practice, says Sasson-Levy, the glass ceiling for women is lieutenant-colonel, which is three ranks below major general. The IDF Intelligence Corps is the most gender equal, she notes, including combat intelligence units, but there is still sexual harassment in all parts of the army ‒ the IDF only began monitoring sexual harassment in 2000.
IDF female soldiers .(photo credit: IDF SPOKESMAN'S UNIT)
Maj. Liz Tzrorchen, gender adviser to the chief of staff, comes from a religious background and served as an intelligence officer in a tank unit and a company commander in an operational battalion. She asserts that what it comes down to is that some commanders still have trouble getting their minds around the idea of women actually crossing into enemy territory, even though they have served as medics and in combat-support roles in enemy territory from the Lebanon War in 1982 to last year's war in Gaza. Tzrorchen opted for a non-field position when she decided to start a family with her non-military husband.The IDF women's corps, founded by David Ben-Gurion during the War of Independence did more damage than good toward advancing equality of women in the military, Tzrorchen claims. In 2000, the position of gender adviser was created with the mission of advancing women in the military.Until not too long ago, most women were sent to stereotypically female roles such as kitchen workers, secretaries and teachers, while men were seen first of all as fighters, she tells The Report. "We can see changes now, but we can't say there are not any problems. The army is still not totally equal."In 1995, Alice Miller petitioned the Supreme Court to instruct the IDF allow her to take the entrance exams for IAF Flight School. This forced the army to review its policies about women recruits and the roles in which they could serve, Tzrorchen says. In the early years of the state some women served as pilots, but the pilot's course was subsequently closed to women. The IAF flying school opened its doors to women in 1996 following Miller's appeal. Though Miller opened the way for many other women, she herself did not pass the medical examinations. Since then, almost 40 women have graduated and served as pilots and navigators. The first female combat pilot, the granddaughter of two leaders of the Warsaw Ghetto uprising, graduated from flight school in 2001.Part of the IDF's reluctance to change has been financial, Tzrorchen says, insisting that it would be economically unfeasible to build facilities for the small number of female combat recruits. "But the Supreme Court told them equality costs money and that is what we are going on with today," she says. "I want to open everything up to women. We also need them as a source of manpower now that the service time for men has been shortened.""We understand equality is important but we still need the IDF to be successful in war and we don't want to damage that," says Tzrorchen. "We want to integrate women according to their abilities and not according to their gender. If a woman physically can't meet the requirements, she won't be accepted." Still, Tzrorchen concedes, the army continues to be very "male-oriented" so intervention is required in many places to establish gender equality.Tzrorchen spends much of her time researching roles and seeing if they can and should be open to women. Sometimes the lack of appropriate equipment is used as an excuse to keep women out of various positions, she says. Therefore, Tzrorchen determines what adjustments can be made to accommodate women's needs, such as when combat vests were redesigned to conform to women's center of gravity; making sure there are combat boots in smaller women sizes; trading heavy metal ladders used by Air Force technicians for similar aluminum ones; and putting the technicians' heavy tool boxes on wheels so they can be moved around easily by women without taking away from the skills needed for the positions."We need to create an environment for female soldiers to succeed. Today, the environment is suitable for men. We can create an environment that is good for women and is not overly expensive," she says.Tzrorchen hopes a project that sends 50 officers into schools to talk to eighth- grade students about the options available to them in the army, will allow girls to be more open to volunteer for a wider range of roles ‒ including the hi-tech units that have been very heavily male. Most female students tend to gravitate or are directed toward the humanities rather than the sciences, Tzrorchen says and she hopes the project will change that. Service in elite hi-tech army units is considered a free pass into lucrative positions in the burgeoning hi-tech industry after graduating from university.Like Tzrorchen, Dr. Zeev Lerer, of the Tel Aviv University Peres Academic Center Gender Studies Department and a retired lieutenant-colonel who served from 2003-2009 in the office of the Adviser to the Chief of Staff on Women Issues, also uses the 1995 Miller case as a benchmark. But, he notes wryly that "not much has happened since then." There was some movement in the right direction that lasted for four or five years, says Lerer, who also spoke at the BINA conference, but that was largely halted around 2000 mainly because of backlash led by the national religious elements, some of whom don't want women in the military and want to keep the women soldiers in traditional female roles to limit their contact with male soldiers. Simply put, they don't want women in combat units, he says."Pictures of women with guns have a lot of PR value, but that is not a sign that there is integration," he says.The recommendations for the full integration of women soldiers based on personal ability and not gender issued by the 1997 professional committee headed by Brig.-Gen. Yehuda Segev were summarily rejected by the army, Lerer notes. To date, there has not been a proper discussion of any of the recommendations, he says. Though there has been "a lot of publicity" surrounding the issue of integration since the mid-2000s, Lerer charges that all that has happened is the opening up of a small number of positions to women.In reality, he charges, the IDF is explicitly breaking the National Service Law, which demands specifically that all military positions be open to women and men. This is also detrimental to male recruits who may not be qualified for combat roles but are forced into those positions by the system because of a lack of manpower."The structure of the military remains the same basically because the military is comfortable this way. There are male officers who can't understand why there is a need for women to be integrated. There is a culture of not wanting to see women in combat positions," he contends."The IDF is quite comfortable the way it is and doesn't want to make changes until another court case forces them to, and I think that day is coming soon."
This story first appeared in the Jerusalem Report.
Lots of people look at her and can't figure out why she's in such a unit, says Tiben, who wants to study medicine when she completes her service in two years. They expect all the women in combat units to be big and masculine, but Tiben says she did not decide to join this unit for a challenge as a woman, but as a personal challenge to herself as a person."I wanted to be a fighter. We can do every thing like the guys," she tells The Jerusalem Report . "I love doing things, being active. Not just teaching. We can also serve three years doing something that challenges us. I am not cut out to sit in an office. I am not especially big, and at first it was hard, but with the willpower I have I don't see anything here that I can't lift. There is nothing here that we can't do."