Tensions flared for a second day on the Temple Mount Monday morning, after a group of masked Arab assailants threw rocks and other objects at Border Police and Jewish visitors who entered the contested compound during the final 10 days of Ramadan. Six Arabs were arrested.Following Sunday morning's attack on 11 Jewish visitors, resulting in four Arab men being arrested for hurling rocks, chairs and shoes at them, police brought in reinforcements to heighten security.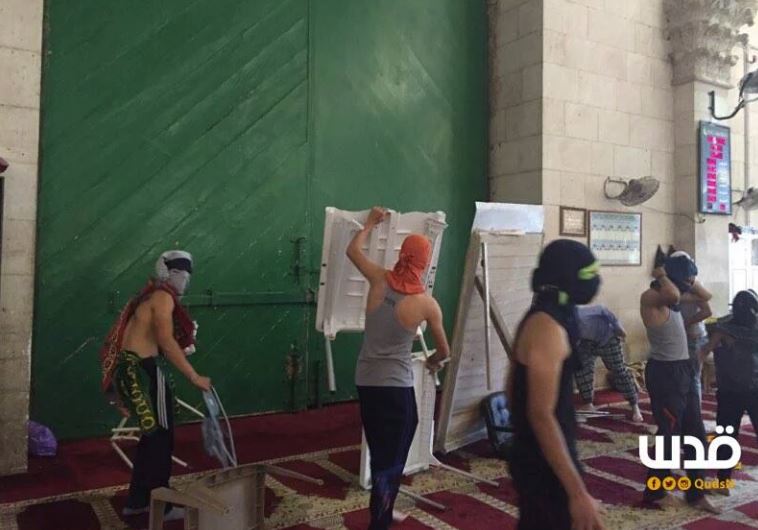 None of the visitors or officers were wounded during that melee, which lasted approximately 45 minutes, before the tour resumed."The police collected intelligence about Arab youths, some of them masked, who were involved in the attack who barricaded themselves during the night in al-Aksa Mosque in order to confront police and harm visitors to the area during Ramadan," said Police spokesman Micky Rosenfeld."Jerusalem police forces were present this morning and ready for any scenario."
According to sources, the violence is the result of Muslim worshipers objecting to Jewish visitors during the month-long holiday. Due to security concerns, Jewish visitation was suspended for the preceding two years during the last 10 days of Ramadan, which concludes next week.Although Rosenfeld said police took several preemptive measures to prevent violence on Monday, including setting up blockades and ensuring the door to al-Aksa Mosque remained open, when a Jewish group of visitors entered the compound shortly after 10 a.m. another attack ensued."The police, Border Police officers and SWAT team acted decisively and professionally when stones and other objects were thrown at them and towards the group of visitors by the suspects, who police forced into al-Aksa Mosque," Rosenfeld said.He added that officers spoke with imams at the holy site to help restore order, allowing 262 tourists and 33 Israeli Jews to safely visit the compound. No arrests or injuries were reported, and the tour resumed as soon as the violence subsided, he said.Amid heightened security in and around the Old City, Police have permitted hundreds of thousands of Muslims from across the region to pray at the mosque for Friday prayers since Ramadan commenced three weeks ago without any incidents of violence.Rosenfeld said the practice will continue for the last Friday prayer this week, pending security assessments.He added that attacks against small groups of Jewish visitors who choose to visit the compound during restricted hours on the last 10 days of the holiday will not be tolerated under any circumstances."Police in and around the area will respond if necessary to any further disturbances," said Rosenfeld.