Rabbi Michael "Miki" Mark died trying to save the lives of his wife and two children, his daughter Tehila recalled as she eulogized her father Sunday afternoon."With your last breath you didn't defend yourself, you tried to save us," she said.Tehila told the thousands of mourners about Friday's terrorist attack in which Palestinian gunmen killed her father. She was in the car at the time of the attack, along with her mother, Chava, and her younger brother Phedia.Tehila was shot in the stomach, but released briefly from the Hadassah-University Medical Center in Ein Kerem so she could attend part of the funeral at the Har Hamenuhot cemetery in Jerusalem.A ceremony also had been held earlier in the day in the West Bank settlement of Otniel.An ambulance brought Tehila to the cemetery, where she sat on a gurney under a tent by her father's shroud-covered body.She lacked the strength to read the eulogy out loud, so her aunt, Yochai Kalmanzon, sat by her side and read her words for her.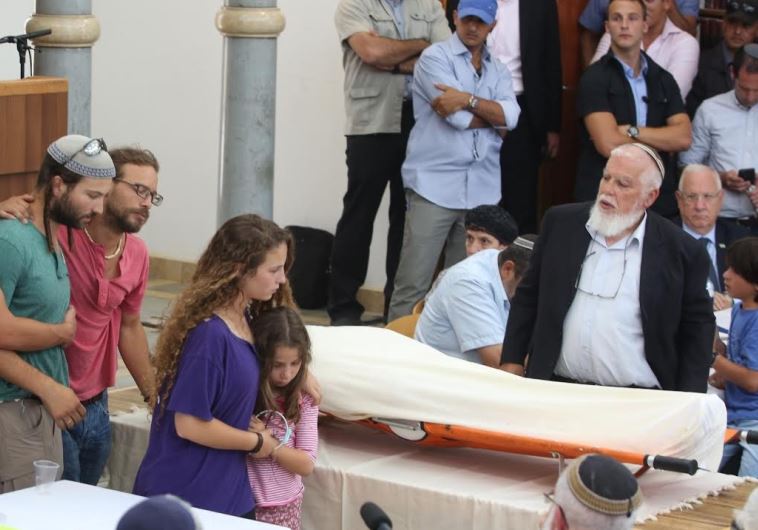 Family of Rabbi Mark (Credit: MARC ISRAEL SELLEM)
Mark's daughter Orit began her eulogy by crying, repeating over and over again, "Father, I love you."She recalled how only recently he had hugged her and swore to her that he would never leave her."And now God has taken you," she said. "You added so much goodness into the world. You did so much for others and for us. You gave us everything we wanted with a full heart. You accepted us as we were. You never abandoned us, even when we did something wrong. Now we are here and you are absent."President Reuven Rivlin said at the funeral: "Jewish blood is not worthless. We promise – over Miki's grave – that we will continue to fight terrorism unequivocally, and without fear. We will fight, and we will win. The IDF and the security forces will cut down the accursed murderers who killed Miki. Nothing will cure the pain. But the light of the way that Miki paved will not be extinguished. May his memory be blessed, and may his soul be bound in eternal life."Mark's body was carried out of the yeshiva to slow mournful singing of the prayer, "God of mercy."As the funeral procession made its way along Route 60 to Jerusalem's Har Hamenuhot cemetery for burial, Mark's family stopped to say the prayer for the dead at the spot where the attack occurred.Settlers from the Jewish communities along the road stood along the highway waving Israeli flags.The IDF had soldiers positioned all along the road, and closed off the entrances to the Palestinian villages as the funeral procession passed.Unable to access the road, the Palestinians stood watching the slow funeral procession.Chava Mark remained at Hadassah-University Medical Center in Ein Kerem, and was not at the funeral. She was unconscious from the time of the attack until Sunday afternoon, when she woke up. She was listed in serious but stable condition.
"Everything looks like a dream, a bad movie," her aunt read. "It is not logical that my brave smart father has gone and will not return. I saw you in your last moments. When I heard the shots I ducked, so did mother and so Phedia, but you didn't. You did not leave the helm."Mark's daughter Shira said he was killed in a holy moment, when he was dressed in white right before the Sabbath."You studied Torah every day," said Shira, as she recalled how deeply spiritual her father had been."At least I know that I told you every day how much I loved you. I understand God, for wanting you by his side," she said.At the time of the attack, Mark, a father of 10, had been on his way to his mother's home for the Sabbath and to help celebrate her 80th birthday.Earlier on Sunday, in the Otniel Yeshiva where Mark had been the director-general, mourners filled the sanctuary and study hall. They sang traditional mournful Jewish songs and prayers as Mark's body was carried into the sanctuary and placed on a table."I'm drowning in the depth of your absence," his son Joshua said, in a voice choked with tears. He wore a red shirt already torn, marking his mourning."My heart is shattered in pieces," said Joshua. "God took what he wants and now what should we do, whom do we curse?" he asked.