Two Palestinian teenagers went on a stabbing spree in the Rami Levy supermarket in Sha'ar Binyamin on Thursday, killing one shopper and wounding another.An armed civilian heard shouts and rushed toward the location of the attack in the eastern Binyamin region industrial area. He shot and seriously wounded the two 14-year-old terrorists. One later died of his wounds.IDF Sgt. Tuvia Yanai Weissman, a 21-year-old Nahal Brigade member and married father of a baby girl, was pronounced dead at Shaare Zedek Medical Center in Jerusalem.Weissman, a resident of Ma'aleh Michmash, was off-duty at the time of the attack.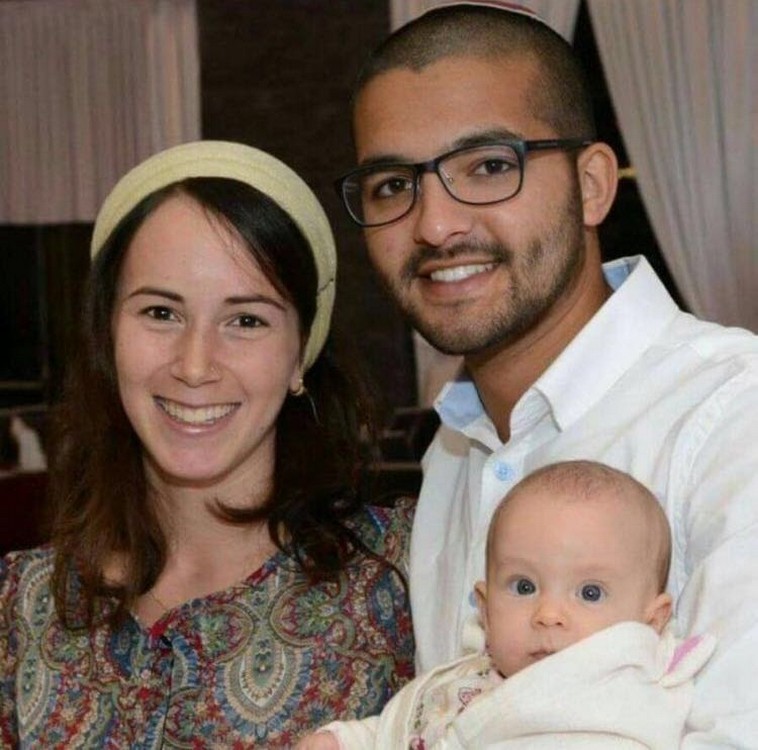 (
IDF Sgt. Tuvia Yanai Weissman (R), his wife, and baby. Photo courtesy of IDF Spokesperson's Unit
)The second victim, a resident of Tel Zion, next to the Kochav Ya'acov settlement, is in intensive care at Hadassah- University Medical Center at Mount Scopus, where doctors listed him as moderately wounded and in stable condition. "He is surrounded by his family," a hospital spokeswoman said.Magen David Adom paramedic David Vakselboim said, "When we got to the scene we saw, among the supermarket aisles, a 35-year-old man who was fully conscious with multiple stab wounds to his body."Palestinian sources identified the attackers as Ayham Bassam Ibrahim Subih and Omar Salim Rimawi – who were shot and wounded in the immediate aftermath of the incidents. Both teenagers are residents of the Ramallah-area town of Beitunya, according to the Ma'an news agency.The supermarket is frequented by both Israeli and Palestinian customers. Both Jews and Muslims work at the branch.Eyewitnesses said the terrorists had been wandering around the store for a while before carrying out the knife attack.President Reuven Rivlin offered his comfort to the bereaved family, and his prayers for the wounded.
(Photo by: Ozhael Vitek)
"A man returns from his day at work, stops to buy groceries for the Sabbath, and is taken away forever by murderous villains," Rivlin said."We will stand strong and respond firmly to restore calm and normality to the lives of our citizens everywhere. We will defeat terrorism.""At this time of anguish and heartache, I wish to offer comfort to the bereaved family, and my prayers for the quick recovery of the wounded," the president said.The IDF restricted access to Sha'ar Binyamin following the attack, banning Palestinians, except those with work permits, from entering the area. MK Amir Ohana, who launched the Knesset Caucus on Firearms Policy earlier this week, said this event proves the need to boost the number of guns owned by armed civilians."Today yet another attack was thwarted in seconds by a citizen at the scene who was carrying a weapon, unfortunately not before the terrorists were able to go on a murderous rampage that ended in the death of an Israeli," he said."How many more lives will be lost due to the abstract fears of 'bleeding hearts' who think we are all animals just waiting for the chance to get our hands on a gun?" Weissman was scheduled to be buried at Jerusalem's Mount Herzl Military at 8 a.m. on Friday.
Jerusalem Post Staff contributed to this report.