Right-wing politicians visiting Hebron on Monday called on Prime Minister Benjamin Netanyahu to annex Judea and Samaria and throw his full-fledged support behind the city's small Jewish community."We have to impose Israeli law in Judea and Samaria," said Deputy Defense Minister Eli Ben-Dahan (Bayit Yehudi).The upcoming 50th anniversary of the Six Day War is an opportunity to raise the ante with respect to settlements in Judea and Samaria, he said.
Praying outside the Cave of the Patriarchs.Thousands of visitors were shuttled into the city so they could attend the event, which included live musical performances, tours of Jewish areas around the city and food vendors offering popcorn and cotton candy.Likud MK Oren Hazan urged Netanyahu to allow more Jews to move into the city, whose small community numbers around 800 people. They live in four small apartment complexes, in a tiny area of the West Bank city. According to the Palestinian Bureau of Statistics, some 215,452 Palestinians live in the city, 80% of which is under the control of the Palestinian Authority. The remaining 20%, that include the Jewish areas of the city and the Cave of the Patriarchs, is under Israeli military control.The Jewish community has recently purchased two additional buildings and is waiting for the Defense Ministry to allow them to move in, Hazan told the crowd that had gathered to hear him.
Two right wing activists with a flag that states, "fighting the Palestinian lie.""The buildings in Hebron are the basis of peace, not dispute. The time has come to populate Hebron, just as the time has come to populate every hilltop in Judea and Samaria and in all of Israel," Hazan said."To our neighbors who want to remove us from here, I say, the 'nation of Israel lives' [Am Yisrael Chai]!" he added.Visitors to the Passover festival were greeted with requests to donate money for the purchase of more buildings in Hebron. White T-shirts with the slogan "buying homes in the city of our forefathers" were on sale Justice Minister Ayelet Shaked (Bayit Yehudi) said the purchase of property in Hebron, much like in Judea and Samaria, is not an issue of real estate, but rather an ideological act driven by love for the Jewish people and their land.Jews have lived in this city since the time of the Bible, Shaked said. She was certain, she added, that they would continue to live there forever.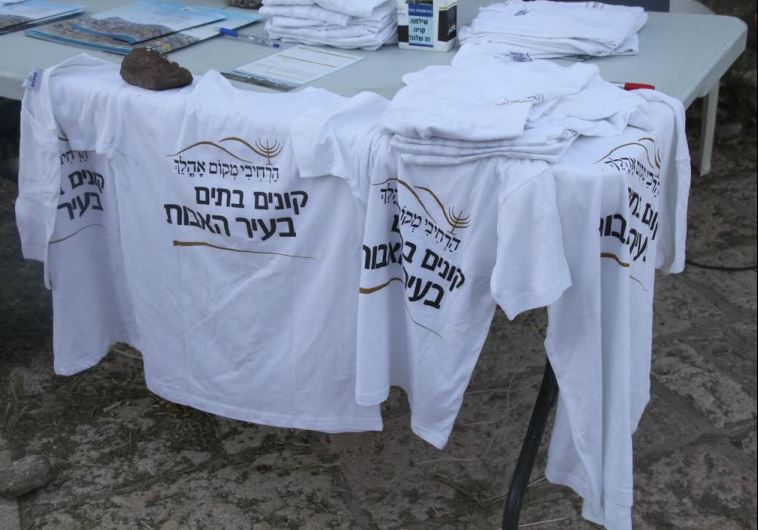 T-shirts with the slogan, "Buying homes in the city of our forefathers."

"We have to connect Judea and Samaria to the State of Israel. We have returned to our land, so that we will never again have to leave it," Ben-Dahan said.He was one of more than a dozen speakers at a Passover ceremony held in front of the Cave of the Patriarchs in Hebron on Monday.