Hamas called on the Palestinians to initiate wide-scale attacks on West Bank settlers and to start conflict with Israel following the death of Sa'ad Dawabhse in a hospital in Beersheba on Saturday. Dawabshe, 32, died after most of his body was burned in an arson attack on his home last Friday in the West Bank village of Duma in which his 18-month-old son Ali was killed. Jewish terrorists are suspected in the attack. "Sa'ad Dawabshe's death, the father of the baby [Ali], demonstrates the enormity of the Zionists' crime against this family, the result being that resistance in the West Bank has become an obligation and a means of self-defense," Hamas spokesperson Husma Badran said. "The murderous settlers will not be deterred unless we initiate attacks - do not wait for them to arrive in our villages and towns," he urged. "We have no other option but for a general confrontation with the occupation, without waiting for a decision or the granting of permission from anyone," he added. The Palestinian toddler Ali Dawabshe was killed and three members of his family were injured in the arson that is believed to have been started by Jewish terrorists. No suspects have yet been arrested for the attack. Dawabshe's wife Riham and his four year old son Ahmed were being treated for their wounds at Tel Hashomer hospital near Tel Aviv. Dr. Moti Klein, chief of the intensive care unit at Soroka, said that Sa'ad suffered serious wounds to 80 percent of his body and that he was operated on a number of times by doctors of the hospital's burn unit.
Dewabshe's funeral procession left the hospital in Nablus in the direction of Duma on Saturday afternoon. The IDF was spread out along the route of the funeral procession in order to quell the breakout of any disturbances that may occur. Hamas called on the Palestinians in their masses to take part in Dewabshe's funeral. "The burning of the family is a turning point that will bring about the start of the intifada against the occupier in the West Bank," a Hamas statement read.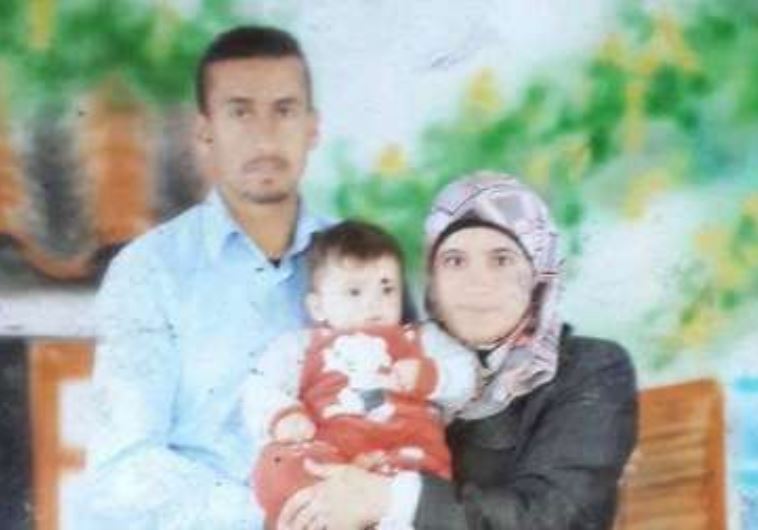 (
Photo: Sa'ad Dawabshe - left- and his family
)
"The staff at the hospital fought for his life, but over the past few days, his condition deteriorated," Klein said. There has been a slight improvement in Ahmed's condition ,who was seriously injured in the attack, Israel Radio reported. Ahmed has opened his eyes and is responding to his surroundings, according to the report. In Duma, Dawabshe's death on Saturday was announced through the speakers of the mosques and hundreds came to the mourning tent erected in the village.