Security forces launched a large-scale arms raid in Jenin overnight between Sunday and Monday, seizing large quantities of firearms and shutting down two gun production workshops in the West Bank city. The IDF and Border Police seized automatic rifles, handguns, gun parts and ammunition during the operation.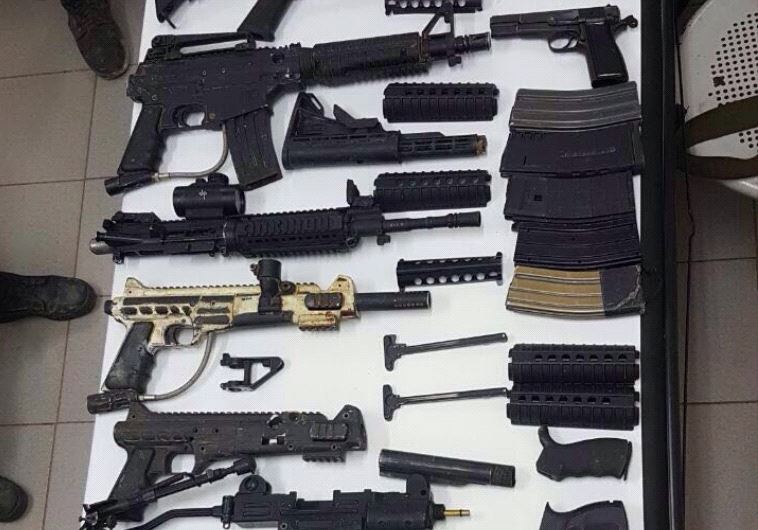 (Photo courtesy of IDF)
The IDF also shut down a gun-making workshop in Dahariya, near Hebron, while security forces operating near Gush Etzion raided addresses and seized locally-made submachine guns known as Carlos, which have been used by armed terrorists in recent attacks. The IDF has been engaged in a series of large arms raids in the West Bank in recent months in an effort to stop the guns from ending up in the hands of lone terrorists or small attack cells that can evade Israeli intelligence. Meanwhile, the IDF and Border Police also arrested 19 security suspects in overnight raids across the West Bank. The suspects include five Hamas members. The IDF's Judea and Samaria Division has, over the past few months, pursued the goal of keeping guns out of the hands of shooting cells that have sporadically targeted Israelis over the past year with deadly attacks, on both sides of the Green Line. In late August, a senior IDF source told
The Jerusalem Post
that security forces have begun dealing with firearms, uprooting the infrastructure that produces them."We do not wish to merely respond to incident, but rather, to prevent them through surgical steps. We are seeking to prevent the distribution of illegal firearms," the source said.