A Palestinian woman attempted to carry out a knife attack at the Eliyahu Crossing in the West Bank on Monday, but was shot dead by security personnel.The Defense Ministry, which operates the Crossings Authority, said the female terrorist arrived on foot at the car crossing on Route 55 in Samaria, drawing the suspicion of guards, who ordered her to halt. She ignored the warning and continued approaching the guards.
Scene of attempted stabbing attack at the Eliyahu crossing
A guard fired a warning shot in the air, but when the woman pulled a large knife from her bag, guards fired on and killed the woman.Security personnel then found a suicide note in the woman's bag, which she had written to her family and fiance."I don't know what will happen to me in the end. I am doing this with a clear head. To defend the homeland and the youth," the note said. "I cannot stand what I am seeing and I cannot suffer anymore. To my parents and siblings, forgive me for what I am going to do. I love you. Especially my fiance. I am sorry for whatever will happen to me and that this is the way that I am ending," the note read.Route 55, between Jaljulya and the Alfei Menashe settlement, was briefly closed to traffic following the incident.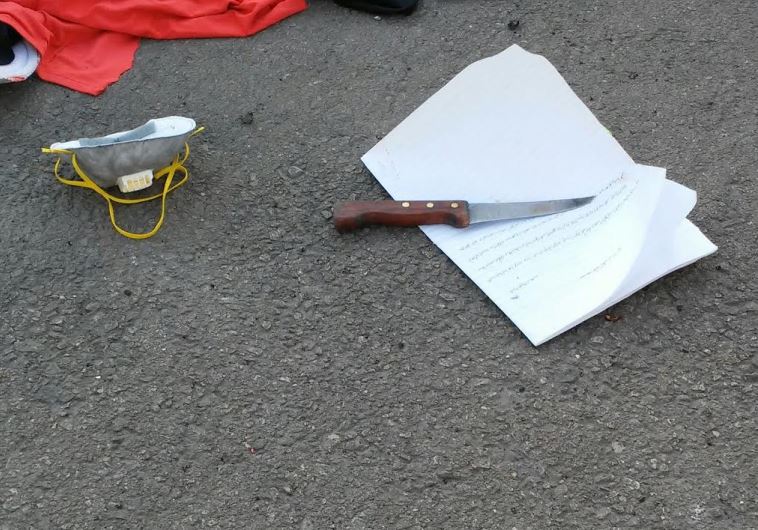 (Knife at scene of Eliyahu Crossing attack, Photo credit: Defense Ministry)
In total on Sunday, Palestinian terrorists wounded seven Israelis in three attacks in separate locations in the West Bank. On Sunday, a 48-yearold Israeli was seriously wounded in a stabbing attack outside the Palestinian village of Nabi Ilyas. He managed to continue driving to the Eliyahu Crossing.Meanwhile, security forces arrested two unorganized terrorist cells in the West Bank, the Shin Bet said on Monday.In a joint Shin Bet, IDF, and Israel Police operation, Palestinians were arrested for attacking Israelis on Route 45, in Nebi Saleh and Halamish.The first group threw firebombs at Israeli cars near Atarot Junction on Route 45, which is the continuation of key traffic artery Route 443, the Shin Bet said. The second carried out firebombing attacks on the settlement of Halamish, hurled pipe bombs at a nearby army checkpoint, near Nebi Salah, and tried to attack the position in recent weeks, the Shin Bet said.