Two stabbing attacks were foiled on Saturday morning, one in Hebron and another in Jerusalem. In both cases the attackers were shot and killed and there were no others wounded. During the stabbing attempt in Hebron, the Israeli target of the attack shot and killed the terrorist. The Israeli was not wounded in the attempted attack. The suspect approached a checkpoint in the city and tried to stab one of the security forces. When this attempt failed, he came after an Israeli citizen who used his personal firearm and shot the attacker three times. The citizen was visiting the city and was returning from prayers at the Tomb of the Patriarchs at the time of the attack. Palestinians came to the scene of the Hebron attack and began to throw stones at the security forces who were using riot dispersal methods on them. Palestinian news agency Ma'an identified the Hebron attacker as 18-year-old Fadil Qawasmi. Shortly after the Hebron attack, a terrorist was shot and killed in the Armon Hanatziv neighborhood in Jerusalem after trying to stab an Israeli. No one was wounded by the attacker. A civilian told the security forces that he saw a suspicious looking man in the area and after searching they found him on Harav Hovel street neat the scenic promenade in the neighborhood. An initial report revealed that Border Police forces in the capital approached the suspect and asked him to present his identification documents. At this point the man pulled out a knife and tried to stab one of the officers. The attacker was subsequently shot and killed. Palestinian media reported that the attacker was a 16-year-old from the east Jerusalem neighborhood of Jabel Mukaber.
This week in 60 seconds: The ugly face of terror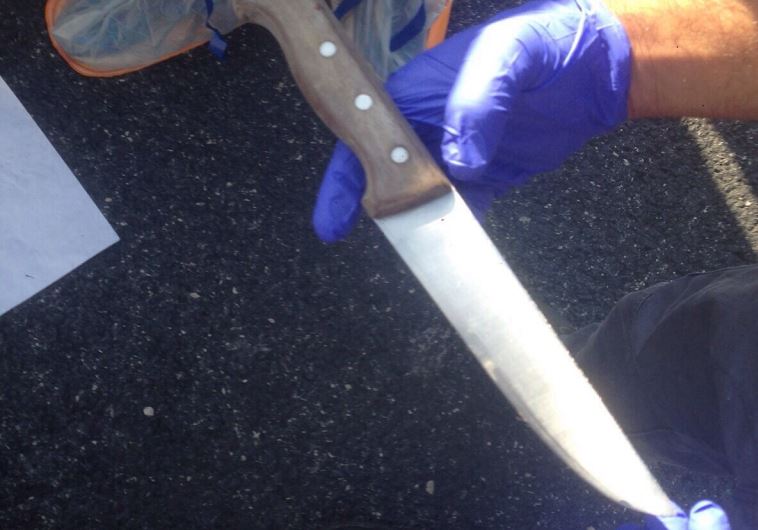 (

Knife used in Jerusalem attack, October 17, 2015. Photo credit: Police)
On Friday, in the same area as the Saturday morning attack in Hebron, a Palestinian assailant stabbed an IDF soldier
while posing as a reporter.
The stabbing incident occurred at Zayit Junction near Kiryat Arba. The terrorist was shot dead at the scene, while the soldier was moderately wounded. During the incident, the terrorist approached the soldier wearing a "press" flak jacket and carrying a camera.The attack came as Hamas called for a "day of rage" against Israel as two weeks of violence continued.
After the attack, Police Kedem District commander Chief Superintendent Chaim Shmueli called on parents to take responsibility for their children. "Once again we have a youth who apparently decided to carry out an attack. I call on all parents to be alert and responsible for their children and for their behavior, with special attention paid to harmful influences," Shmueli said. Shmueli also called on citizens to continue to be on alert for terrorists and to report suspicious individuals to the police.