An Israeli policewoman described the first moments of an attack during which two Palestinians went on a stabbing spree along a popular walkway in Jerusalem on Wednesday. In a video released by Israel Police, the policewoman said she saw people running. Her identity was concealed in the video."We saw three people who started running from the direction of Kikar Tzahal to the direction of Jaffa gate. It was a crazy run, you can tell something happened. We ran towards them to see what happened," she said.
Poice gain control of terrorists in Jerusalem stabbing attack
"Both of them were on top of him. Two on one. He was still stabbing," she added.The two Palestinians killed one person and were then shot dead by Israeli security forces. Another Israeli was killed, apparently by police gunfire aimed at the stabbers.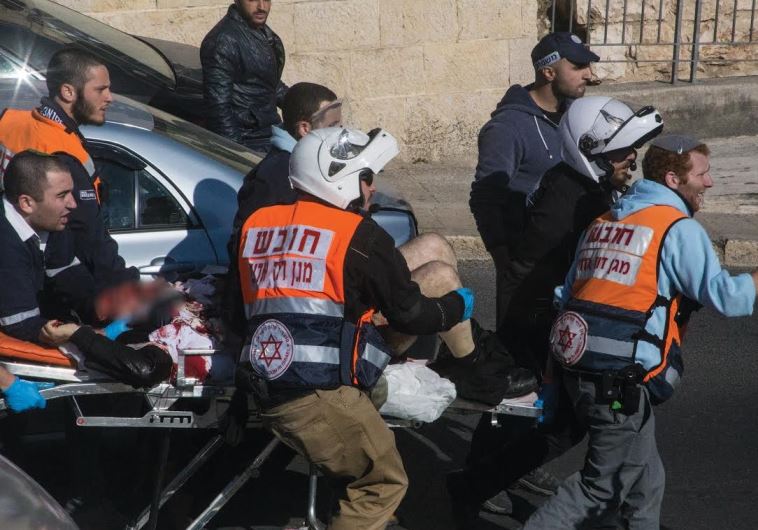 Paramedics rush a wounded victim from the scene of a stabbing in Jerusalem. (Sarah Levi)
Hospital officials said one Israeli was killed and another seriously wounded in the stabbing. A spokeswoman for Shaare Zedek Medical Center said a third person with gunshot wounds had also died. A wave of violence in Israel and the West Bank which began almost three months ago has shown no sign of dying down and has sparked concern of wider escalation, a decade after the last Palestinian uprising subsided. Wednesday's stabbings took place right outside the Jaffa Gate, one of the main entrances to Jerusalem's walled Old City.Police were investigating a video which had surfaced on social media which appeared to show a man beating one of the shot assailants with a pole, Jerusalem police spokesman Asi Aharoni told Army Radio.
Paramedics rush a wounded victim from the scene of a stabbing in Jerusalem. (Sarah Levi)
A police statement later said an initial inquiry showed the stabber was still trying to attack people even after being shot and that the man who beat him was trying to get the knife out of his hand.Almost daily stabbings, shootings and car-rammings by Palestinians have killed 20 Israelis and a U.S. citizen since October. Israeli forces or armed civilians have killed at least 120 Palestinians, 72 of whom authorities described as assailants, while others died in clashes with security forces.