Assaf Shilony flipped pizza dough on Thursday under the watchful eyes of two soldiers who stood guard outside his small store at the Gush Etzion junction in the West Bank, just outside of Jerusalem.The day before, a Palestinian assailant stabbed a mother of eight in the back, as she stood in the parking lot around the corner from his pizza parlor."The situation is frightening, but we're getting used to the fear," said Shilony, as he punched the dough on his counter and explained that the day-to-day attacks throughout the last month have become a new kind of normal.
Assaf Shilony flipping pizza dough at the Gush Etzion commercial junction. (Tovah Lazaroff)
Next to his store, Palestinians worked on the construction of a new mini-mall due to open next year, hammers and drills in hand.In better times, the small commercial center where he works is considered to be an oasis of co-existence in the area for Palestinians and Israelis, who both shop and work there. But in the last nine days, Palestinians have targeted the center and the bus stops by the adjacent traffic circle, executing three separate attacks. Two others occurred in the same period in the larger Gush Etzion region.On Thursday, the IDF doubled its forces in the area. Under the gray cloudy sky, soldiers visibly stood at the bus stops and the entrance to the parking lot. Others patrolled the commercial center in green uniforms and drawn guns. They could be seen in groups walking through the parking lot, around shoppers who emerged from the Rami Levi supermarket with carts full of groceries, stepping through puddles that accumulating from the drizzling rain of the past couple of days.Shilony, a resident of the Gilo neighborhood in Jerusalem, arrived at his store Thursday morning after attending a memorial ceremony for his cousin at the Mt. Herzl Military Cemetery in the capital.He explained that his cousin was killed last year in a terror attack at a train station in Tel Aviv."A terrorist stabbed him from behind and tried to take his gun," said Shilony. Violence "is happening here, now, but it could happen in Jerusalem, in Tel Aviv," he said. "You can't tell from where or when the danger will come." A short distance away, in front of English Cake bakery, two young women, Keter Maimon and Yaeela Refael, said they didn't hesitate to leave their home settlement of Bat Ayin to meet for coffee.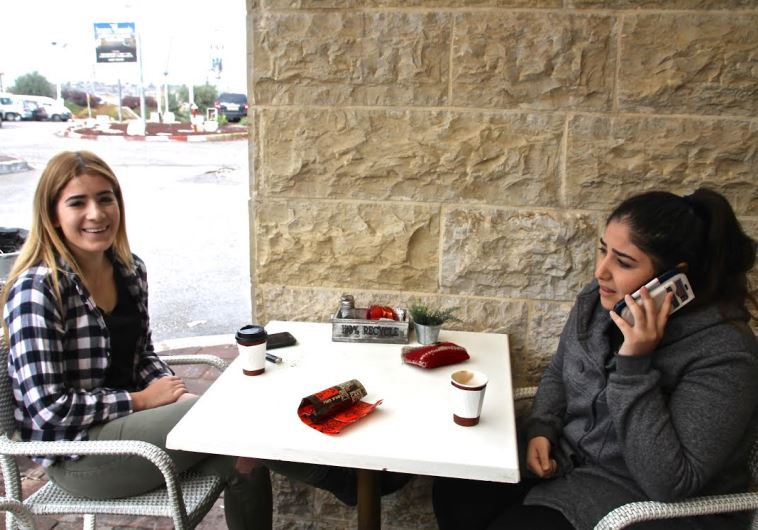 Keter Maimon and Yaeela Refael in front of English Cake at the Gush Etzion commercial center. (Tovah Lazaroff)
They sat at a plastic white table under an awning, just a few feet away from where Wednesday's stabbing occurred."It's scary, but we have no choice. We have to continue as normal because we live here," said Refael."We have pepper spray. We're careful and alert. We look around," Maimon said.Refael noted that in general it is always scary in the Gush Etzion region. She recalled how Palestinians had at one time infiltrated her settlement. Still, she said, the fear level has certainly gone up in the last few days.In a nearby health food store, Roselyne Grumbach stood behind the counter helping customers."I thought about bringing pepper spray to work," Grumbach as she explained that she had been scared when she left her home settlement of Efrat in the morning. "I had just left work [the night before] when the attack happened. I heard the woman screaming and her daughter was crying. Then soldiers told me to leave. I was still stressed out when I got home," she said.Grumbach said she came to Israel from France to escape anti-Semitism and to seek a better life for her children. "My children didn't have a future there," she said.The violence, Grumbach said, doesn't make her regret her decision. "There are terror attacks there as well. It doesn't matter if we are here or there," she said.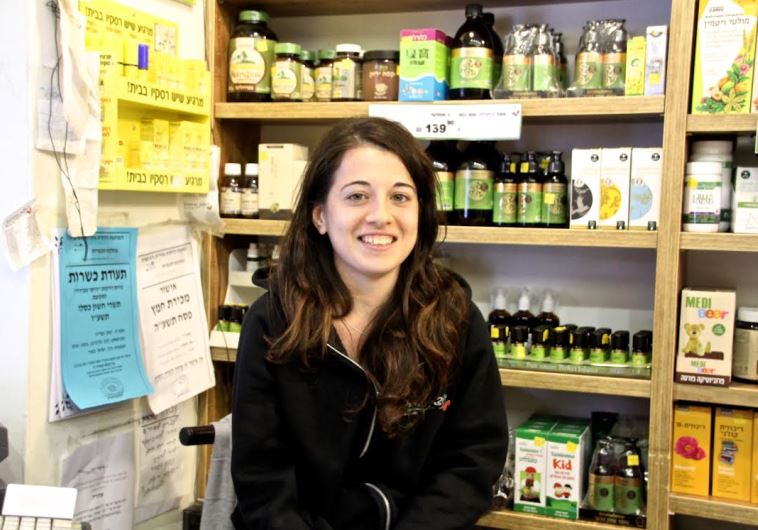 Dania Aminoff at the Health Food store in the Gush Etzion commercial center. (Tovah Lazaroff)
Dania Aminoff stood by the cash register at the health store. She said that when she began to work there six months ago, she never worried about a terror attack, even though there was a history of violence in the area.Then last week a Palestinian driver tried to run her over as she waited for a bus at the junction to take her home to the nearby settlement of Elazar."I was standing there when a car came," she said as she described an incident in which two people were lightly wounded and soldiers killed the Palestinian driver. She fled along with others at the bus stop."That's when I started to get nervous," Aminoff said. On Wednesday, the young black-haired woman said she was in the store when she heard gunshots close by and saw soldiers running past the store.Aminoff said she moved to the doorway to see the commotion and heard someone yelling, "terrorist, terrorist."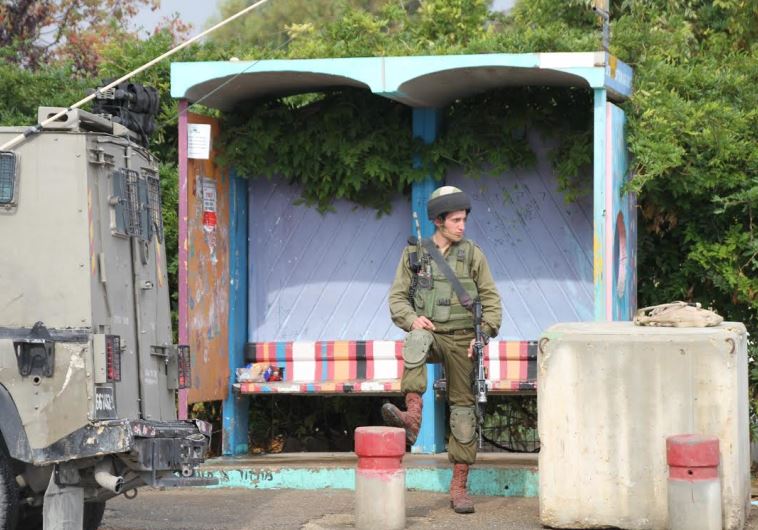 A soldier by a bus stop at the Gush Etzion junction on Thursday. (Tovah Lazaroff)
As the day had worn on, she said, she felt more comfortable in the store, particularly given how many soldiers were outside."I'm trying not to think about it too much," she said.At the nearby bus stop, an auburn haired young woman, Tehila Nitke, tried to hitch a ride. Aside from two soldiers, she was the only person there."I am scared, but I am not letting the fear control me," she said. "This is how I fight it."