President Barack Obama awarded the nation's highest civilian honor, the Presidential Medal of Freedom, to a star-studded list of Americans at the White House on Tuesday in honor of their accomplishments in public service, entertainment and sports.Singer and actress Barbra Streisand and filmmaker Steven Spielberg were among 17 Americans who received the honor a ceremony at the White House."Off the stage, [Streisand has] been a passionate advocate for issues like heart disease and women's equality," Obama said in his opening statement. "I'm getting all
verklempt
just thinking about it," the president quipped in Yiddish.Hollywood legendary Jewish director Steven Spielberg was the next recipient of the prestigious award, recognized for his contributions to American cinema. "His story has shaped America's stories, and his values have shaped our world," said Obama of the famous Hollywood director. "Steven's films are marked, most importantly, by a faith in our common humanity. The same faith in humanity that led him to create the Shoah foundation, and lend a voice to survivors of genocide around the world."
(Photo: Reuters)
Award-winning Jewish-Israeli conductor Itzhak Perlman was also a recipient of the Medal of Freedom award. Other honorees included Grammy Award-winning Cuban-American singer Gloria Estefan, Stephen Sondheim and singer James Taylor the White House said.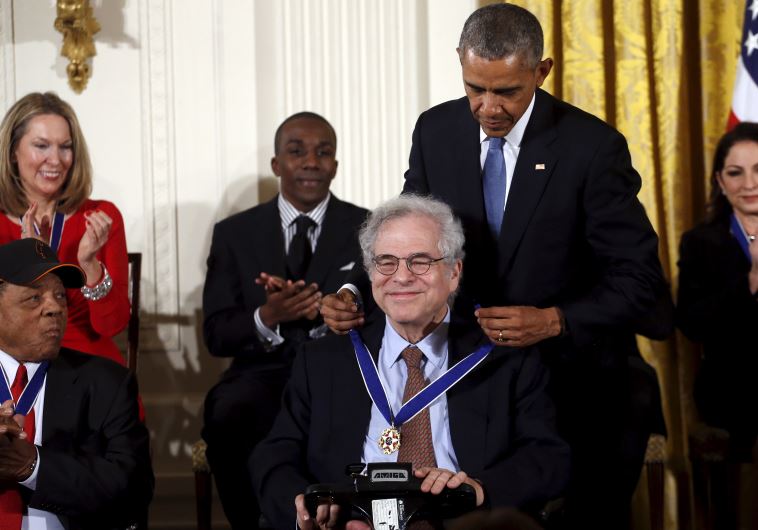 (Photo: Reuters)

Bonnie Carroll, known for her work with veterans, was also honored, as was long-serving Democratic Maryland Senator Barbara Mikulski, former Indiana Democratic Congressman Lee Hamilton, NASA mathematician Katherine G. Johnson, and former Environmental Protection Agency head William Ruckelshaus. Posthumous honors were given to New York Yankee catcher Yogi Berra, African American trail-blazing Congresswoman Shirley Chisholm, Indian treaty rights advocate Billy Frank, Jr., and Japanese-American civil rights activist Minoru Yasui.