Acclaimed Russian poet Yevgeny Yevtushenko, who memorialized the massacre of thousands of Jews at Babi Yar in Kiev, died on Saturday in Tulsa, Oklahoma, at the age of 84. He reportedly died from cardiac arrest.Yevtushenko was born in Siberia in 1932. He published more than 150 collections of poetry. His poem "Babi Yar," written in 1961 about the murder by Germans and local police of 33,771 Jews at the ravine in Kiev on September 29-30, 1941, was seen as a turning point for literature as a tool to challenge the Soviet narrative. His poem decried the absence of a monument at the site of the mass executions, where a total of 150,000 victims of the German occupation are thought to be buried.The poem begins:
No monument stands over Babi Yar.A steep cliff only, like the rudest headstone.I am afraid.Today, I am as old
As the entire Jewish race itself.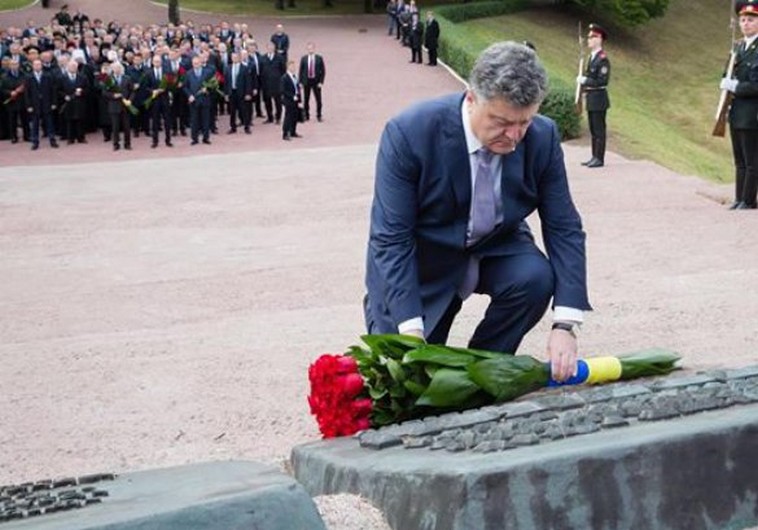 Yevtushenko, who was not Jewish, wrote the poem after visiting the site and being appalled by its neglect.Today, a memorial in the form a menorah remembers the Jews slaughtered by Germans and local collaborators there in the space of just two days. During Soviet rule, crimes against Jews perpetrated on Ukrainian soil were deliberately covered up; since Ukraine gained independence in 1991, the country's Jewish history has gradually been uncovered.Yevtushenko's poem boldly criticized Soviet antisemitism in its own fashioning of history.The American Jewish Committee mourned Yevtushenko's death, noting that it had honored him in New York in 1991 for breaking a Soviet taboo with his poem about Babi Yar.Yevtushenko was a leading force in the brief post-Stalinist Soviet literary "thaw" of the 1960s under Communist Party leader Nikita Khrushchev and had an often ambivalent relationship with Communist authorities.In one of his most famous poems, "The Heirs of Stalin," from 1963, he wrote that though dictator Josef Stalin had died, his legacy lived on, and "he was scheming, had merely dozed off. "Double and treble the sentries guarding this slab. And stop Stalin from ever rising again."His first book, The Prospects of the Future, was published in 1952 when he was the youngest member of the Union of Soviet Writers. He was nominated for the Nobel Prize for Literature in 1963.Since 2007, Yevtushenko divided his time between Russia and the United States, teaching Russian and European poetry and the history of world cinema at the University of Tulsa in Oklahoma and at Queens College of the City University of New York.Yevtushenko's widow, Maria Novikova, told Russian news agency RIA Novosti that he would be buried in Moscow, but that the date of the funeral was not yet decided."He died peacefully while asleep, surrounded by his family," Novikova told RIA.