If you ever dreamed of an asparagus centerpiece for your wedding celebration, or another vegetable-themed original, then the Bloom Floral and Event Design Studio could be your first port of call."People come here if they are looking for something different," explains 29-year-old Ortal Gerber, owner of the upmarket flower store located on Hess Street in the Talbiyeh neighborhood.On a recent Friday, the store was packed with colorful creations set upon wooden tables and cabinets. They included lanterns, photo frames and candles positioned in a rustic fashion on display ladders.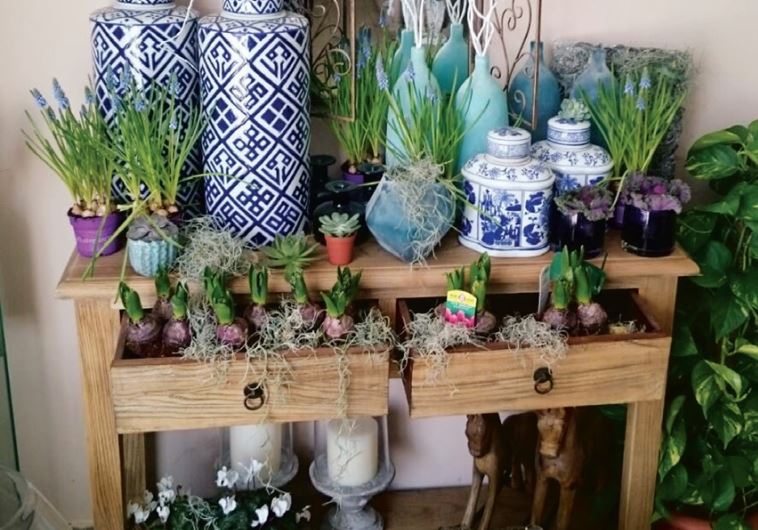 Large floral arrangements there cost an average of NIS 350, and standout centerpieces can cost around NIS 1,500. A graduate of the Masorti High School in Arnona, Gerber was raised in the Musrara neighborhood, but today lives with her husband and son at Moshav Ben-Shemen in central Israel.Like many a good business story, her entree to the world of floral creation included a mixture of happenstance and earnest self-reflection.She had her heart set on becoming a veterinarian for horses, but after dabbling in ceramic-making in her youth, she applied for a job at an art gallery."I applied for the job, and when I got to the address, it was actually a flower store," she explains lightheartedly. "Till this day, I have no idea what happened."Over the next four months, Gerber was barely paid a salary. But thanks to a largely absent owner, she was forced to think on her feet and learn the ins and outs of the trade. A few years later, she actually began studying biology, but by that time her heart wasn't in it."I got to a crossroads toward the end of my degree where I realized that I had to be working with flowers," she explains. "I couldn't stop thinking about them."In 2012, she began her business on Ahad Ha'am Street in Rehavia. Outgrowing the premises, she opened at the current location just two days before Rosh Hashana last year.Always the perfectionist, Gerber is confident in her vision and the final product, but at times has trouble with the process.
"Most of the time, I think it hasn't worked," she says. "But recently, I have learned to be happy. I am extremely stubborn and will work hard until it gets done."Her four employees, whom she affectionately refers to as her "flower children," accompany her in the process of getting to know clients and realizing their vision. Together, they have styled marriage proposals (including a complex floral set-up in the middle of Sataf in the Jerusalem hills) and created Purim dresses for a mother and daughter made entirely of flowers (NIS 1,500 each), and even planned Gerber's wedding celebration last October at her home.One of the greatest challenges for the team, she says, was getting an event ready that took place at the Waldorf Astoria only a day later.In recent months, the security situation has been on Gerber's mind."Everyone is affected," she says. "When the recent wave [of Palestinian violence] started, I even thought of locking the door to the store while we were inside."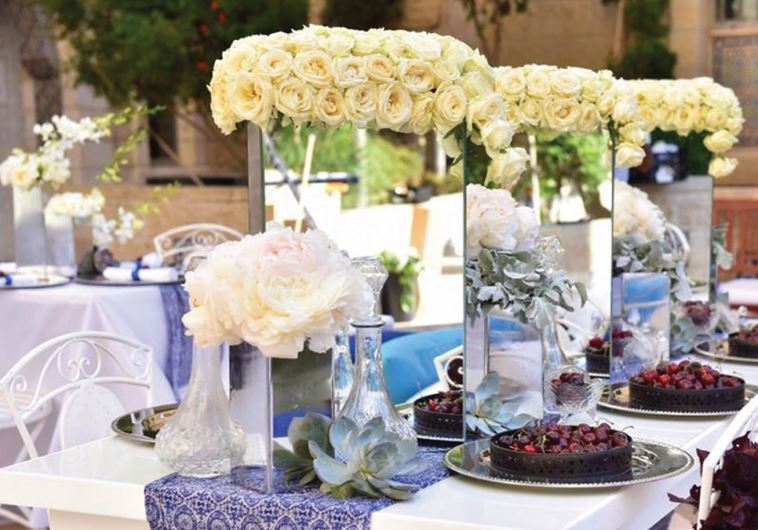 Despite the occasional stress, Gerber wouldn't trade her work for the world. Her eclectic clients – including one who would bring her team coffee every day, and another who spends hours in the store talking about politics – have become like family for whom she loves to create."My dream is to fill the world with flowers," she says.
The store is the headquarters for Gerber's services, which include event design and floral creations for hotels such as the Leonardo chain in the city as well as the Notre Dame guest house. It also serves as a regular florist shop for passersby, and hosts free workshops – an all-day session on floral accessory making took place last month to mark Tu Bishvat.The majority of the store's clients are Anglos who live abroad and travel to Israel at least three or four times a year.