Theaters around the globe are gearing up for the release this week of Smurfs: The Lost Village, a film featuring the familiar blue characters in their latest adventure.But an advertising campaign in Israel for the movie has aroused a firestorm, after billboards in the city of Bnei Brak featured three male Smurfs – but not the female Smurfette.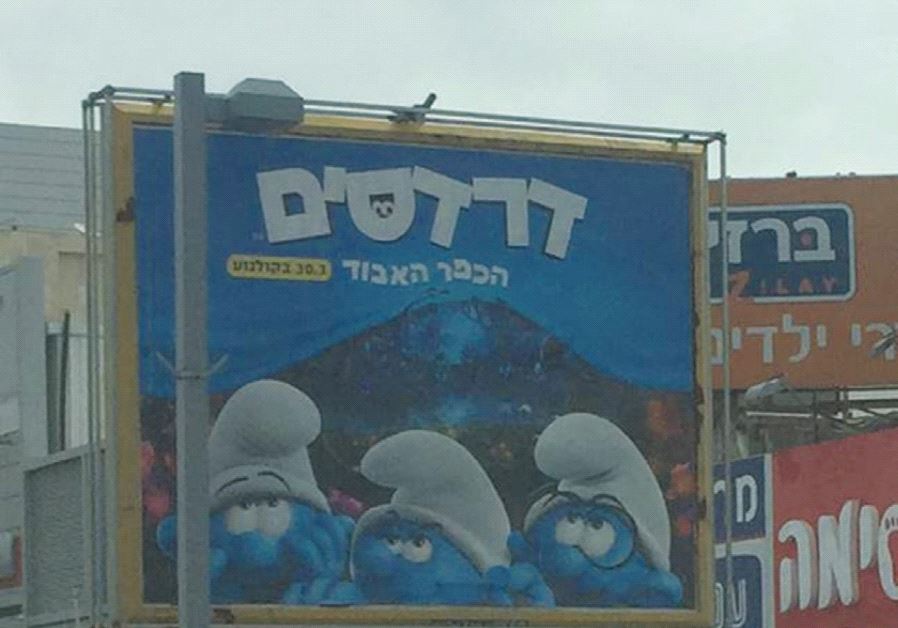 The standard billboards around the country featured all four characters.
United Nations and cast of "Smurfs: The Lost Village" celebrate International Day of Happiness on March 18, 2016 (credit: REUTERS)
The expected outrage ensued, with headlines from the Associated Press, Variety, and even FoxNews.com.Arye Barak, a representative of Forum Film, which is responsible for distributing the Sony Pictures film in Israel, confirmed the use of two different billboards.Barak said the billboard company they deal with in the Tel Aviv and Ramat Gan area – Mirkaim Hutzot Zahav – made the decision to not include the Smurfette "so as not to offend the sensibilities of the residents of Bnei Brak." It's true, ultra-Orthodox media studiously bans any images of women, famously avoiding using photos of Hillary Clinton during the US presidential campaign. Jerusalem buses in the past were subjected to ongoing vandalism due to ads featuring female faces.And IKEA recently launched a catalog geared to the haredi community with no women in sight.But the story isn't quite that straightforward. Firstly, those were actual, human women, while Smurfette is a not-at-all lifelike blue blob, distinguishable from the Smurfs only by a crop of blonde hair. And while haredim certainly shop at IKEA and ride buses, the mainstream haredi community does not see films in theaters.Barak disputed this, saying that at the Yes Planet Theater in Ramat Gan, "we see a wide variety of people, including haredim."He then amended – "not just haredim, but also the religious, those in kippot." Barak said the biggest movies always get advertised across the country, including in Bnei Brak.Haredi columnist Yisrael Cohen wrote on the ICE media news site that he spoke with the Bnei Brak Municipality, who said the move was not coordinated with them."No haredi person from the mainstream goes to the theater or watches movies," Cohen wrote. "So the advertising campaign does not appeal to that population." He called the entire news story surrounding the billboards "transparent PR spin."And when the distribution company gleefully sends out a release with both versions of the billboard and the reason for the decision, it's hard not to see why this was really a perfect movie advertising opportunity. The billboard company did not reply to multiple requests for comment by press time.