A few weeks ago, we spoke of how for many people, lunch hour is the favorite time of their workday. You get to go out a bit, breath some fresh air, stretch out your legs. But sometimes, when it's too hot or cold, the temptation to stay inside the office can win over any food craving. So how do you handle this catch 22? Easy. You order take-out. But in a city that offers almost any kind of food imaginable delivered to your doorstep, how do you know what's good? Well, it's a tough job to figure it out, but someone had to rise to the task. We here at the Jerusalem Post Lite checked out some of the city's hottest take outs, just for you (well, a little bit for us as well). Dig in!
Who you gonna call?
Wok Republic
Where is it?
Abarbanel 74, Tel Aviv
Noodles for lunch is a very important matter. Of course, we all have days when we convince ourselves that we better have a salad, but on a day when you work hard, and as lunchtime nears you know you need your comfort food – Wok Republic is the place you need to call. A varied delivery menu awaits you: noodles, stir fried dishes with steamed rice and fried rice dishes of all colors will certainly cater to all of your tastes with beef (בקר), chicken, pork (חזיר), seafood or tofu, anyway you like it. Whether you are more of a curry-and-rice person, or you like your noodles spicy or sautéed in peanut (בוטנים) butter – there is a cool Asian dish on the menu for you. More good news – all of the noodle and fried rice dishes can be made vegetarian and vegan. Eat up!
Price range:
Budget
The verdict
Chicken Satay Noodles (NIS32) with chicken, peanut butter, coconut (קוקוס) cream, vegetables, roasted peanuts and coriander (כוסברה) is the best thing that can happen to you at lunchtime.
Who you gonna call?
Nithan Thai
Where is it?
21 Haarbaa St. Tel Aviv
Eat up!
Go on, treat yourself (a bit more)! This great restaurant might be known for its super-posh food, but it is also really delicious. Nithan Thai is a Thai restaurant – as its name clearly gives away – that has recently opened its doors for takeaway services. However, you do have to pick up your order from the restaurant. So, as true foodies, we couldn't just let it slip through our fingers (or stomachs), and ordered some of what they have to offer. We've tried the papaya salad, which was great, the Pla Op, a drum (מוסר) fish with cauliflower (כרובית) and coconut (קוקוס) – our favorite dish, the Chantaboon Lamb (כבש), with macadamia, turmeric (כמון), dried tomatoes chili and coriander (כוסברה) – perfectly cooked!
Price range:
High range
The verdict
Seriously delicious Thai food.
Who you gonna call?
Mexicana
Where is it?
Yermiyau 17, Tel Aviv, Bugrashov 7, Tel Aviv
Eat up!
No better time for a little fiesta than lunch time, and the food we ordered from Mexicana definitely raised our spirits, and made the rest of the day so much better. The menu includes tortillas, guacamole, frijoles (ממרח שעועית שחורה), salsas and other delicious Mexican dishes. We started with the guacamole-nachos with avocado salsa and feta cheese, which was amazing, but we had to leave some room to try out the Barbacoa (slow cooked beef), Chili con carne (grounded beef with black beans and chili) and the Pollo Tinga (shredded chicken with chipotle chili and tomato salsa) as well as a vegetarian dish. All dishes were most generous, and it all came with some refreshing frozen margaritas, that made us smile for the rest of the day.
Price range:
Budget
The verdict
Spice up your lunch hour (plus churros for dessert)!
Who you gonna call?
Yakimono
Where is it?
19 Rothschild Boulevard, Tel Aviv
Eat up!
Looking for a good, authentic Japanese food? Look no further than Yakimono restaurant. And, in case you're a true sushi lover, your ordering skills are about to jump to the next level. The restaurant, which is located in the heart of Tel Aviv, has an aquarium to keep the fish and the seafood extra fresh – a thing that totally shows on the first bite. We tried the, well, a few sushi combinations on the menu, and each of them was better than the one before. Favorite dish: Goma Sushi Mori – sushi balls wrapped with fish in chef's sauce (tahini!!!!). Highly recommended!
Price range:
High range
The verdict
You can finally order East Asian cuisine every day of the week and still enjoy some variety!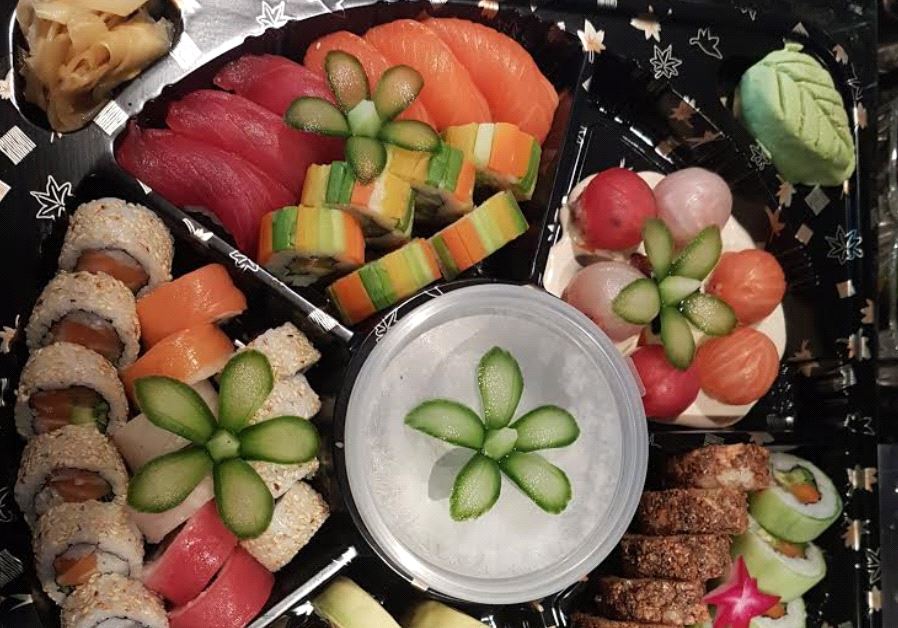 Drink Up!
The famous cocktail bar Double Standard has opened a new virtual shop named tailsshop. The website offers bottled quality cocktails, which will be delivered all the way to the customer's house, and are all made by mixologist Yotam Shilo. Among the cocktails you can find Blossom Mojito, Sunny Margarita and Red and Fizzy. The prices (pf both the cocktails and the delivery) are quite fair (18NIS for delivery and 29NIS for a cocktail). So, what are you waiting for? Log in and drink up! www.tailsshop.com